Chocolate biscuits bring back warm memories of growing up. As kids, we would climb atop the kitchen counter trying to reach out for the biscuit jar in the cabinet. Although not exactly an Indian treat but chocolate biscuits have been an essential part of our childhood. Kids love these and mothers often indulge them by allowing a chocolate biscuit treat. So, this time around we decided to bring back the yum and scout out the best chocolate biscuits in town.
(10 Best Cookie Recipes)
Selection Procedure
Just to make sure we gave every popular biscuit brand a chance, we gathered different varieties of chocolate biscuits easily available in general stores and supermarkets. A wide variety, chocolate cream filled biscuits, plain chocolate biscuits and those studded with choco-chips, were put to test. We made sure that all the packets were within the best-before date. The price range varied from Rs. 10 to Rs. 60 under which most of the popular brands in Indian market fell.
Why only chocolate biscuits, you may ask? Their popularity is so great that in the past few years many brands have experimented with different types and flavour combinations and we wanted to know how much do they deliver. Chocolate seems to be the flavor of the moment. It is also a favourite with children and one that they love to devour. Makes us curious on the health aspect as well as the flavor profile of various brands.
The Contenders
We had four main brands - Parle, Britannia, ITC and Cadbury. Below are the variants that we tried-
Parle Hide and Seek
Parle Bourbon
Britannia Pure Magic
Sunfeast Choco Cookies
Parle Happy Happy Choco-Chip Cookies
Brittania Tiger Krunch
Sunfeast Bounce
ITC Dark Fantasy Choco Fills
Sunfeast Dark Fantasy Choco Creme
Cadbury Oreo
Sunfeast Bourbon Bliss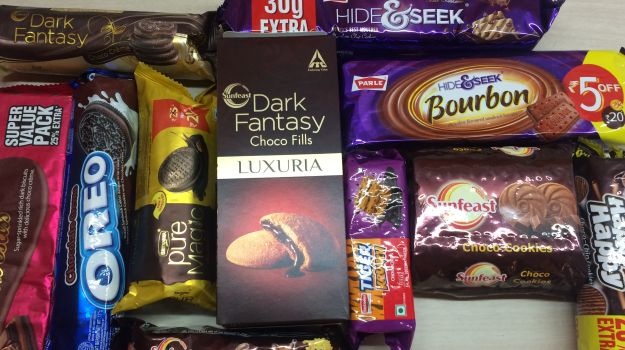 Criteria
The taste test was performed by the Food Team at NDTV. In search of a healthy yet delicious packaged chocolate biscuit, we chose different types of biscuits under the most popular brands and therefore this wasn't a blind taste test. The idea was to try and assess the taste of each of the biscuits individually bearing in mind the nutritional background. These weren't scored or ranked but comments were given on each. The thought rose from the fact that kids are huge fans of these biscuits but as parents or consumers how aware are we about what goes on behind the scenes.
Our biscuit enthusiasts offered their personal comments on the taste of each of the biscuit. The focus of our taste test was the health factor upon which the biscuits were compared and analyzed. This was determined after scrutinizing the nutritional labels and ingredients carefully. We used plain water and green tea as palate cleansers.
Taste: The perfect chocolate biscuit should be slightly crisp and sweet but not overbearing. It can have a hint of salt to balance out the sweetness. Some may like it soft and tender. The texture shouldn't be too cakey or crumbly, just perfect with a light crunch. We looked for biscuits that tasted like chocolate and not artificial flavours.
(Meet Hyderabad's Most Popular Cookies)
Nutritional Information: First we battled through sugar overdose and then we paid attention. We compared the biscuits on the basis of calories and sugar content. We looked for any synthetic or artificial flavours and colours. One of the main culprits that make these sweet delights unhealthy is partially hydrogenated vegetable oil. Vegetable oils are liquid at room temperature, so the process of hydrogenation is employed to make them attain a solid state or a firmer texture. Doing so also increases the shelf-life of the product. This converts them into trans-fat or saturated fats which have been accused of causing some of the most feared lifestyle diseases like obesity, diabetes and heart trouble. All the nutrition facts and information was assessed per 100 grams of amount.
(Nankhatai - The Dying Indian 'Biskoot')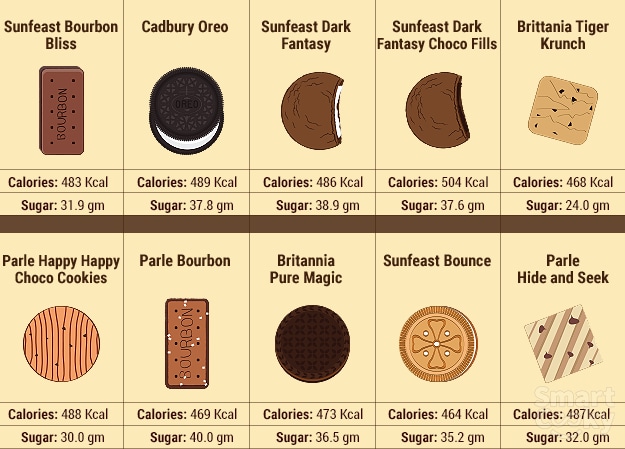 So which biscuit came out on top?
Parle Hide and Seek
This is one chocolate chip biscuit that outshone the rest and is our top favourite. The flavour was well balanced and no one complained about the chocolate chips. Every bite made us smile. The texture was tender with a slight crunch. Some of the tasters confessed that they could eat a whole lot of these. Do you want anything more from a biscuit? Yes, let's look at what the label says. These biscuits were made with wheat flour and contained cocoa butter instead of partially hydrogenated oil. They contained vanilla as the only artificial flavour.
Parle Bourbon
Crunchy on the outside with creamy insides, it had a very faint chocolatey undertone. With every bite, we felt a bit disappointed. The texture was a bit doughy. These do not contain hydrogenated vegetable oil but have natural colours, synthetic colours and artificial flavour of vanilla and chocolate. They are also made with wheat flour.
Britannia Pure Magic
We found these chocolate cream biscuits to be a bit overpowering and somewhat brittle. The texture was dry and it left a bitter aftertaste. Some found it too sweet for their sensitive taste buds. These biscuits used refined wheat flour (maida) and also mentioned the fact that they contain trans-fat in the form of hydrogenated vegetable oil. They contain chocolate and vanilla as artificial flavouring substances.
Sunfeast Choco Cookies
In terms of overall flavour these plain wheat flour cookies was a bit too sugary and a little too flat. It had a strange odour and was utterly crumbly. It contained no hydrogenated vegetable oil but artificial flavour of chocolate. It uses dark chocolate but every bite left us wondering, what happened to the chocolate flavour?
Parle Happy Happy Choco Cookies
These were slightly on the chalky side. The muddy colour can easily put you off. They were too hard and thin, cracker-like with a salty aftertaste. It had super light texture. The chocolate chips were few and tiny. Made with wheat flour, these contain no hydrogenated oil. Contains permitted colours and artificial chocolate flavour.
Brittania Tiger Krunch
These chocolate chip biscuits were way too crunchy. They taste more like glucose biscuits lacking the definite chocolate flavour. They were bland and pale looking with few choco chips. These are made with refined wheat flour and contain permitted artificial flavours of chocolate and vanilla. No mention of hydrogenated oils.
Sunfeast Bounce
A slightly gritty texture and cloyingly sweet, remarked most tasters. They were pretty greasy. The cream between the biscuits was a bit grainy. It was so crumbly that we were forced to eat them quickly before they fell apart. These are wheat flour biscuits that contain permitted artificial flavours of chocolate, vanilla and milk but no hydrogenated oils. As the tasters felt, the sugar content was quite high in these biscuits.
Sunfeast Dark Fantasy Choco Fills
Great chocolate presence, molten and dark. There's clearly a place in our hearts for these biscuits. Some found it a tad buttery. It was gooey, chewy and crisp on the edges. Although it is made with wheat flour, it contains hydrogenated oils. Also, just remember to keep your calorie concerns aside when you decide to munch on these.
Sunfeast Dark Fantasy
Another one of our favourites, it got praised for the right amount of familiar chocolatey goodness. The crunchy-creamy balance was a definitive win for us. While is gathered points for taste, on reading the label we found that it contains hydrogenated oils.
Cadbury Oreo
This is one biscuit that needs no introduction but surprisingly most tasters weren't particularly floored by the flavour. The biscuit was tender in comparison to other chocolate cream biscuits. It was not too sweet with salty notes. If you try the biscuit it kind of melts in your mouth. It has a distinct buttery flavour that lingers for a while. They're made with refined wheat flour and contain added flavouring substances.
Sunfeast Bourbon Bliss
It wasn't particularly crunchy or soft. It lacked the essential chocolate flavour despite being filled with chocolate cream. In fact, the cream didn't add much to the overall flavour of the biscuit. Nothing that excited us. They were a bit oily on the surface. These cream biscuits are made with wheat flour and contain hydrogenated oils.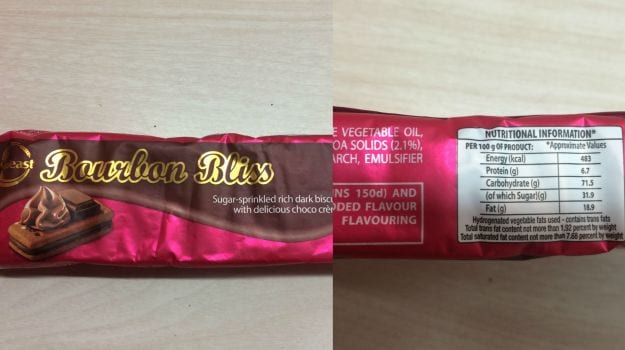 Conclusion
As far as taste is concerned, Parle Hide and Seek, Sunfeast Dark Fantasy and Sunfeast Choco Fills won our hearts. Parle biscuits contained no hydrogenated oil and neither did Cadbury Oreo. For Britannia and Sunfeast, some biscuit varieties contained trans fat while others didn't. One crucial thing that this taste test revealed was the flour that these biscuits are made of. While Britannia and Cadbury clearly mention that they use refined wheat flour (maida), others like Parle and ITC Sunfeast mention only wheat flour. Wheat flour is not to be confused with whole wheat flour (atta). It is a very broad term that encompasses different types of flours wheat can be milled into - refined, bleached, unbleached or whole wheat (atta) flour.
Disclaimer
This taste test was in no way sponsored by any brand(s). All expenses were borne by NDTV. All reviews are strictly personal opinion of the authors. The same should not be construed as the opinion or policy of NDTV. Always do your own research on products and companies before using a product you choose. NDTV, its affiliates and its management does not claim responsibility for any of the products/ or companies discussed on this site.