Dates, or khajur, have made their way to being called health foods in the recent times. Because of their naturally sweet taste, they are considered as nature's candy. Not only are they delicious, but come packed with a huge range of health benefits. According to the book, Healing Foods by DK Publishing, immunity-boosting dates are high in potassium, supply slow-release sugars, and provide a range of other essential nutrients as well. For example, they are a good source of fibre, protein, minerals including magnesium, manganese, selenium, and zinc. While they are celebrated as a healthy food, do they help lose weight? Most experts may not be in favour of it as dates have high sugar content that may only make you gain weight. Is it so? Let's find out. Read: If You Can Eat Dates In Summers.


According to Dr. Gaurav Jain, Senior Consultant, Internal Medicine, Dharamshila Narayana Superspeciality Hospital, "Dates can help in shedding kilos from the body. They are an excellent source of proteins that help us in staying fit, and even keep our muscles strong. Dates are quite rich in iron and fluorine content. They are rich in dietary fibre and essential fatty acids that aid weight loss. It is okay to consume about six dates through the day. Eaten in moderation, dates are super-helpful in shedding those kilos."


According to Dr Manjari Chandra, Senior Nutritionist and Advisor, India Virtual Hospital, "Dates are considered to be the ideal foods as they are rich in nutrients and provide many health benefits. Dates should be consumed daily to boost immunity. Four to six dates are sufficient to lose weight. Mejdool, Deglet Noor and California dates are the best, if you are looking at losing weight. Make sure you do not indulge in a lot of these as it may only lead to weight gain."
As per Macrobiotic Nutritionist and Health Coach Shilpa Arora, "Dates need to be consumed in moderation for weight loss. They are rich in iron, fibre, magnesium and potassium and are loaded with micronutrients. They can satisfy sweet cravings or can be eaten as a snack with tea or coffee."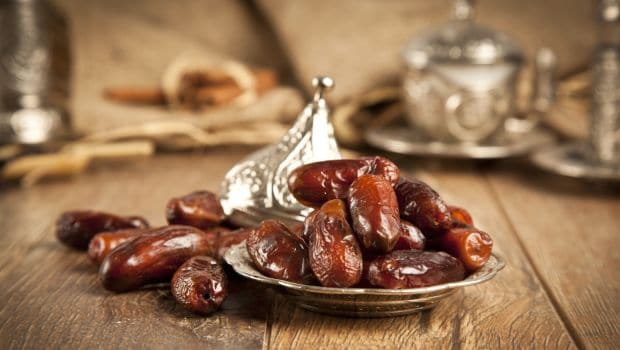 Here are some reasons that make dates a superfood for weight loss:
Dates are high in dietary fibre content. Fibre may help you feel fuller for longer as it adds bulk to your diet and delays the digestion process. So eating dates will help you load up on enough fibre.
Dates contain high unsaturated fatty acid content, which helps in reducing inflammation. Inflammation has long been linked to obesity, insulin resistance, diabetes, et al. Unhealthy food consumption and a sedentary lifestyle can up the risk of increased inflammation, thereby, increasing the chances of weight gain.
Dates are also a rich source of protein. Proteins are tough to digest, and the transition time in the large intestine is longer, which makes you feel fuller for longer.
Dates can help satiate your sweet tooth cravings. They are naturally sweet; therefore, you can enjoy a few dates and toss away sugary foods to lose weight efficiently.
Disadvantages Of Eating Too Many Dates
Any food, if eaten in abundance, could be fattening. While dates may help you lose weight, they can also make you gain some pounds, considering they are high in calories and sugar. So, eating only a few of them can be helpful in shedding kilos.
Here's How You Can Include Dates In Your Diet:
Deseed them and eat them along with other nuts and dry fruits to reap maximum benefits.
Add chopped dates to a fruit salad or dessert to enjoy its flavour.
One of the most popular ways to use it is to add it in a glassful of warm milk. In fact, milk and dates have been known to promote weight loss.
5 Healthy Dates Recipes That You Can Try At Home:
Even though dates are known to produce heat in the body and are consumed popularly during the winters they are packed with umpteen health nutrients that are required by our body. Since dates are rich in natural sugars, they provide an instantaneous energy boost, which is why they are significant during the fasting period of Ramzan. Besides that, dates are full of carbohydrates and fibre. Fibre gives the body a fuller feeling and prevents us from bingeing on fattening foods; moreover, fibre helps regulate the bowel movements. Try these healthy dates recipes at home for weight loss.
Looking for a healthy yet tasty treat that has a goodness of dates in it? If yes, then try this Dates Crumble recipe at home and satiate your taste buds. This dessert recipe is a crowd pleaser and can definitely be prepared within 15 minutes. Click here for the recipe.
Healthy balls of nuts and dates; this ladoo recipe is the perfect snack to binge as a snack. Healthy, sugarless, full of nutrients and way too easy to make! With just three ingredients you can get these delicious ladoos that will keep you full for long. You can make and store these in airtight jars to relish for long. Click here for the recipe.
This is for the ones who are watching their weight. This energy booster is the perfect snack to nibble on. Loaded with the goodness of dates, cashew nuts and coconut, you can also throw in some seeds of your choice. Click here for the recipe.
This is yet another hit from our recipe archive. This is a quick and easy dessert to curb your sweet cravings. Since dates impart natural sweetness to the kheer, nuts in this kheer recipe add a nice crunch to it. Click here for the recipe.
Bored of your regular milkshakes? We have a delicious Dates Milkshake Recipe that you can try at home. We bet your kids are going to love this. And the best part is that you can prepare this one in less than 10 minutes. Click here for the recipe.



Go on and add dates to your diet and ensure a healthy weight loss. Make sure you eat only a few of them as you do not want to gain weight, do you?


Disclaimer: This content including advice provides generic information only. It is in no way a substitute for qualified medical opinion. Always consult a specialist or your own doctor for more information. NDTV does not claim responsibility for this information.