Besan Recipes- Let's talk about a common ingredient whose versatility ranges from the cooking arena to the world of beauty and skincare. It sits humbly, stacked in the kitchen cabinets across the country and participates in creating some of the most loved and widely popular dishes.Whether whipping up a quick batter for those crispy fried pakoras, making rich curries or panning out a wholesome chilla, there are ample ways in which you can use it.

Besan or gram flour, also known as chickpea flour, is obtained from chickpea or Bengal gram and easily available in all the markets and even online. In the north, veggies are dipped in its batter and fried until golden brown; the Rajasthanis use it to make gatta curry, which is gram flour dumplings cooked in a yogurt-based gravy; Gujarat boasts of making khandavi, besan kadhi and the like; and Maharashtra is famous for batata vada. Besan is also a common ingredient used in making Indian street food and sweets - halwa, laddoo, barfi,etc.


Other than cooking, it is considered to be a perfect fix for your beauty woes. Popularly used in face packs to eliminate skin tanning and achieve a healthy and blemish-free skin, it is also good as body and facial scrubs for exfoliating purposes.


Tip: Besan can be mixed with a variety of ingredients to make face packs. Adding ingredients according to your skin type and using the paste on the skin can result in clear, acne-free, smooth and glowing skin. Some of the ingredients that go well with besan include honey, milk, curd, masoor dal, turmeric and lemon juice.
Benefits of Besan | Gram Flour Benefits
Including besan in your regular diet can also prove beneficial for health. Take a look at the nutritional profile of gram flour and how it can aid in maintaining good health.


- It is gluten-free therefore makes for a great option for gluten intolerance.


- It is enriched with essential nutrients like Vitamin A and K, calcium, magnesium, potassium, zinc, iron, phosphorus, manganese, selenium and copper.


- It is a great source of protein for vegetarians and serves as a viable alternative to eggs.


- With a low glycemic index, besan helps in maintaining blood sugar levels.


- It also makes one feel fuller for longer, thus, keeps a check on repeated and frequent eating.


After giving you a compete lowdown on besan, it is about time we walked you through the range of exciting Indian delicacies that you can cook in your kitchen. Here are our best 13 recipes -
This is how Maharashtrian like their tea-time. Vadis are infused with the goodness of cashews, spices, herbs and shallow fried. A delicious savoury snack made with gram flour and flavourful spices.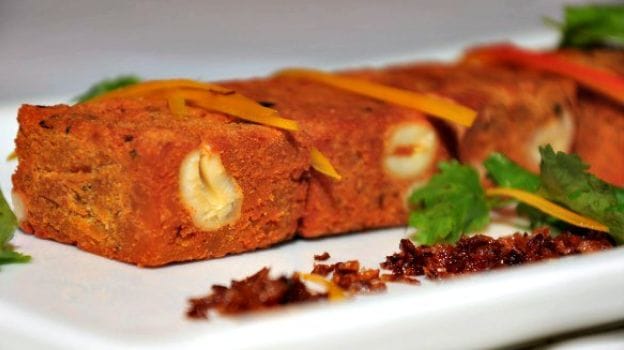 A classic Maharashtrian snack.


Zunka Bhakri is traditionally made with chickpeas or besan paste which is further cooked with onions, curry leaves, ginger-garlic paste, cumin and mustard seeds. Rich and aromatic, best served with bajra or jowar rotis.

One of the most loved Gujarati delicacies of all time. All it takes is an hour and a few basic ingredients to prepare this healthy and tasty snack at home when friends and family gets together.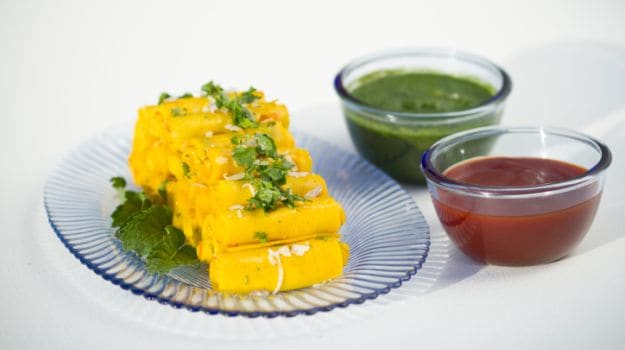 Khandvi is primarily made from sour yogurt and gram flour along with generous tempering of spices and chillies.
Juicy chicken pieces and marinatewd in a spicy blend of besan, spices, cheese and yogurt and grilled to perfection.
Straight from the local kitchens of Rajasthan comes this delightful vegetarian preparation. Gattas made from besan are cooked and simmered in a mouthwatering gravy. It can be served for lunch or dinner in usual days and at dinner parties at home as well.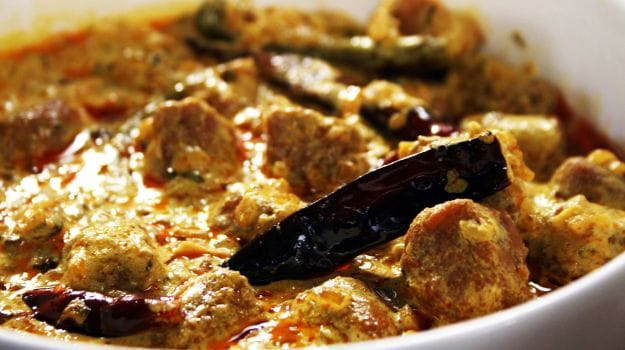 Here's the recipe of the sensational 'Rajasthani Gatte ki Sabzi' made with besan dipped in a spicy gravy.


Here's one of the best ways to start your day. A heartwarming blend of paneer and besan go into making this hearty Indian pancake.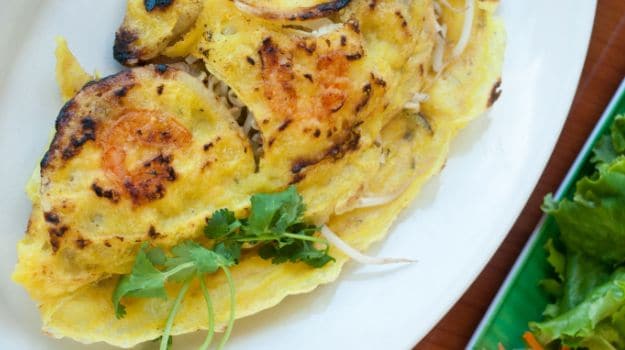 Rolled up paneer-chickpea crepe, dipped with green chilli coconut sauce, served with garlic pickle and khuska rice.


A quick and easy way to cook some Rajputana food. The perfect use of mangoes to arrive at this tangy preparation. Aamras ki Kadhi is a delicious blend of raw mango puree, buttermik and besan along with a host of other spices and chillies.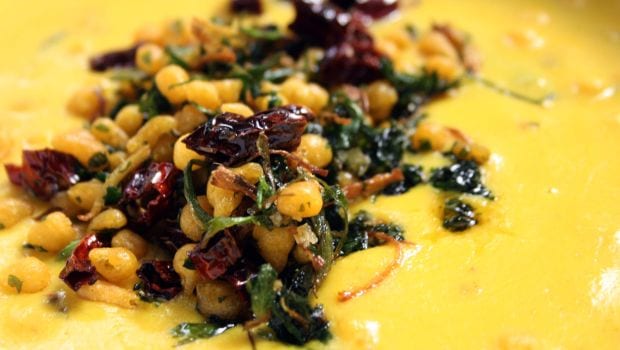 This is a great option to cook for a hearty Sunday lunch, served with hot chapatis or rice.
A quick fix for those lazy, laid back evenings. Green chillies are stuffed with an aromatic and delicious mixture of besan and spices. Fry these and serve hot with mint or coriander chutney.
Can we ever imagine any celebration or festivities devoid of these sweet delight? Chef Niru Gupta takes us through a few quick and easy steps to create these to perfection. Besan ke Ladoo are made from gram flour or besan roasted with ghee in a kadhai, flavored with sugar and cardamom and shaped into tight round balls.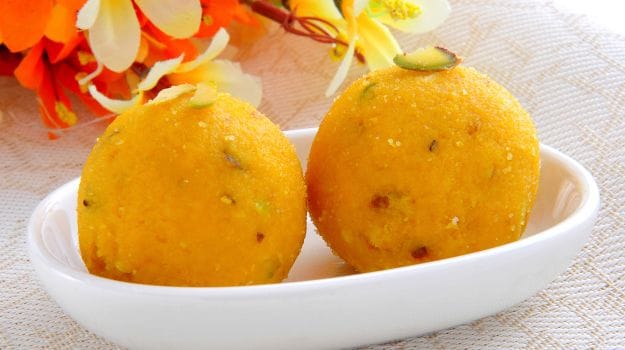 Besan Ladoo, if stored well has a long shelf life so you can relish them for many days.
Here's the healthier version of the classic, well-loved dhokla. This dhokla is steamed and made in just 30 minutes, using besan along with a colorful, chili tempering.These soft, spongy delights shouldn't be missed.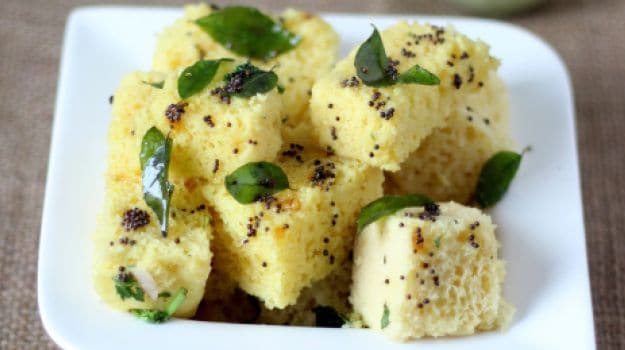 You can serve dhokla for breakfast as well as a light snack in the evening along with a cup of tea.
An Indian dessert that is made or bought in an Indian household for every other occasion. Gram flour or besan sauteed with ghee and sugar to make this mouth watering delicacy. A simple and fuss-free recipe made with just a few ingredients.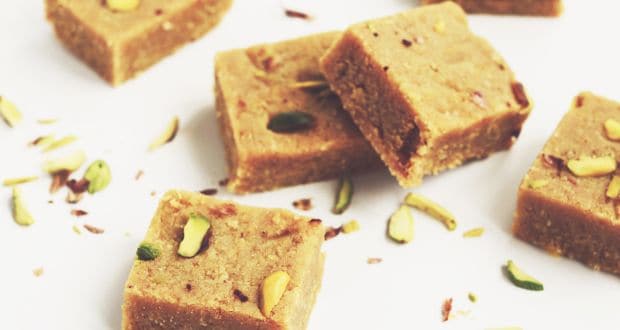 A simple and quick recipe to make this delicious barfi at home.
Here we bring you one recipe which is sure to make your weekend amazing with its taste. You all must have tried sooji ka halwa, now is the time you try it with a twist of besan.
Rich in fibre and other nutrients, this besan dosa can be a quick fix for a wholesome breakfast meal.


Now that you know how to make these recipes, try them at home and let us know how you liked them in the comments section below.