Indian cuisine is a Pandora box of so many different foods with different flavours, which makes it possible for us to try out all kinds of dishes. Indian snacks alone offer a range of options to choose from. Veg or non-veg, fried or steamed, there is a lot to explore. But our desi palate is fully satisfied with only some of the varieties which include tandoori snacks. The aroma of fresh tandoor wafting through the air draws you in instantly. Snacks made in a tandoor burst with flavours and juices, and make for the perfect appetiser in any get-together.


Chicken tikka and paneer tikka are the most common tandoori snacks you'll find everywhere. Fish tikka is another gem, which might not be too common but definitely deserves the same amount of love.
So, here we have curated a list of some of the best fish tikka recipes you can try making if you are a fan of fish-based snacks.


(Also Read: How To Make Restaurant-Style Fish Tikka At Home - Recipe Video Inside)
Here Are 5 Fish Tikka Recipes You Must Try:



1. Barbecue Fish Tikka


Fish is slowly cooked on hot tandoor to make this flavourful barbecue fish tikka. First coat the fish cubes with salt, pepper and lemon juice. Then marinate in a pool of curd spiced with cloves, garlic, ginger, chaat masala and garam masala. To make this dish perfectly, let the fish marinate for at least half a day. Click here to see the full recipe.


2. Tulsi Ajwain Ka Mahi Tikka


As the name suggests, basil paste (tulsi) and ajwain are the star ingredients of this recipe, apart from river sole fish, of course. But these ingredients are further enhanced with the addition of many spices like ginger, garlic, cardamom, garam masala and so on. Click here to see the full recipe.
2. Ambedi Mahi Tikka


This fish tikka made with sole fish bursts with a range of different flavours. Raw mango paste, coriander paste, kasoori methi and a string of spices are put in a mixture of curd and cream to marinate the fish and roast in a traditional Indian tandoor. Click here to see the full recipe.


4. Lahori Tawa Tali Machchli


If you don't have a tandoor at home, make this fish variety by frying on tawa. The flavours and the aroma that you'll get will be quite close to a typical tandoori fish snack. Click here to see the full recipe.


5. Fish Tikka Salad


If you want to present something different to your guests, make this unique fish tikka salad by tossing in spicy fish tikkas with mushroom, baby potato, red pepper and lettuce to make this amazing dish. Click here to see the full recipe.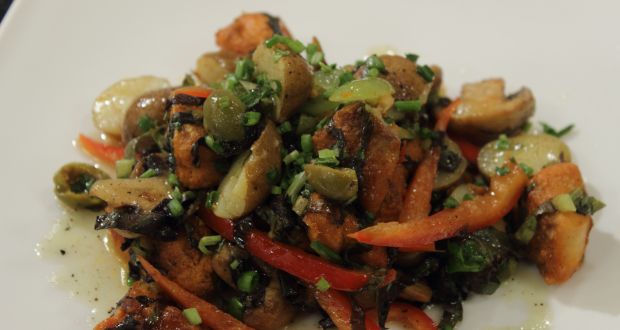 Next time you crave some tandoori goodness or want to serve it to your guests, try these easy yet decadent fish tikka recipes.

About Neha GroverLove for reading roused her writing instincts. Neha is guilty of having a deep-set fixation with anything caffeinated. When she is not pouring out her nest of thoughts onto the screen, you can see her reading while sipping on coffee.