Scorching heat, sweaty bodies, dehydration and what not, it's that time of the year again. With the temperature soaring to 45-50 degree C, it is mandatory to take care of ourselves otherwise consequences can be hazardous. According to various health experts and nutritionists, our body should be hydrated from within. This makes it essential for us to drink more water, as less water content in the body can lead to various ailments. Other than water, there are many cooling recipes one can add to the daily diet. For instance, juices, coolers, curd-based recipes and more. Indeed, summers give us enough reasons to enjoy our favourite recipes.


Among all such recipes, lassi and raita are two of the most preferred recipes consumed in India. Curd being one of the perfect summer-friendly foods that is loaded with protein and calcium. It cools down your body and helps in digestion. And what's better than having it with lip-smacking and super refreshing summer fruits? We guess nothing! So, here we bring you a list of 5 fruit raita recipes that can be perfect accompaniments for your summer meal. Let's get started.
Here's A List Of 5 Fruit Raita Recipes You Must Try:
Mixed Fruit Raita- Our Recommendation
Let's start with our favourite one. The one which is not only refreshing but also indulging to the core. Here we bring you a mixed fruit raita recipe, which can be considered as a tasty and healthy replacement for a creamy fruit bowl. Read the complete recipe here.
Lychee Raita
Next up is this delectable combination of curd and lychee. For summers, both these things together give a refreshing, cooling and sweet taste to the buds. Try making this lychee raita this season. Click here for the recipe.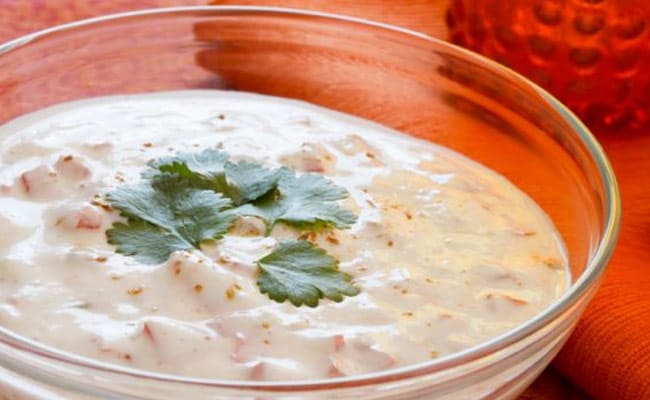 Pineapple Raita
The best time to buy this fruit is March to June, but pineapples are propagated year-round. They are extremely high in manganese and vitamin C. With so many benefits of pineapple, here we bring you an easy-peasy summer recipe. The sweet yet savoury flavour of this pineapple raita gives an unexpected twist to the main course. Find the recipe here.
Mango Raita
If you love mangoes, then this mango raita recipe has your name written all over it. Besides having it as an accompaniment to your dinner meal, you can also serve it as a delectable dessert.
How To Make It:
Ingredients:
1 Mango
1 tsp Sugar (optional)
A pinch of saffron
1 Cup Curd
Some almonds to garnish
Steps To Make
Take curd in a bowl, add saffron-infused water and honey(optional). Whisk until yogurt is smooth and everything is well combined.
Add mango pieces and sliced almonds. Serve and enjoy.
5. Grapes Raita
Now this raita tastes delectable as a side with biryani or Kashmiri Pulao. You can make it by using any grapes you like- black or green.
How To Make It:
Ingredients:
1 Cup Curd (Thick curd)
half Cup Green Grapes (Chopped)
Sugar (Optional)
half tsp Roasted Jeera Powder
Red Chilli Powder To Taste
Salt
Steps:
Take thick curd (along with malai) in a mixing bowl and whisk until smooth and creamy.
Add salt and sweet as required and whisk again till sugar dissolves.
Add chopped grapes, roasted cumin powder and red chili powder. Mix again.
Garnish with mint leaves and its ready.
Try these recipes at home and let us know how you liked them in the comment section below. Happy Cooking!