We all are familiar with dosa supremacy in south Indian cuisine, just like that, cheela is a popular dish in North India, specifically for a healthy and filling breakfast or snack. And the best thing about cheela is, it is so easy to make and requires just a few ingredients to get ready. All you have to do is blend the batter, add your favourite veggies along with some spices and herbs, cook on a non-stick tawa and serve with mint chutney, achar and even dahi to set a wholesome meal in just a matter of minutes. Interesting, right?


Also Read: 5 Unique Cheela Recipes To Add Fun And Flavours To Your Breakfast


Not just that, from classic besan ka chilla and nutritious oats cheela to crispy moong dal cheela, it is one dish that can be prepared in multiple desi-style variations - unique to each one's preference. Besides being delicious and versatile, cheela is also considered as a low-calorie recipe that can keep you full and energetic for a longer period of time. So, without any further ado, let's dig into the various types of delectable yet nutritious cheela recipes.
Here're 5 Cheela Recipes You Can Try At Home:
1. Gujrati Tikha Pudla
Pudla is a gujrati name for delightful cheela. Made with chickpea flour and fiery spices, this recipe is surely mouth-watering and healthy. If you are someone who prefers spicy food, then this gujrati special savoury cheela recipe is meant for you. Here's the recipe for you.
2. High Protein Aloo Besan Oats Tomato Cheela
We all have heard the classic besan ka chilla. Right? It is so light, delicious and easy-to-make. To spice things up, here's a unique besan chilla recipe that adds up many more nutrients and flavours to the dish including oats, tomatoes, potatoes etc. Click here for the recipe.
3. Sattu Cheela
Sattu needs no introduction! Packed with protein, fibre and several other essential nutrients, this cheela is known to provide instant energy and also helps in weight loss due to its high protein and fibre content. Click here for the recipe of sattu cheela.
4. Oats Matar Cheela
Here we bring you another delicious and nutritious cheela recipe that is made with the goodness of oats and green peas (matar) in it. Besides, this cheela is protein-packed, loaded with a good amount of fibre and other essential nutrients and also low in calories and carbs - making it ideal for the one who is searching for some yummy recipes to add in their diabetes and weight loss diet. Click here for the recipe.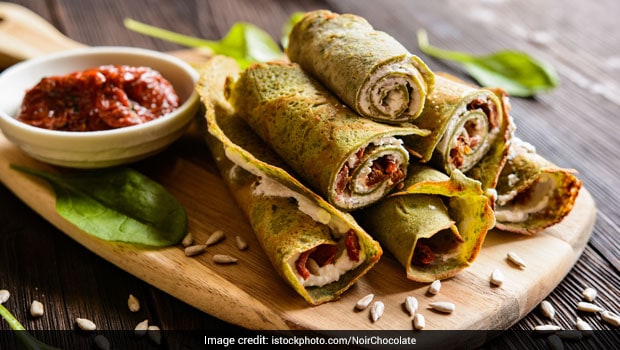 5. Mixed Dal Chilla
Made with the goodness of not only one but five other lentils including green moong dal, urad dal, yellow moong dal, arhar dal and chana dal, this power-packed meal is an ideal choice for making a wholesome breakfast. Just remember, soak dal overnight before preparing the batter for this cheela. Here's the recipe for you.
Start your day with these healthy and fuss-free recipes and let us know how you liked them in the comment section below.