Rice is a comfort food that we Indians just love! No wonder every Indian household has at least one rice-based dish in their meal. From as simple as dal chawal for lunch to delightful biryani for dinner, rice is a quintessential part of every household. From south India to north India and to Bengal, rice is an indispensable part of the menu. We Indians have a plethora of interesting rice dishes like veg pulao, rajma chawal, kadi chawal, payasam, lemon rice, curd rice, chhole chawal, kheer... the list is never ending and we can never get enough of mouth-watering rice dishes. But there's one rice dish that is not Indian but has a huge fan following in Indian subcontinent. We are talking about oh-so-yummy fried rice. And the best part is that it is very simple to prepare at home.


(Also Read: 5 Best Leftover Rice Recipes | Easy Leftover Rice Recipes)


But wait; what if you could give an interesting twist to your fried rice by adding one or two ingredients? We have got some interesting fried rice recipes that can give your delicious bowl of fried rice a delightful twist.
5 Fried Recipes You Must Try At Home:
Spruce up your fried rice with a host of veggies, spices and soy sauce. All you have to do is toss the rice with cooked veggies and spices together, and in no more than 20 minutes, you'll have a delicious meal to savour. Find the recipe here.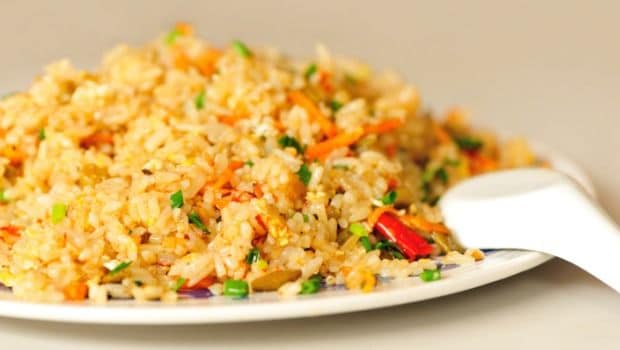 A fulfilling fried rice recipe to satiate your taste buds.
If you love eggs and garlicky flavour in your meals, then this one should definitely be on your list. Toss the cooked rice with a mix of eggs, garlic, spring onion, chilli, ginger, black pepper and soy sauce. Egg is a great way to add protein to your meals. This fried rice version is a crowd pleaser and is loved by kids and adults, alike. Find the recipe here.
An easy to whip up egg, garlic and leftover rice.
Packed with the goodness of shiitake mushroom, edamame beans and flavourful mock meat, cooked jasmine rice is combined with all the ingredients and served wrapped in lotus leaf. Find the recipe here.
A Thai recipe, this fried rice recipe would please all the seafood lovers. Succulent diced chicken, bacon and prawns sauteed together and cooked with carrots, ginger, garlic, corn kernels and a host of sauces and spices. Tossed with rice and topped with coriander, this will completely turnaround your fried rice to a great dinner party dish. Find the recipe here.
If mushroom is what you find and eat in every dish possible, this fried rice should be the one for you to try. Shiitake mushrooms, celery, leeks, water chestnuts, ginger, soy sauce and rice wine along with spices stir-fried with rice and served hot. Your bowl of fried rice would have never been better! Find the recipe here.


Try these interesting fried rice recipes and let us know which one did you like the most.
About Aanchal MathurAanchal doesn't share food. A cake in her vicinity is sure to disappear in a record time of 10 seconds. Besides loading up on sugar, she loves bingeing on FRIENDS with a plate of momos. Most likely to find her soulmate on a food app.