Best Rice Recipes In Hindi: Rajma-chawal, chhole-chawal and kadhi-chawal! Can you even imagine these foods without rice? That's how essential an accompaniment rice is. In India, most of the population loves eating rice and it makes a staple dish across regions, especially South India, North-East India and Bengal. The beauty of rice is that it transforms into such amazing and delectable delicacies, for instance, Kheer, Idli, Biryani, Uttappam, Khichdi and so many others. Now that we have talked about rice, we had to enlist our favourite rice recipes in Hindi for you to make at home.
Here are 10 rice recipes in Hindi that you'd love to prepare and devour at home!
Rice being a versatile dish can be transformed into different delicious forms, one of them being Garlic and Egg fried rice. This yummy rice recipe in Hindi is super easy and quick to make and will surely leave you asking for more.

(Also Read: Eating Curd Rice Makes You A Happy Person, Seriously!)
Talk about healthy form of rice and brown rice comes to mind. This equally delicious form of rice can be transformed in Pilaf or Pulav that will make you fall in love with brown rice and we bet you wouldn't want to go back to white rice ever again. This rice recipe in Hindi will be your next best lunch option.
This South Indian version of rice is something that you cannot miss. Prepared with rice, urad dal and channa dal along with tamarind or imli to give it a tangy twist, Tamarind rice is also known as Pulihora in most parts in South India, especially in Andhra Pradesh, Telangana, Karnataka and Tamil Nadu.

(Also Read: Types of Rice: 5 Popular Rice Varieties from the South Indian Kitchen)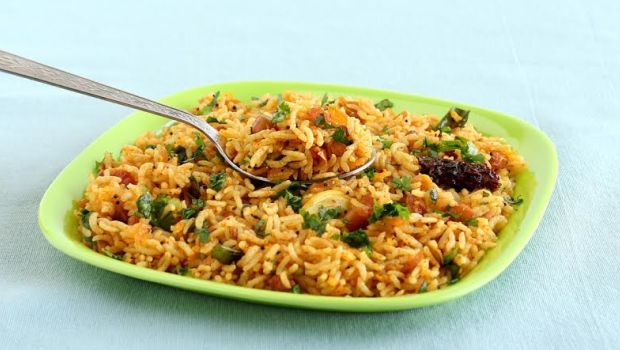 Tamarind rice is also known as Pulihora in most parts in South India​
Chicken and rice with distinct flavours of the South along with a mélange of spices, this Calicut chicken biryani is what you need right now. It may take up some time to cook, but it will all be worth the time, so what's all the waiting for? Go ahead and start making this amazing rice recipe in Hindi.
How about we get Makhani Paneer and rice together to make an awesome biryani? Well, this is surely a vegetarian's food paradise. Thanks to lots of cashews in the makhani paneer that gives a creamy texture that you would love to devour.

How about we get Makhani Paneer and rice together to make an awesome biryani​6. Mughlai Pulav Recipe in Hindi
This delectable Mughlai cuisine can be prepared on special occasions or festivals. Cooked with rice, chicken and ground spices, this one's a lip smacking therapy for your appetite. This rice recipe in Hindi will make you forget the other types of biryanis. The preparation time may be long, however, the cooking time is just about 20 minutes, so you wouldn't have to wait for that long to enjoy this special recipe.
If you have been binging on heavy foods for a while now, it is time to clean up and eat healthy and what better than curd rice. This simple rice recipe in Hindi is quick to make and equally healthful. Popularly prepared in South Indian homes, it is made with boiled rice, curd, chillies and coriander and is said to cool down your stomach.

(Also Read: 7 Incredible Benefits of the 'Forbidden Rice'- The Black Rice)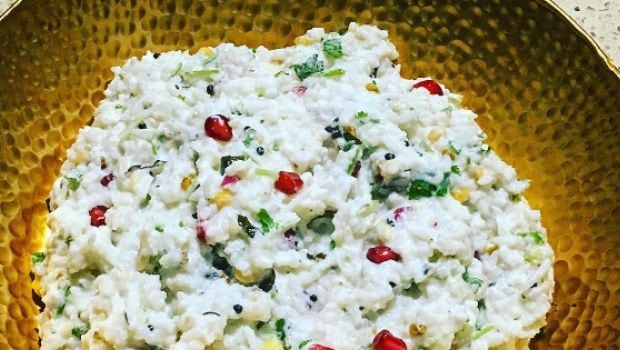 Soya is one of the best sources for protein for vegetarians. Adding it in rice can make for a tasty one-pot meal. This simple 20 minute rice recipe in Hindi will not only be a quick fix for your lunch but also ensure intake of healthful nutrients like protein and fiber.
Who wouldn't love some delectable mutton biryani and if it is Awadhi style biryani, it has to be special. It is nothing similar to your normal biryani, so you cannot miss this rice recipe in Hindi that tastes exquisite.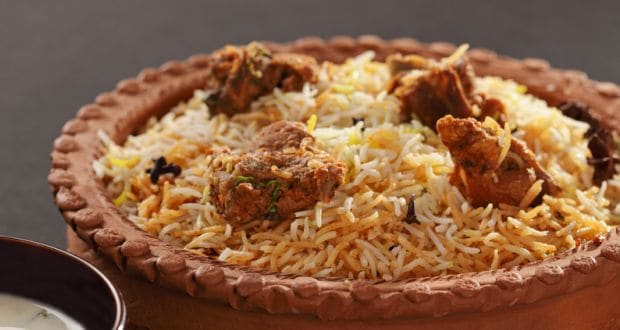 Who wouldn't love some delectable mutton biryani and if it is Awadhi style biryan​i10. Hyderabadi Biryani Recipe in Hindi
Hyderabadi biryani is known for its taste and flavours, thanks to the generous use of spices in it. This unmissable rice recipe in Hindi is bound to make you fall in love. Don't forget a dash of mint to give the biryani just the perfect flavour.
Coconut rice recipe is one of the most loved South Indian recipes that you can try at home. Fresh grated coconut, chunky peanuts, mustard seeds, soaked chana and urad dal and the aroma of coconut leaves, this easy rice recipe packs all things yummy and flavourful. You can team them with piping hot sambhar for best experience.
Go ahead and make your meals special and delectable with these rice recipes in Hindi and make your tummy happy!