Here are 5 quick tips to help you shop for organic food and other goods.
Pesticides, parabens, phthalates, oh my! Everybody knows they should go green and embrace a
healthier lifestyle
, but sometimes, it can also be pretty rough on your wallet. Perhaps this is the reason why there's hesitance to switch to organic food.
Why Buy Organic?
Delhi-based Nutritionist Anshul Jaibharat says, "Research has shown that organically-grown whole foods like fruits and vegetables contain higher levels of certain vitamins and minerals including
vitamin C
, iron,
magnesium
and phosphorous." And when it comes to packaged foods, an organic label helps ensure that the products do not contain
artificial colours
, flavours, preservatives or additives — ingredients our bodies can certainly do without.Presenting: 5 brilliant tips to help you switch to a more organic lifestyle and reap the benefits -
1. Shop What You Love to Eat
Instead of switching to organic overnight, start with one or two items. Wondering where to begin? "Start out by buying foods that you eat the most often", suggests Shilpa Arora, a renowned Health Practitioner, Nutritionist and certified Macrobiotic Health Coach.
2. Don't Shop in Bulk
Buying organic food in bulk may ensure you get the biggest bang for your buck, but Dr. Rupali Datta, Clinical Nutritionist suggests, "Don't buy in bulk during this
rainy weather
as food gets spoiled faster. Smaller quantities are preferred, and do keep them sealed. Also, follow
storage
instructions mentioned on the product. Do not buy in bulk in case the product is best before two to three months".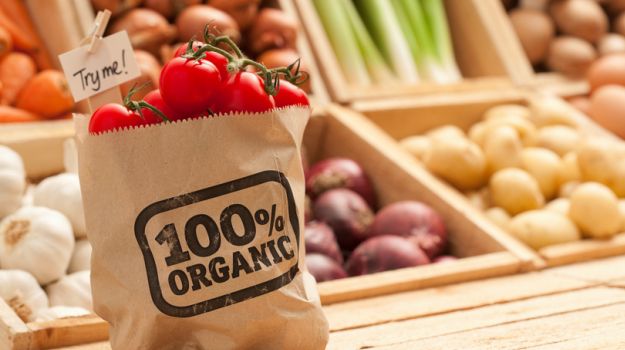 3. Shop in Season
When you buy foods that are in season, they are not only cheaper but your produce will taste as it should – full of flavour and nutrition. Shilpa Arora adds, "In this season, shop for
ginger
,
pumpkin
,
carrots
. Basically, fruits and vegetables that will boost your
immunity
and energy."
4. Read the Labels
Organic packaged foods will be clearly marked with a certified organic seal, and even fruits and vegetables typically have labels. To be sure that the food you're buying is chemical-free, look for the certification. Dr. Rupali Datta, Chief Clinical Nutritionist, SmartCooky says, "Look for India Organic, EU Organic or USDA Organic labels to be certain that the food contains no
chemical
fertilisers,
pesticides
, herbicides, hormones, drugs or genetically modified organisms (GMOs). Also, check the date of manufacture and best before, since organic food has a shorter shelf life and comes minus the
preservatives
.
5. Quality Over Quantity
While seeking out and shopping organic food may sound ideal, it's a lifestyle change that can be gradual. It may be tempting to buy the cheaper product available in a larger quantity, but think of what it will cost your
health
. Because the more organic food you eat in place of conventional food, the less toxins and toxic residues you ingest.Just like Kermit the Frog so famously said, "It's not that easy being green". But once you go green, you never go back.