Summer months are on their last leg and people across the Indian subcontinent are readying to welcome joyful showers, that are sure to bless us soon. It is a bliss welcoming monsoon after a scorching
summer
. Because of the change in season, we naturally crave for hot sips and crunchy snacks. Our taste buds yearn for a cup of
masala chai
and mouth-watering
fried snacks
which go amazingly well with cold breeze and overcast skies. I agree that it is tough to resist the spell binding aromas of deep-fried treats and other food
cravings
, but certain healthy foods too can be as relishing if you can think of interesting ways to making them.
So pick from these ten lip-smacking ideas to satisfy your monsoon cravings sans the calories -
1. Roasted Soy Almonds
: Toss 1 cup of raw
almonds
with 2 ½ teaspoons of tamari. Roast on an oiled baking sheet at 180 degree Celsius, stirring occasionally until golden brown for 10-15 minutes. These snacks are easy to make and keep handy. Moreover, they are super high in proteins and healthy fats. Plus, if lightly seasoned, they can satisfy cravings for saltiness and crunch.
(Looking for the best almonds? Click here to buy)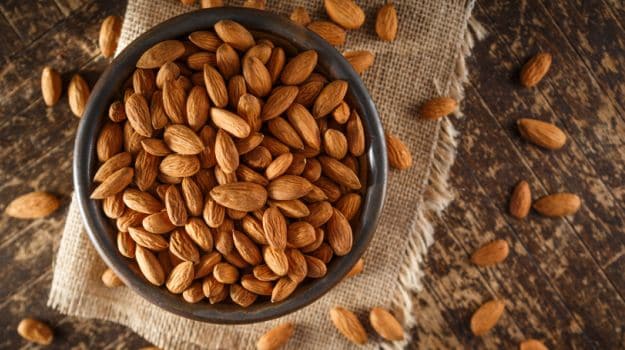 Healthy Monsoon Snacks: Almonds are high in protein and healthy fats
2. Sea Salt Popcorn with Super Seeds
: Toss 2 cups of air-popped
popcorn
with ½ teaspoon extra virgin olive oil. Sprinkle ½ teaspoon sea salt and 1 tablespoon toasted sun flower seeds and toss again. This wholesome snack is great for those on the go and won't get bad after being in your bag all day.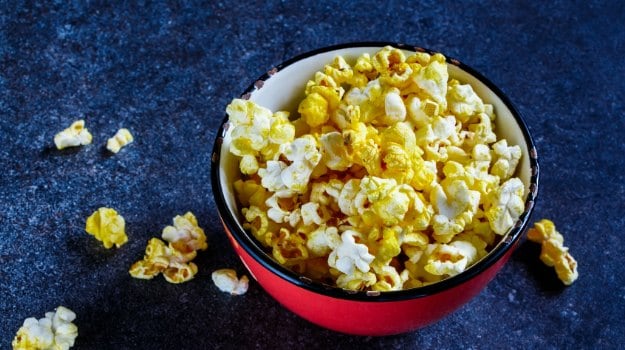 Healthy Monsoon Snacks: Popcorn is a wholesome snack
3. Chilli Spread Pumpkin Seeds
: Toss 1 cup
pumpkin
seeds with 2 teaspoons olive oil, ½ teaspoon
chilli powder
and ¼ teaspoon sea salt. Toast at 180oC, stirring occasionally until crisp, about 8-10 minutes. This popular late night munchy is a rich source of tryptophan, an amino acid that your body converts into serotonin which in turn is converted into melatonin – the sleep hormone.
(Buy pumpkin seeds and get them delivered to your doorstep)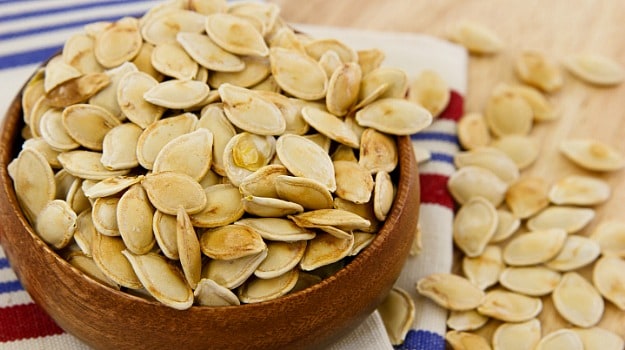 Healthy Monsoon Snacks: Pumpkin seeds are nutritious and crunchy
4. Apple Sandwiches
: Trim one cored
apple
and cut into thick rounds. Spread half the slices with 1 tablespoon
peanut butter
, and then sandwich them with the remaining slices. Sprinkle some powdered
cinnamon
on top and enjoy. This is a light snack yet very satiating. Remember, what you snack may affect your weight, more than how much or how often you nibble.
5. Sweet Potato Strips
: Slice 1 sweet potato lengthwise into thin strips. Toss with 2 teaspoons olive oil. Roast on an oiled, nonstick baking sheet at 150oC until crisp and golden brown, for 20 minutes. Season with sea salt (store leftovers in an airtight container up to three days).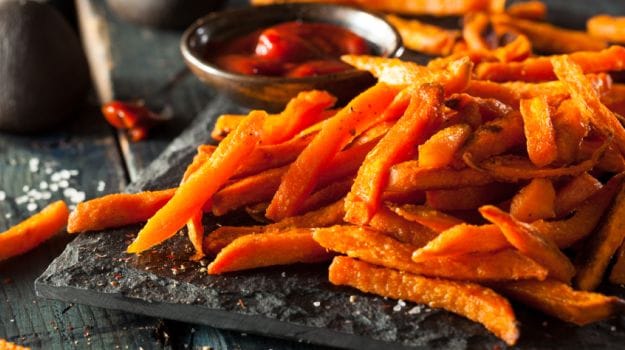 Healthy Monsoon Snacks: Sweet potato strips are easy-to-make and delicious
6. Cheesy Celery Sticks
: Mix ¼ cup Greek
yoghurt
or hung curd with 2 tablespoons crumbled blue cheese. Spread this dip onto celery sticks. It makes for a protein pumped anytime snack.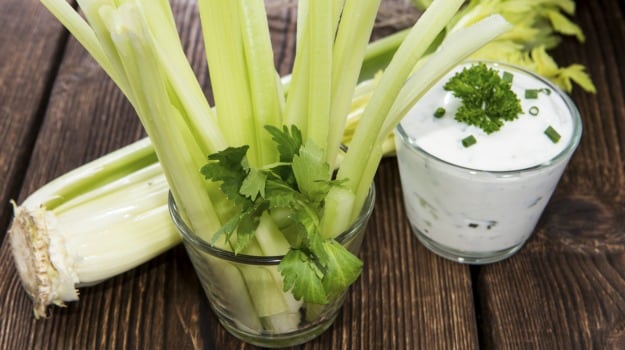 Healthy Monsoon Snacks: Enjoy celery sticks with hung curd
7. Tomato Pizzas
: Cut into half 3 mid-sized
tomatoes
and sprinkle with 1 tablespoon grated Parmesan cheese. Bake until golden, for 1-2 minutes. Drizzle with ½ teaspoon
Balsamic vinegar
and scatter 1 teaspoon sliced basil on top. Skip the regular pizza with this healthy option because the right amount of small bites can slim you down and power you up.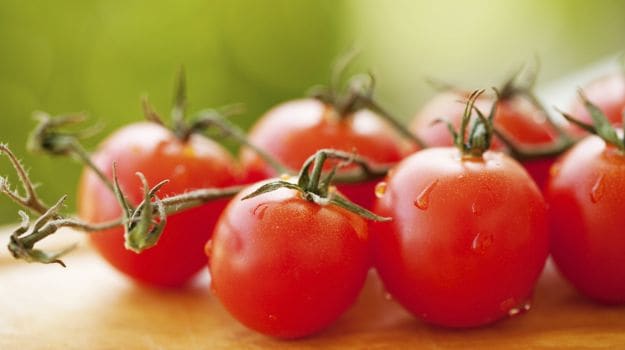 Healthy Monsoon Snacks: Skip the regular pizza with the healthy tomato pizza
8. Cheese and Walnut Stuffed Dates
: Divide 1 tablespoon goat cheese among four pitted dates. Top them with four toasted walnuts. Delicious and nutritious!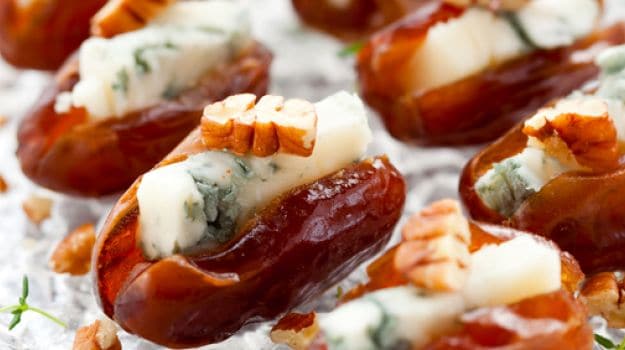 Healthy Monsoon Snacks: Dates go very well with goat cheese
9. Grilled Fruit Salad on Skewers
: Take
plums
, peaches, apples and pineapples, cut into cubes, and toss them with a squeeze of lemon. Insert the pieces in skewers, and grill them for about 10 minutes. Serve hot. Not all treats need to be deep fried or sugar dipped to taste good.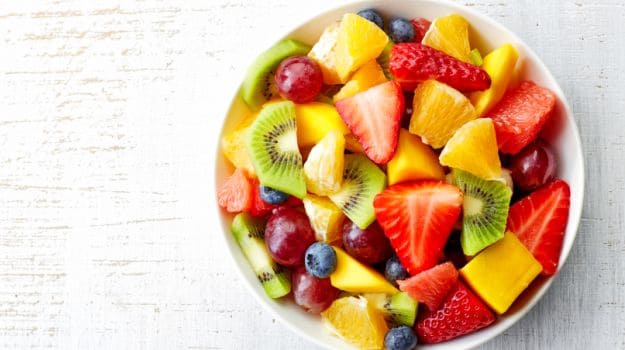 Healthy Monsoon Snacks: Fruit salad has natural sugars
10. Air-Fried Pistachios
: A crispy snack that's easy to do. Just air fry ½ cup pistachios with sea salt and sit back with a cup of your favorite herbal tea and experience bliss.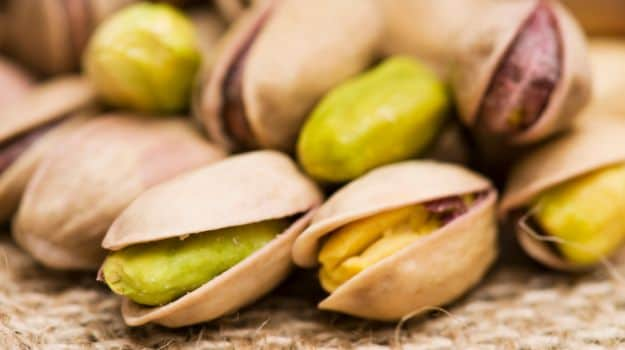 Healthy Monsoon Snacks: Pistachios can be air-fried for a quick snack
With these ideas for delicious snacks, monsoon should be a celebration without compromising on health or taste.
About the Author:
Shilpa Arora ND is a renowned Health Practitioner, Nutritionist and certified Macrobiotic Health Coach. She has to her credit Doctorate in Natural Medicine. She is currently based in Delhi NCR region, successfully running her Nutrition Studio with individual consultations, offering life style programs supported by the most up-to-date clinical research.
Disclaimer:
The opinions expressed within this article are the personal opinions of the author. NDTV is not responsible for the accuracy, completeness, suitability, or validity of any information on this article. All information is provided on an as-is basis. The information, facts or opinions appearing in the article do not reflect the views of NDTV and NDTV does not assume any responsibility or liability for the same. The products linked inline are neither suggested nor approved by the author.