The monsoon season is here and how! The heavy rainfall, earthy pleasant smell all around with breezy air, as much as we love this atmosphere we cannot deny the host of waterborne diseases that it brings with it. The sudden dip in temperature gives rise to some of the most common ailments like cold and cough, viral infections, etc. that are simply unavoidable. Besides this, the rainwater clogged all around creates a breeding environment for flies and insects that causes deadly diseases such as dengue.
Health Benefits Of Poppy Seeds
This is the season to load up on foods that boost our immunity and help us fight such ailments. One such food is Khus Khus (or poppy seeds) that are obtained from the vetiver grass. Vetiver grass is an age-old cooling remedy for a number of health issues. Poppy seeds, if taken in appropriate proportion, have many health benefits. Being rich in antioxidants, khus khus is a perfect addition to your diet to improve immunity and fight infections. Let's look at the health benefits of including khus in our diet this monsoon:


1. Improves Digestion:Poppy seeds are packed with insoluble fibre that helps in improving digestion and treats constipation to a significant extent.
2. Regulates Blood Pressure: Poppy seeds are essentially rich in oleic acid, which is known to reduce the blood pressure levels and regulate it effectively.


3. Strengthening Bones: Rich in copper and calcium, poppy seeds help in improving the bone health along with manganese that produces protein collagen, which protects from bone damage.


4. Natural Pain Reliever: Poppy seeds have known to be a natural pain reliever since ancient times. Many medical practitioners have used khus khus to help recover their patients from pain.


With all this and more benefits, let's look at how you can include poppy seeds or khus khus in your daily diet:
5 Interesting Ways To Include Khus Khus (Poppy Seeds) In Your Diet:
A quick and easy recipe to prepare for your next meal, khus wale matar has the goodness of poppy seeds combined with peas and spices like fennel seeds, red chillies, fenugreek, mango powder and asafoetida. Serve with rice for a delicious whole meal.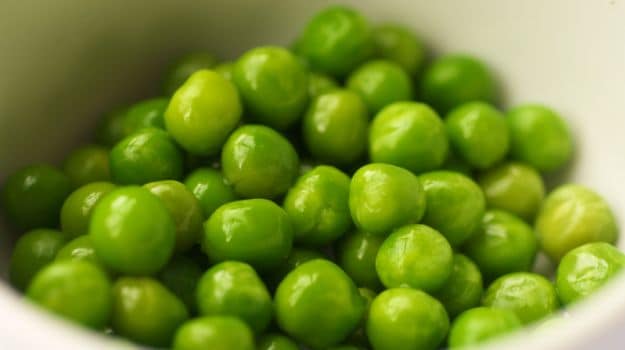 Poppy Seeds Recipes: Tender peas tossed in seasoning and spices that served for a light meal.
Soaked and ground khus khus cooked with milk and cardamom powder, served with caramelised almonds and pista along with ice cream on top. This is a heart-warming dish to prepare at home, perfect to serve post dinner as a dessert.


(Also Read: 15 Delicious Halwa Recipes To Treat Your Sweet Tooth! | Easy Halwa Recipes)
Khuskhus Recipes: Warm your table with this hearty poppy seed halwa recipe.
A delicious Indian, khus khus roll is a tricolour sweet delight, which is packed with khus khus, mango pulp, pistachio and saffron. Khus khus roll has cashew nut powder, which is cooked with sugar to form a thick paste that is stuffed with mango and pista, rolled and coated with roasted khus khus. It is served cold and can be stored in an airtight jar.
Khuskhus Recipes: A delicious tricolour Indian dessert.
Here is a great combination of sweet and tarty cake that you'll definitely have fun baking at home with kids. Topped with lemon syrup and fresh berries, this cake recipe combines flour, baking powder, salt, baking soda, cream, castor sugar, lime and poppy seeds together and bake to perfection. Serve this delightful cake with whipped cream and chocolate syrup on the side.
Poppy Seed Recipes: There is no better way to enjoy special occasions than this delectable cake recipe.
Indulge in the goodness of poppy seeds with these delectable recipes at home and let us know your favourite one in the comments section below.
About Aanchal MathurAanchal doesn't share food. A cake in her vicinity is sure to disappear in a record time of 10 seconds. Besides loading up on sugar, she loves bingeing on FRIENDS with a plate of momos. Most likely to find her soulmate on a food app.