Indian Dessert Recipes- We have a serious penchant for sweet food and we'll happily agree. No Indian festival or celebration is complete without a plateful of mithai. Every region, culture and household has one or the other type of mithai that is synonymous to the occasion and integral to our traditions. We've all grown up watching our mothers and grandmothers find immense joy in preparing sweet treats for the family and coming back to a house filled with delicious aromas. Most festivals are marked with a special mithai that is usually made at home and offered to the deities. In fact, the journey of Indian mithais dates back to the ancient mythological period. The tradition of making mithai during festivals probably comes from the ritual of preparing Bhog or Prasad which is offered to God. Be it Lord Krishna's love for Doodh ki Barfi or Ganesha's Motichoor ke Ladoos, mithai has been considered God's most beloved food and even ours. Moreover, sweets symbolize good luck and therefore, you'll always find them gracing our tables.

(Also read: 10 best Indian dessert recipes)

You'd be surprised with the mind-blowing variety of sweets that we can make with a just a handful of humble ingredients such as milk, khoya, besan and nuts. Interestingly, most Indian mithais may use similar ingredients yet each one of them differs in taste and texture. Over the years, many of us have conveniently shifted to the store-bought stuff but at the risk of our health. Adulteration and use of synthetics colours and flavours is common and known but often ignored. Time to go back to the basics and we'll help you rewind the clock.


Learn how to make regional classics from all across the country and bring back sweet memories with our 13 best mithai recipes.

These fudge-like sweet is an instant hit and also very easy to make at home. This simple mithai is made with milk tastes so good that it will surprise you.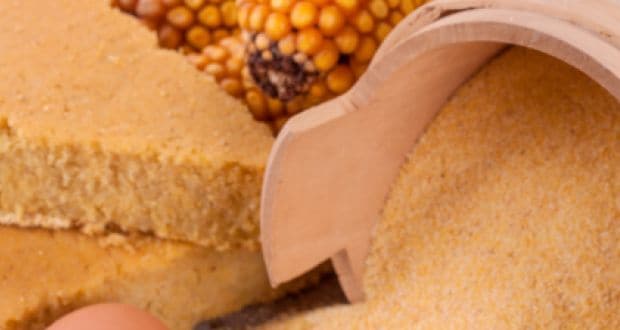 An Indian mithai made with curdled milk, saffron and lots of dry fruits. Image credits: iStock
This mithai is believed to have originated in Alwar, Rajasthan and is made with only two main ingredients sweetened milk and paneer. It's soft, creamy and melts in your mouth when made well.
A soft tasty barfi from the desert land comes this Indian dessert for any festive occasion.
This is, undoubtedly, one of the most loved Indian mithais. It is made with creamy cashew nut and has a typical diamond shape adorned with silver varq. In this recipe, the chef uses saffron and cardamom to add more flavour.
Recreate the sweet sensation of kaju katli right in the comfort of your kitchen.
This rich and delicious mithai is made with gram flour and nuts. Gram flour is cooked over low heat for hours to form a smooth base which is then shaped into barfis and garnished with toasted almonds or crushed pistachios.
Gram flour or besan sauteed with ghee and sugar to make this mouth watering delicacy. Image credits: iStock
Of all the sweet treats made during festivals, ladoos are most iconic. In this recipe, freshly toasted coconut is rolled with khoya, cashews and condensed milk.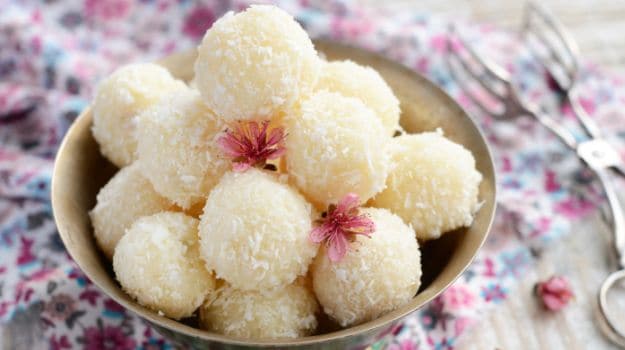 Shaped into round balls and stuffed with almonds and cashews, these coconut ladoos are every festive treat! Image credits: iStock
This mithai is similar to a doughnut – fluffy with delicate layers. In South India, a similar sweet is prepared which is known as Badushah.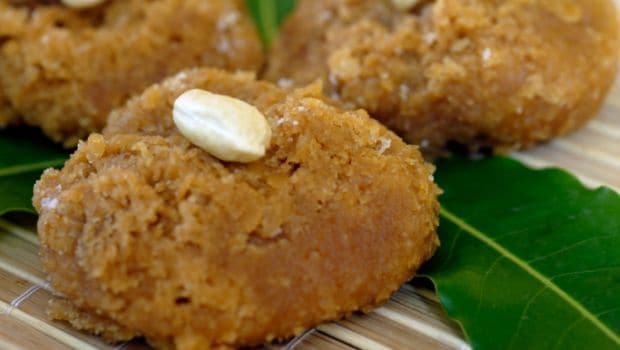 A traditional North Indian flaky dessert that is super delicious. Image credits: iStock
This famous mithai from Karnataka needs only three ingredients – gram flour, sugar and lots of desi ghee and is famous for its melt in the mouth texture.

(Also read: How Mysore Pak originated)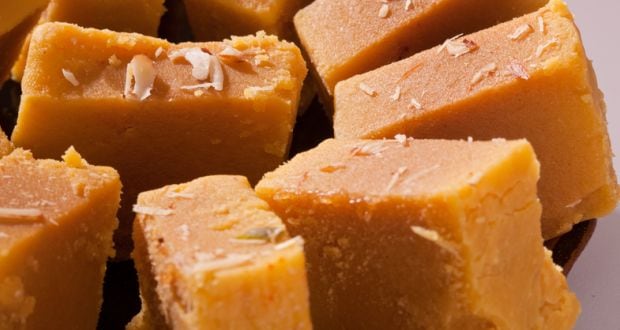 Mysore Pak is a sweet dish of Karnataka, prepared especially during Diwali. Image credits: iStock
This delicious mithai from Rajasthan is an absolute delight. It is a disc shaped dessert dipped in sugar syrup and topped with mava, paneer or malai. It is most popularly made during the month of August or the auspicious month of Shravana or Sawan when the festival of Teej and Raksha Bandhan falls.

(Also read: Ghevar and Teej Celebrations)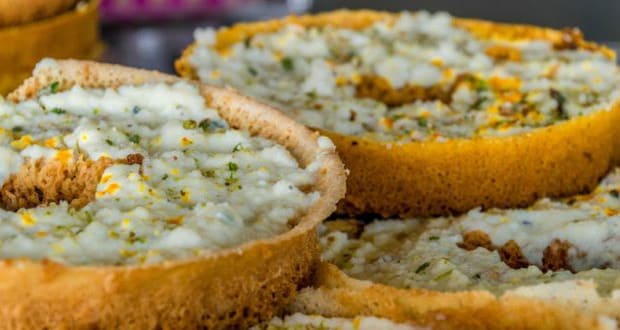 There are a plenty of varieties of the traditional dessert Ghewar including mawa and malai. Image credits: iStock
You may have heard of the famous Agra ka Peda, now learn how to make it at home.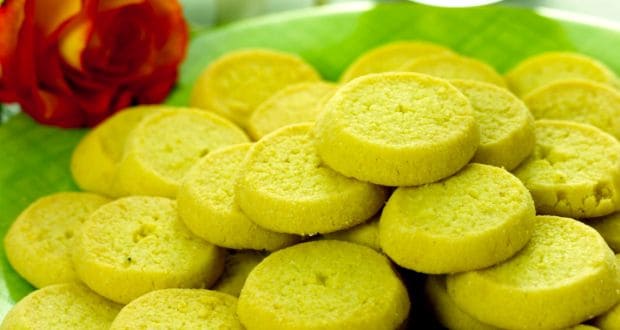 Three simple ingredients make for this popular Indian sweet native to Uttar Pradesh. Image credits: iStock
This all-time popular mithai from West Bengal made with cottage cheese is soft, smooth and moist.

(Also read: 10 Best Bengali Recipes)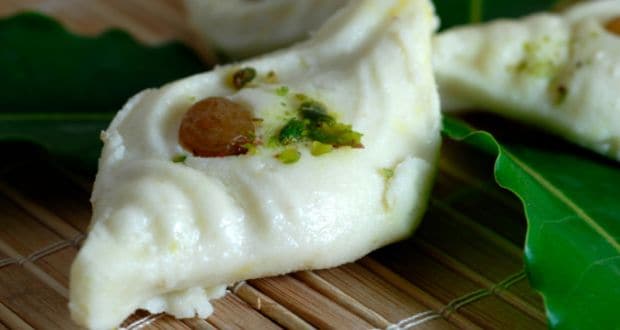 Bengal's super hit sweet, made with sweetened cottage cheese and flavored with cardamom and kesar. Image credits: iStock
Gulab meaning rose and Jamun meaning berry makes for Gulab Jamun as a berry-sized ball dunken in rose flavoured sugar syrup. It can be served hot with vanilla ice-cream or just a stand-alone chilled dish.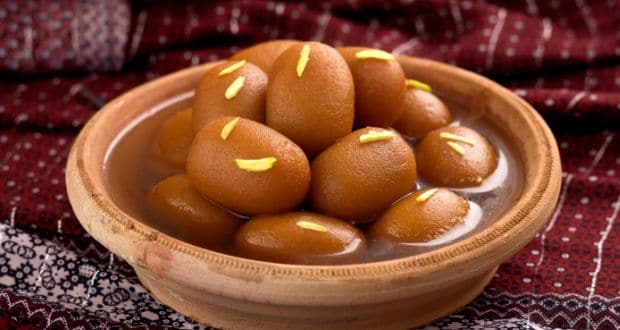 The classic Indian dessert that is usually enjoyed during festive and celebratory occasions. Image credits: iStock
Loved and cherished by all, this traditional Bengali sweet Rasgulla or rosogulla has soft and spongy balls made of fresh paneer and dipped in sugary syrup. You just cannot resist having more than one!


A very popular Indian dessert, Boondi ke Ladoo are also known as Motichoor ke ladoo and are usually made during festive times like Diwali or at Indian weddings and other pujas.


Try these yummy Indian sweets at home and share your experience in the comments section below.