Khichdi has been an integral part of Indian cuisine since time immemorial. The word has its roots in the Sanskrit word "khiccha", a dish cooked with rice and lentils. This humble dish has satiated our hunger whenever we've craved something light and has given us the much-need comfort on days when we've not felt our best. Not only this, khichdi is also extremely versatile and offers a host of health benefits. We Indians love this one-pot dish so much that you'll find different varieties of khichdi in different states of the country. Today, we bring you a list of popular khichdi recipes from across India that you should definitely try. Take a look.


Also read: 5 Dal Khichdi Recipes You Can Make For A Wholesome And Delicious Meal
Here're 7 Popular Varieties Of Khichdi From Different Indian States:
1. Bajra Khichdi, Rajasthan
A staple dish in almost every Rajasthani household, bajra khichdi is quite unique as it doesn't use any rice. Unlike in other parts of India, where rice is the main ingredient in khichdi, Rajasthani khichdi is made of bajra (millet). It is commonly served with accompaniments like garlic chutney, home-made pickles and curd. Some people also garnish this khichdi with dry fruits. Click here for the recipe.
2. Gujarati Khichdi, Gujarat
This rich and flavourful dish has a history associated with it. It is believed that the founder of Ahmedabad, Sultan Ahmed Shah I, was so fond of khichdi that he used to have it every day. It is prevalent all over the state now and comes in different forms such as sweet, savoury and with or without vegetables. This khichdi is typically served with sweet Gujarati kadhi.
3. Bihari Khichdi, Bihar
One of the most popular dishes in the state, Bihari khichdi is made with ingredients like rice, moong dal, ginger, chillies and urad dal. It is topped with a tempering of ghee and hing. This dish gains even more popularity during the Makar Sankranti celebrations. Bihari khichdi is best enjoyed with choka, a dish made with mashed potato and brinjal.
4. Bisi Bele Bath, Karnataka
Bisi bele bath is a popular comfort food of Karnataka. It is a flavoursome, spicy and slightly tangy dish made with rice, lentils, mixed vegetables and an aromatic spice mix. Bisi bele bath is quite similar to khichdi and makes for a wholesome meal. Top it with a generous drizzling of desi ghee to relish its taste. Click here for the recipe of Bisi Bele Bath.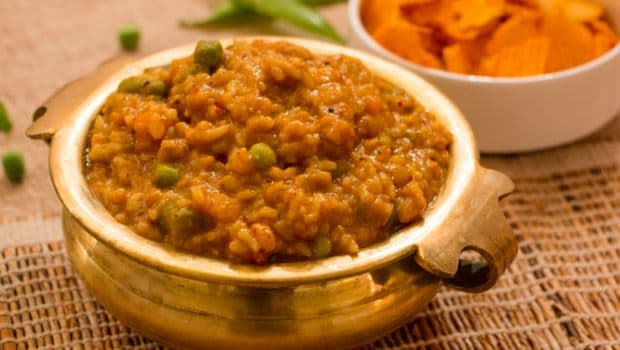 5. Khichuri, West Bengal
Mention Bengal and the first thing that usually comes to mind is macher jhol, rosogolla and biryani. But did you know Bengal has its own version of khichdi? Khichuri, as popularly known by the locals, has a porridge-like texture and is made with rice, moong dal, ginger and oodles of desi ghee. It has a slightly sweet taste and is best enjoyed with tomato chutney and fried Hilsa fish. Click here for the recipe of Khichuri.


Also read: Bengali Cuisine: 7 Bengali Curries That Have Our Heart (Recipes Inside)
6. Pongal, Tamil Nadu
Pongal, also known as pongali or huggi, is Tamil Nadu's version of khichdi. It is usually made during the celebrations of the harvest season and is available in both spicy and sweet variations. Chakarai pongal, which is sweet, is loaded with roasted dry fruits. On the other hand, venn pongal is a little spicy and has a rich garnishing of powdered pepper. Click here for the recipe of Pongal.
7. Keema Khichdi, Andhra Pradesh
Keema khichdi is the only non-vegetarian version of khichdi on the list. This khichdi was created by the Nizams of Hyderabad and tastes quite similar to Hyderabadi biryani; however, it is cooked differently. Keema khichdi is extremely wholesome and is typically served with 'khatta', a tangy side dish that is somewhat similar to salan.



So, what are you waiting for? Try out these khichdi recipes and let us know which one was your favourite in the comments below.
About Vaishali KapilaVaishali finds comfort in eating parathas and rajma chawal but is equally enthusiastic about exploring different cuisines. When she's not eating or baking, you can often find her curled up on the couch watching her favourite TV show - FRIENDS.