In the movie Food Matters, Dr Andrew Saul had asked a question - "What would happen if everybody ate lots of fresh food that was organic and not processed?" He went on to answer the question in the same movie and said - "There would be an epidemic, of health."
Seeds of all varieties, from chia and flax to sesame and sunflower, seem to be sprouting in menus everywhere. The organic food industry is also realising this and seeds are seeing rising popularity as direct ingredients, and not just because of their oils.
Of the six major plant parts that are edible, seeds are one of the main sources of human calories and protein, especially for vegetarians. The most important global seed food source, by weight, are cereals (such as wheat, rice, maize, etc.) that are ground to make flour; followed by legumes and nuts. Seeds had a major role to play in ancient man becoming a cultivator from a hunter. Cultivation of flax, for instance, has been associated with the establishment of the Babylonian civilization where it was used as a culinary and medicinal ingredient, as well as to make linen.
Sprout Some Health
Seeds are nutritional powerhouses. They are packed with proteins, vitamins, minerals, fiber, antioxidants and are also the best sources of healthy fats needed by the body. What's more, the huge variety of seeds available at our disposal also means that they are easily available ingredients that can be used to tweak and enhance the flavour and nutritional value of a number of dishes. "I regularly use a variety of seeds such as pumpkin, flax, chia and so on to add that unusual boost of flavour and added crunch to my patisserie products," shares Chef Neha Lakhani.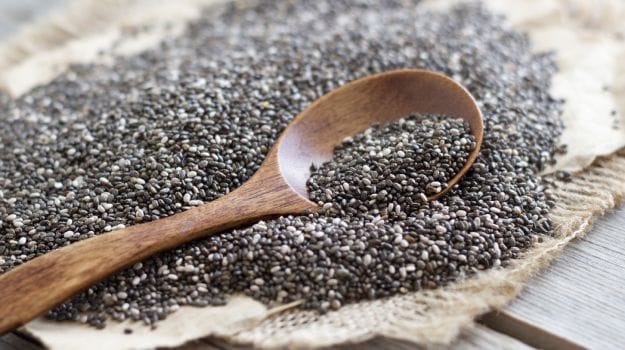 The ancient Mayans and the Aztecs used chia seeds as magical energy-enhancers and ground them into a drink. The world is still in the throes of its obsession with flax seeds that contain large amounts of omega-3 fatty acids, dietary fiber, and lignans (beneficial plant compounds). Studies have proven the efficacy of flax seeds in reducing belly fat and lowering the risk of heart disease and cancers, aside from stroke and diabetes. Sesame seeds, used to make tahini, are immensely popular in Asian cuisine and a great source of calcium, iron, magnesium, phosphorus, zinc, B vitamins and dietary fiber. Due to their antioxidants, a recent study showed sesame oil may help lower inflammation and improve brain health.
Adding an array of tasty seeds into daily cooking is an economical way of sneaking in an extra dose of nutrition without any fuss. For years, nutritionists have been advising us to eat nuts instead of snacks that have sugar or carbohydrate content. Dr Anurag Sharma, a Chandigarh-based cardiologist says, "A lot of nuts - that are actually seeds, such as almonds, walnuts, pistachios, pecans and in moderation, peanuts are really good for you. As part of a diet that is low in cholesterol and harmful saturated fats, nuts have the potential to reduce the risk of heart disease."
Avni Kaul, a Delhi-based nutritionist, says, "When mixed with water, chia seeds create a gel that's touted to be a weight-loss pudding that helps control hunger. Seeds are actually very good multitaskers. They satiate hunger as well as give more nutrition than even a serving of fruit."
Seeds such as sunflower, pumpkin, sesame, chia and so on, are also packed with protein and fiber, calcium and vitamin E, healthy fats and omega-3 fatty acids. And oh, yes, they taste wonderful too!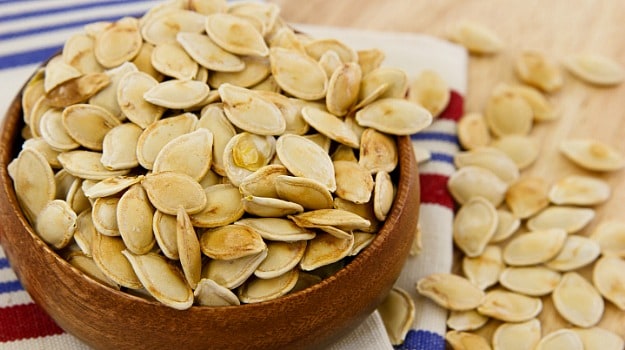 How to Make Them Tastier
If chefs and those fond of cooking are to be believed, seeds give dishes great texture. Foodies swear by the satiety value of dishes that contain seeds. Seeds come handy in thickening sauces in Mexico (like mole) and the Mediterranean (like tahini and pesto); they add flavor and a touch of luxury to rice dishes, stir-fries and desserts throughout the Middle East and Asia. "Seeds add flavour as well as interesting texture to almost any dish and are fun to experiment with. What's more, they are amazingly nutritious," says Chef Ashay Dhopatkar, who specialises in European cuisine.
Executive Chef Nishant Choubey of The Roseate, New Delhi adds seeds to a lot of his salads. "A fruit or vegetable salad is the easiest way in which you can incorporate seeds in your diet. I soak a tablespoon of sesame seeds in rice vinegar with salt and sugar and use that as a dressing on cucumber ribbons to make a delicious salad." One of the healthiest "sweets" that you can eat, in case sweets are something you cannot do without, is a granola bar. Chef Nishant says "Simply melt jaggery on very low heat and add your choice of roasted seeds and some nuts or oats. Let it cool to room temperature and cut it into individual bars that can be wrapped in butter paper and stored in the fridge."
Seeds can be consumed on their own, or added to breads and even chapatis. "Soaked sesame, flax and pumpkin seeds can be added while baking bread, but to make cookies or while garnishing dishes, I dry them out in a low oven," says Chef Ashay.
Recipe: Chef Ashay Dhopatkar's Double Cheese Soufflé with Roasted Seeds
Chef Ashay, who has worked with celebrated Chef Gordon Ramsay at the reputed Savoy Grill, values simplicity - focusing on fundamental flavours and a few chosen elements that shine even as they come together in delicious cohesion. He shares the recipe for a soufflé that is as yummy as it is nutritious.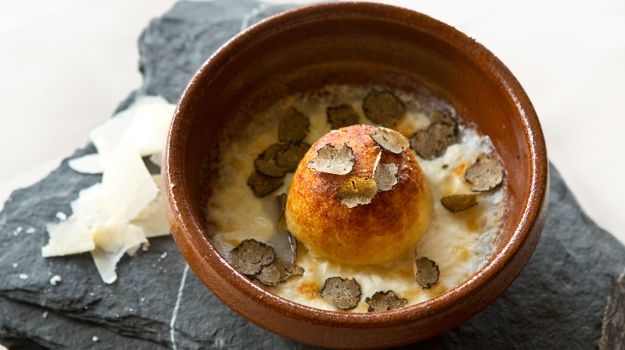 1. Grease a mould with butter; coat the mould with crushed and roasted pumpkin seeds and walnuts. Refrigerate to set.2. Infuse 250 ml milk in a pan by adding 2 grams each of crushed garlic, thyme, bay leaf and half a white onion.3. In another pan, add 35gm butter and 40gm of all-purpose flour and cook together, while ensuring mixture does not get brown. Add milk in the mixture gradually and whisk it nicely so there are no lumps.4. Add 50gm Gorgonzola cheese, 15gm Ementhal cheese, salt to taste and mix well. Now add two whisked egg yolks. Separately, whisk 3 egg whites till fluffy and fold into the mixture. Then pour this mixture into the chilled mould and put into the double boiler in the oven at 180 degree for 20 minutes.5. If you want to make a sauce with this soufflé, cook 20gm butter and 20gm flour together; then add 300ml milk very slowly with 80gm Gorgonzola cheese and salt to taste. Stir to ensure there are no lumps.6. To plate, pour the gorgonzola cheese sauce in the plate, remove the soufflé from the mould with the help of a paring knife and put onto the plate. Garnish the soufflé with a slice of apple or beetroot and sprinkle a few walnuts and pomegranate seeds on the side. If serving without sauce, serve hot with a few baby lettuce leaves and pomegranate.Disclaimer:
The opinions expressed within this article are the personal opinions of the author. NDTV is not responsible for the accuracy, completeness, suitability, or validity of any information on this article. All information is provided on an as-is basis. The information, facts or opinions appearing in the article do not reflect the views of NDTV and NDTV does not assume any responsibility or liability for the same.