northernmost corner of the country, Leh Ladakh is one of the places that is on everyone's road trip bucket list. Several movies have been shot in the beautiful landscapes of Ladakh amidst the clear blue skies, in spite of this region being so difficult to access and geographically isolated. We're all familiar with the place, but we're left wondering when someone asks us about Ladakhi food. A majority of people think Ladakhi cuisine is all about momos and noodle soups, but in reality, it is so much more.

At a Ladakh food festival organised in Chor Bizzare restaurant by Chef Rajiv Malhotra along with the Royals of Ladakh (His Highness King Jigmed Namgyal and Her Highness Rani Spalzes Namgyal) a few months ago, we witnessed a delightful spread other than the popular dumplings, which helped us learn a great deal about the flavourful delicacies of the region. The people of Ladakh generally grow their own food and are more or less self-sufficient in terms of food grains. Due to the extreme climatic conditions, the Ladakhis are limited for vegetarian options. Some of the common vegetables grown are pumpkin, potato, beans and beetroot. Barley is one of the commonly found crops here, and it is used to make roasted flour called Tsampa.

Tsampa has been the staple food for centuries, often mixed with tea or used to make dumpling wraps or soups. The Barley crop is also fermented to brew a local, home-made beer called Chang, which is vital to the celebration of most regional festivities. The more commonly used meats include chicken and mutton. Ladakhi cooks also use several dry fruits and spices to make their food more aromatic and flavourful.

( Also Read: 12 Remarkable White Tea Benefits For Skin and Overall Health )







Chef Rajiv Malhotra shares, "People are so used to momos and thukpas that they most often miss out on the other delicious preparations of Ladakhi cuisine. You can try the Gyathuk, Chu-Tagir, Ti-Mok and Phating, and more. They have an interesting range of breads, such as the Tingmo, or the hand-made pasta look alike that they douse into broths, along with a range of vegetables. You also need to try Ladakhi Pulao which is quite unlike other pulaos."





The food of Ladakh is heavily influenced by nearby regions such as Tibet and Kashmir. While you commonly find dumplings and noodle soups, there are also beans, nuts, fruits and spices that make their way to the cuisine in delicacies like the pulao. In the harsh weather conditions of Ladakh, you wouldn't find seasonal specialities, but the ingredients provide the requisite energy and nutrition. Ladakhi cuisine focuses a lot on hot brews, soups and breads that keep the body warm.





Here are some interesting and lesser known dishes found in Ladakh -





1. Ladakhi Pulao





Ladakhi Pulao looks subtle, compared to other variants from Kashmir or Lucknow, but it doesn't fall behind in terms of flavour. In fact it leaves your surprised. The stark white rice beautifully soaks in the flavours of the aromatic spices and mutton stock. It is then layered with barista (caramalised onions) as well as caramalised carrots and nuts to lend to the flavour and texture. It may not be a common sight on the streets or even in the restaurants, but if you are lucky enough to be invited for a local home-cooked meal, you are sure to find it.

( Also Read: 10 Best Chicken Soup Recipes )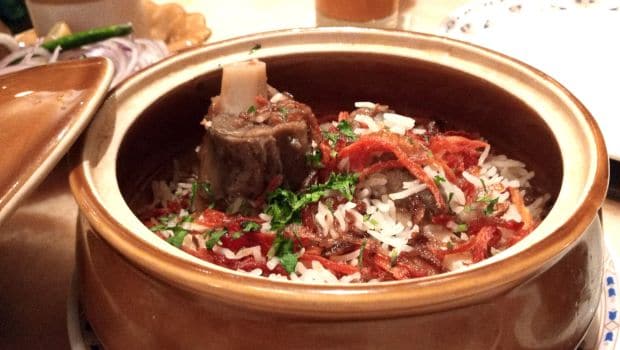 2. Skyu
Made from wheat and root vegetables, Skyu is a traditional soup-based dish. Soft wheat dough is kneaded into pasta-like shapes and cooked with root vegetables like carrots and turnips. The water is allowed to brew till it becomes boiling hot, and is served as a side dish along with momos, meat and vegetables. Skyu is a staple dish of Ladakh, it is made nearly every other day.
3. Tingmo
Tingmo is popularly sold on the streets of Ladakh as a stew, with either vegetables or meat in it. The stew is flavoured to be delightfully spicy, yet somehow sweet. There are also pieces of fermented bread served with Tingmo, or dipped inside it. Tingmo can be eaten as a tea-time snack or even as a full meal. The spice in the dish helps to maintain body warmth in the chilling land of Ladakh.
4. Thukpa
This noodle-soup is actually of Tibetan origin. However, due to the undue influence Tibetan cuisine exerts on Ladakhi Food, Thukpa is quite popular in the region. Thukpa is made by adding noodles to a clear soup with either cut vegetables or meat. Lightly seasoned with spices, Thukpa is available even at several pan-Asian restaurants, and is a fulfilling meal in itself.
5. Butter Tea
This signature tea of Ladakh is prepared by adding butter and salt to a brew of boiling milk and is infused with tea leaves. It is sometimes also known as the gur-gur chai. This salty drink is characteristic to the Ladakh region since it has the use of butter. Butter ideally gives the body some extra insulation against the harsh, cold climate. Ladakhis love their butter brew so much that it is an absolute essential must-serve during group gatherings and family meetings.
6. Khambir
This pan-shaped bread is a typical side-dish to all Ladakhi broths and brews. An important bread of the local Ladakhi cuisine, Khambir is made with whole wheat flour and baked to perfection. The bread is quite thick and its crust is very crispy. Khambir is a very filling bread due to its size and thickness- unlike the North Indian chapatti. Locally-produced Khambir is a must-have, especially with the traditional Ladakhi Butter Tea.
7. Chhurpi
This is a cheese made from Yak's milk - an animal whose abundance in the Ladakhi region is known by all. Yak milk is first churned by adding lime to it, which causes the milk to split, and the cheese is then made. Though Chhurpi making is a slightly complicated process, it is easily available in the local markets. The Vendors sell three versions of this Ladakhi cheese- sweet, plain, and salty. Chhurpi can be had with Khambir (Ladakhi bread), or with some crispy cracker biscuits.
8. Apricot Jam
Apricot is one fruit that is grown and produced within Ladakh itself, unlike several other fruits which are mostly imported. This ubiquity gives birth to a number of Apricot-based products, such as Dried Apricots, Apricot Syrup, Apricot Juice and Apricot Jam. This jam is a must-try, as it is nutritious, organic and satisfies the sweet tooth.
So, next time you plan a trip in your holiday time, head out to Ladakh and try out these delightful local dishes!