Carved out of East Punjab long back in the year 1966, Haryana became one of the most economically developed regions in India with its agricultural bloom. The state enjoys a blend of urban and rural population and boasts a rich culture and tradition. If we talk about Haryana's cuisine, it evokes simplicity. Haryanvi cuisine is just like the people in Haryana - simple, grounded and inevitably linked to the land. You will not find people opting excessively for restaurant food, especially in the smaller towns, as home-made meals are most cherished, using ingredients grown mostly in their own land.


According to Executive Chef Ankit Mangla from Premium Plaza Lounge, "Haryana is an extremely rich state when it comes to agriculture and cattle. So you will see people there growing and cooking their own food. They have large areas of land and use it for both commercial and non-commercial purposes. No wonder they live simply and eat simple homegrown food." There is no dearth of dairy products as the Haryanvis believe in consuming the purest form of milk by petting cows and buffaloes at homes. People here make their own butter and ghee. In most homes, nooni and tindi ghee, which is a fresh home-made butter, is churned daily.

Here are some very popular foods that Haryanvis love to savour in their daily diet -


1. Kair Sangri ki Sabzi

Kair Sangri, which is mostly associated with Rajasthan, is also popular in Haryana. They are desert beans and berries that are used to make a lip-smacking stir-fry in Haryana. They are prepared by first soaking them in turmeric infused water overnight or boiling them with a dash of salt for about 15 minutes. Then goes the blend of numerous spices including dry mango powder (amchur), turmeric, chilli powder, coriander powder, garam masala, ground mustard, sugar and salt during the cooking process. You can add yogurt to it too. This sabzi can be enjoyed for a longer period once stored in the refrigerator, which is about 8-10 days, and can be savoured with dal ke parathe.

Kachri ki Chutney is one of the most popular foods in Haryana. Kachri is a commonly found vegetable in the state. It is a wild variety of cucumber that resembles a small brown-coloured lemon. It is mostly consumed as a chutney or even sabzi, made with potatoes and other vegetables mixed together. The chutney has all sorts of ingredients including garlic, onion, aniseed (saunf), turmeric, cumin seeds, red chilies and salt to taste. It can stay fresh up to a month's time if refrigerated and kept properly in an air tight container.


3. Mixed Dal


Mixed Dal is a staple diet in Haryana. It is basically a blend of four to five protein-rich dals including chana, toor, masoorand moong. Prepared in pure desi ghee, it is mostly eaten with jeera rice. It also makes a delectable accompaniment for paranthas. It makes a distinctive staple with tomatoes, curd, garam masala and ginger garlic paste among others.


4. Hara Dhania Cholia


Cholia is chickpea or green chana which is commonly found in Northern India. Hari Dhania Cholia is a mix of green chana and variety of vegetables. It is prepared with onion, tomato, red chili powder, cumin seeds, coriander leaves and turmeric. It is a rare and unique combination that is popular in Haryana and is eaten with rotis or paranthas.


5. Bajra Aloo Roti


Who does not love something prepared withaloo? Haryana has a very healthy staple in Bajra Aloo Roti. It is prepared with a mix of bajra flour, mashed potatoes, ginger garlic paste, coriander leaves, garam masala. It served hot with white butter and it tastes heavenly.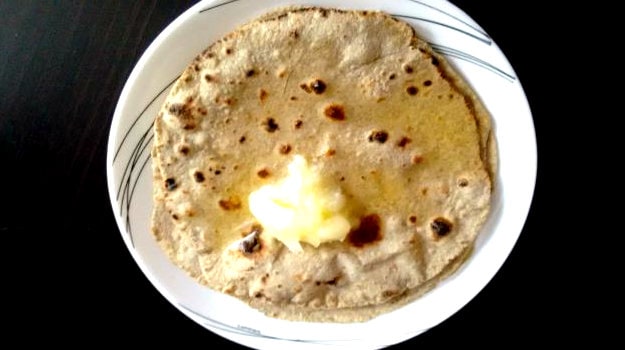 6. Alsi ki Pinni


Pinniis an immensely popular sweet in Punjab, but Alsi Ki Pinni from Haryana is a different ball game altogether. It is prepared with alsi (lin seed or flaxseeds), whole wheat flour, sugar, ghee, nuts and cardamom powder. This sweet is not only amazingly delicious but also very healthy. Alsi is high in fiber, omega 3, iron and potassium among others.



7. Besan Ki Masala Roti


Besan Ki Masala Roti is made with gram flour (besan), whole wheat flour (atta), ghee and the masala. The masala generally consists of cumin powder, coriander powder, dry mango powder (amchur), red chili powder, green chili paste and salt.



8. Bhura Roti Ghee


Nostalgic, aren't you? A childhood savory, bhura (powdered sugar), roti and ghee were a sweet dish served to us by our mother after a nice hearty meal. The leftover rotis generally made this combination and was extremely yummy. Haryanvis too indulge in this sweet dish and is quite popular in Haryana.



For desserts, as suggested by Chef Ankit, Haryanvis love to satiate their sweet tooth by preparing jalebis, rabri, kheer, malpua, meethe chawal, et al.

With the essence of earthiness, Haryanvi cuisine is definitely worth a try. Do tell us, which dish you liked and which one would you love to savour!