When I had gone to
Sydney
in 2011, I met Vishal Kadam, a young Mumbaikar who was working as a chef there. He took me to some of his favourite eating places in Sydney. One of these was a place called Marigold in the local China Town. The drill there was very interesting. Waitresses walked by, pushing trolleys which had small plates containing
dumplings
, spring rolls, spare ribs, noodles and some even had fried rice. The portions however, were tiny. You gestured and asked for what caught your eye. And they kept serving you hot tea (without milk) on the side. The atmosphere was that of a stately dining room. Vishal told me that this form of eating is referred to as Yum Cha and is popular among Sydney folks from across communities.
That afternoon came back to me five years later when I was in Hong Kong recently, lunching at the Man Wah, a Michelin starred restaurant in the historic Mandarin Oriental Hotel. Man Wah serves Cantonese food. We started off with an assortment of dumplings, moved on to a flavour packed bacon and parsnip puff and then a crunchy puffed rice in lobster soup followed by egg custard and sweet fried sesame buns. Phew. Tea was served through the meal. At the end of the meal, Edwina A. Kleunder of the Mandarin Oriental Hotel, and a Hong Kong local, explained the concept of Yum Cha to me - A meal where you have dim sum while sipping tea on the side.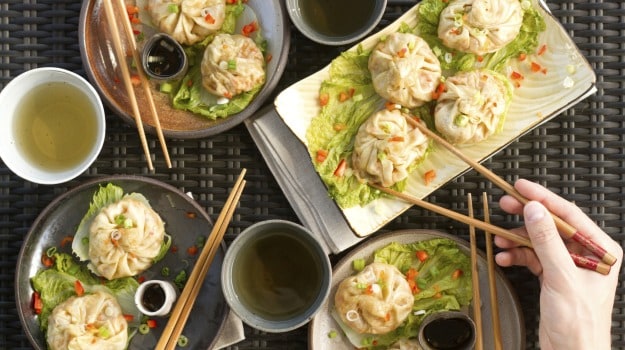 More to dim sum than dumplings
"Wait, you mean to say that the bacon puff and the rice and the desserts are dim sums? Aren't dim sums steamed flour dumplings?" I asked. Apparently not. There is more to dim sum than the steamed and friend dumplings that I knew of. So I decided to dig deeper and this is what I found. Liang Xiao Qing, the executive Chinese chef of the ITC Maratha, whose double cooked pork belly I love, told me that dim sum refers to small bites. They could be had as snacks, with main meals, or as a main meal. While dim sum is often associated with Cantonese food, Chef Liang, who hails from Beijing, told me that dim sum is popular across China.
The pork soup dim sum that I love in Mumbai's Ling's Pavilion, is actually Shangainese and not Cantonese, as I later found out. The dish is locally called Xiao Long Bao. At Ling's, these steamed pork dumplings have a little hole on top through which you pour in a soya wine vinegar. This is the 'soup'. You then pop the soup filled dumpling into your mouth and feel the juices burst and mix with the meat and the experience is most heady. The practise of pouring in wine through the hole makes me compare the pork soup dumpling with the phuchkas of my native Kolkata and the pani puris of Mumbai and I jokingly refer to them as Chinese phuchkas.
There were pork soup dumplings in our lunch at the Man Wah too. However, the flour casing was a lot thinner and more delicate compared to Ling's and as the juice was already there in the dumpling, you didn't have to pour it in.Thus, it would be correct to say that dumplings are merely a type of dim sum. But dim sum itself refers to a style of Chinese cuisine, served in small bite-sized portions, including but not limited to dumplings.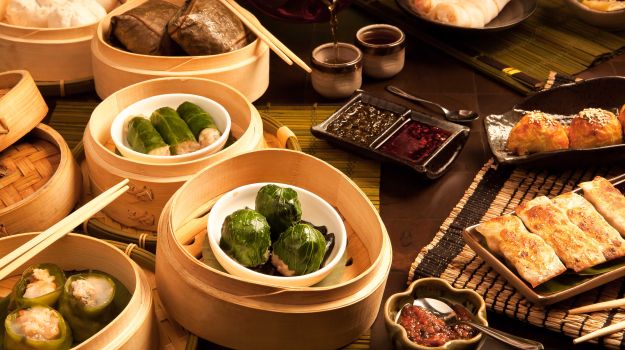 Image via Dao, New Delhi
Keep the knives away
Baba Ling of Ling's Pavilion gets very upset when he sees people use knives and forks to cut and eat dumplings. When I asked Liang of ITC about this, Liang said that they should be eaten whole at one go or at least not cut with a knife. They are traditionally meant to be eaten with chopsticks. If like me, you are not adept with chopsticks, he'd prefer you use your fingers.
Just be careful while eating dumplings as the freshly steamed ones are hot and you could very well burn your mouth!
Spare ribs too?
I went to Tim Ho Wan, the popular dim sum chain in Hong Kong. It was started by Mak Kawi Puiwho, former chef of a 3 Michelin starred restaurant. He opened a 20 seater restaurant at Mongkonk in Hong Kong where he wanted to take his food out of plush five star environs and make it more accessible to local diners. Then his Mongkok outlet won a Michelin star too! His chain has expanded since and gone international as well.
We went to Sahm Pui Po branch of Tim Ho Wan in Hong Kong which has a Michelin star and got to meet the very unassuming and humble Chef Mak. There was a pretty long queue to get in. Our meal included steamed dumplings, spare ribs with black bean sauce, chicken feet with steamed sticky rice and black beans, spring rolls, noodles and tea of course. The most famous dish here is the baked pork buns where the texture of the casing has a nice crunch to it.
Ribs, rice, chicken feet...all dim sum?" I asked once again. Yes, replied Vivian Wong, a guide with the Hong Kong Tourism Board.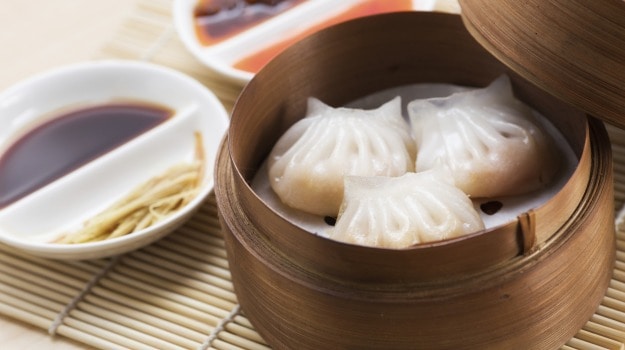 Dim sum for a harmonious family
Vivian also said the dim sum is normally a big part of community eating. Families and friends get together and bond over dim sum. Her parents go out every morning together, to have dim sum for breakfast. It's a ritual for them. Dim sum is rarely prepared at home as this is a tedious process. Some supermarkets in China stock them and you can re-heat them at home.
So don't stress about making dim sum at home. Just find a nice restaurant and go in a group so you can try out a range.
Bending the dim sum rules
The thing about food is that there are no rules and the dim sum eating culture in India doesn't replicate that in China and that's absolutely fine, if you ask me. So don't feel conscious about going alone to eat dim sum. Edwina says that even in Hong Kong, people often go to a dim sum place alone and settle down with a newspaper. Moreover, Chef Liang has given you permission to use your fingers, so don't get stressed about not knowing how to use chopsticks.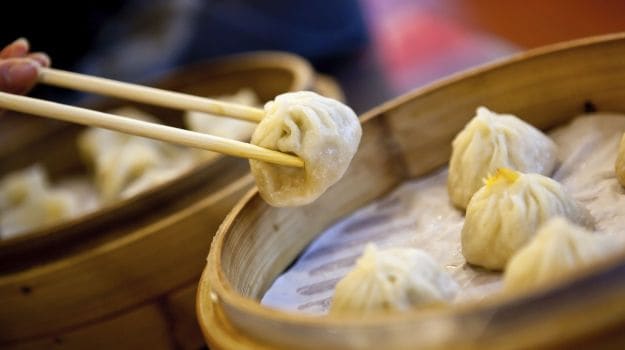 Are vegetarian dim sums even a thing?
While dim sum is associated with pork, beef and prawns (hargao for eg), don't feel conscious about eating vegetarian dim sum if you want to. Yautcha in Mumbai does a flavour packed minced truffle and edamame dumpling, which my wife loves.
Chef Sahil Singh of Pa Pa Ya experiments with kale and pokchoy and zestful and lively sauces such as the Tibetan garlicky spicy sauce, and even with different shapes and sizes, to make vegetarian dim sums exciting. He even uses different types of flours, such as potato starch, rice flour and whole-wheat flour, to offer textural contrasts to that of the refined flour dumplings that we are used to.
Momos, a form of Tibetan dumpling, is the initiation into the world of dim sum, for many of us in India. But as you explore more, you too will realize that there is a lot more to dim sum than dumplings.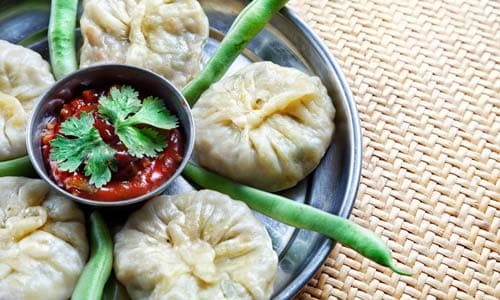 Waking up to the trend of diners wanting lighter and more vegetarian packed meals, even Man Wah in Hong Kong, which offers excellent beef and pork based dim sum options otherwise, includes innovative steamed dim sum using fungus (mushroom) and a variety of organic vegetables.
'Authentic Chinese is bland'.
China has a variety of cuisines. It's the Cantonese food which is low on chilli heat but the flavours make up for it. So don't be worried if you like spicy food. Dim sum is usually offered with chilli sauce and XO chilli sauce, which can add in a fair bit of chilli hit. You won't be stared at if you add them to your dim sum but do try tasting them without sauces too.
Is there a correct time for eating dim sum?
Another aspect to the Indian dim sum eating culture is that many of us have these as part of our main meals - lunch or dinner. In Hong Kong, and even mainland China, however it is popularly a breakfast dish or had at tea as Yum Cha.

Once again, don't worry. Rules are meant to be bent, as I said earlier. Dim Sum is enjoyed for main meals too in Hong Kong. Singapore has an interesting culture of late night dim sum eating. While traditionally meant to be had as breakfast here too, some Chinese folks go to dim sum joints to have a late dinner as they have supper early. I saw this at a restaurant called Swee Choon in Singapore where there was a queue to get in, even at 11 pm and the place was packed with groups of friends and families eating dim sum.
So, the point I am trying to make is that the dim sum culture is pretty diverse and flexible. As a genre of food, it offers options which can be light and nutritious and yet flavourful, especially if you stick to the steamed ones. Go with friends, try out a variety of dim sums till you find your favourite.
Don't worry too much about customs. Add sauce if you want to. Order vegetarian ones if you want to. Have it for lunch or dinner or as a snack. Use your fingers if chopsticks bother you, and if no Chinese chef is watching, your knife and fork too. Food is meant to be enjoyed after all and not stressed about.
My favourite dim sum experience so far? The bacon puff and the puffed rice in lobster soup at Man Wah, the spare ribs and chicken feet with black beans at Tim Ho Wan (and of course the baked pork buns), the egg custard bun at Swee choon and the pork soup dumplings at Ling's Pavilion in aamchi Mumbai.
My favourite dim sum memories? Fried pork momos with pork broth on the side in the Tibetan restaurants tucked in the houses of Elgin Road in Kolkata in the mid 1990s, when I was in college.
So, what's your dim sum story?

About the Author:
Kalyan loves to eat and he loves to talk about all that he eats. His wife urged him to start writing about it, otherwise she would have to hear it all. He blogs as 'finelychopped' and is the editor at large for the India Food Network.
Disclaimer:
The opinions expressed within this article are the personal opinions of the author. NDTV is not responsible for the accuracy, completeness, suitability, or validity of any information on this article. All information is provided on an as-is basis. The information, facts or opinions appearing in the article do not reflect the views of NDTV and NDTV does not assume any responsibility or liability for the same.