Image credit: Ashwin Rajagopalan
Dharwad's strong connection with
Uttar Pradesh
remains a puzzle. Dharwad along with its twin city Hubbali (Hubli) is the second largest urban agglomeration in Karnataka. This region was part of the Bombay presidency before merging with Karnataka (then Mysore state) in the 1950s. Bhimsen Joshi, Gangubhai Hangal, Basavaraj Rajaguru were not just among the most accomplished exponents of Hindustani Music in the 20th century. They all had a Dharwad connection and were practitioners of the unique Kirana Gharana style that is believed to have originated in Kirana (or Kairana) in Uttar Pradesh. Dharwad's other major contribution is the Dharwad Pedha, a mildly sweet, caramelised, version with its trademark
coffee
brown hue that can trace its roots back to Unnao in Uttar Pradesh.It's what the locals call 'Line Bazaar Pedha' that prompted me to make the trek from Dharwad to Hubbali. Aside from being the commercial hub of Northern Karnataka, Hubbali is also the gateway to Aihole, Pattadakal and Badami within 40 kilometers of each other and a treasure trove of Chalukya temples and architecture. I was slightly surprised at the modest scale of Thakur Peda's Line Bazaar storefront. This was after all the
sweet shop
that was instrumental in the Dharwad Pedha receiving a region-specific GI (Geographical Indicator) Tag for the food category (the Tirupati Ladoo and the
Hyderabad
Haleem are the only other two 'foodstuffs' to figure in that list across India). I barely notice Babu Singh Thakur Jr stroll in to the tiny store.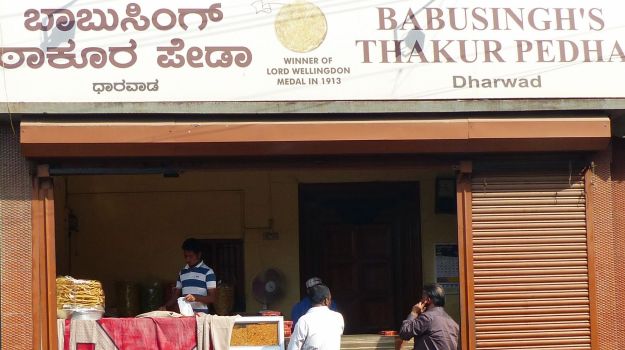 Image credit: Ashwin Rajagopalan
A major plague in the Unnao area in Uttar Pradesh in the 19th century is believed to have forced Ratan Singh to relocate to Dharwad with his family recipe to make
pedha
. His grandson (also called Babu Singh Thakur) is credited with popularising the Dharwad Pedha at its iconic Line Bazaar location. While the brand has expanded beyond its traditional stronghold (there are branches in
Bengaluru
and Pune too), for locals Line Bazaar will always be the
real pedha
. Babu Singh Thakur likes to call himself Junior out of reverence for his famous grandfather. He shows me a certificate from the Governor of Bombay in 1913 that virtually put the Dharwad Pedha on the map. He takes me across to another branch in the busy market area and talks to me about everything except Dharwad's version of Formula X – the Thakur family recipe for the
pedha
. He doesn't allow me to click pictures of the kitchen too. Locals believe it's the quality of
khoya
and the finely powdered
sugar
(used for dusting) that sets Thakur Pedha apart. Babu Singh Thakur is very confident about the quality of his
pedha
. He insists I visit some of the other sweet shops in the market. I relent and also visit Mishra Pedha another household name in Dharwad that dates back to the 1930s. It's almost as tasty and yet not quite in the same league. Chef Binoy Mishra, part of the culinary team at the Gateway Hotel Lakeside Hubli is from Varanasi, not too far from Unnao. I find out that he's been digging up stuff on the Dharwad Peda almost since he moved here about three years ago. There's another local legend that dates back to the 1890s that the Jahagirdars of Hebbali (a village near Dharwad) brought Ayodhya Prasad Mishra, a
pedha halwai
from Varanasi. It reaffirms Chef Mishra's theory that the Dharwad Pedha is actually an improvised version of the classic Mathura Pedha. He believes that the 'browning process' of the Dharwad Pedha distinguishes it from the traditional
pedha
but the cooking style is very similar.The Dharwad Pedha is also not cloyingly sweet like some of the other versions of
pedha
across the country. There are all kinds of theories that do the rounds in Dharwad about the
pedha
– some locals believe the sweet shops use
a pinch of salt
in the recipe while others suggest that quite a few shops use caramel to 'short-circuit' the laborious process involved in browning the
pedha
. Something that the old-timers completely frown down upon.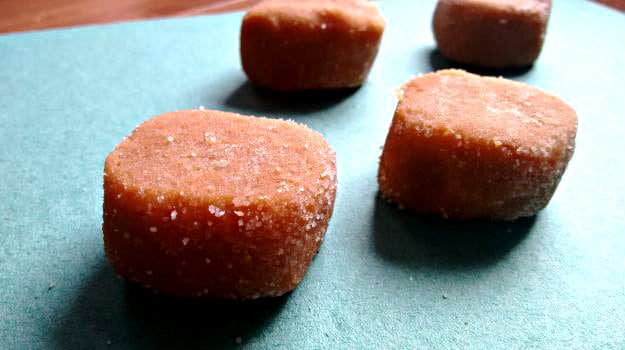 Image credit: Plavaneeta Borah
It's certainly not an easy sweet to attempt making at home but Chef Binoy thinks it's certainly worth trying especially if you can source high-quality
khoya
. He also recommends Kalakhand as a substitute if you can't get hold of
khoya
and if you don't mind your Dharwad Pedha being a tad sweet.
Dharwad Pedha
(Recipe by Junior Sous Chef Binoy Mishra, The Gateway Hotel Lakeside Hubli)
Preparation time: 20 minutes
Cooking time: 40 minutes
Ingredients:
2 cups khoya
10 –15 gms ghee
1 1/2 cup finely powdered sugar
A pinch of freshly ground green cardamom powder
A pinch of Mace (Javitri) powder
A pinch of clove powder
Directions:
1. Add grated
khoya
in a heavy bottom pan and start cooking.2. Add ghee in small amounts to keep the mixture moist. 3. Keep stirring continuously on a low to medium flame. Keep an eye on the
khoya
and ensure it doesn't burn. This is really the 'make or break' step in making the perfect Dharwad Pedha. 4. When the colour of
khoya
turns brown, add sugar and stir.5. Add the spices and let it cool.6. Take bite-sized quantities of
khoya
mix and make them into
pedhas
.7. Roll them over some powdered sugar till you get a thin layer.
About the Author:
Ashwin Rajagopalan is a Chennai-based writer who writes on topics related to food, gadgets, trends and travel experiences. He enjoys communicating across cultures and borders in his weekday work avatar as a content and editorial consultant for a global major and one of India's only cross cultural trainers.
Disclaimer:
The opinions expressed within this article are the personal opinions of the author. NDTV is not responsible for the accuracy, completeness, suitability, or validity of any information on this article. All information is provided on an as-is basis. The information, facts or opinions appearing in the article do not reflect the views of NDTV and NDTV does not assume any responsibility or liability for the same.
About Ashwin RajagopalanI am the proverbial slashie - a content architect, writer, speaker and cultural intelligence coach. School lunch boxes are usually the beginning of our culinary discoveries.That curiosity hasn't waned. It's only got stronger as I've explored culinary cultures, street food and fine dining restaurants across the world. I've discovered cultures and destinations through culinary motifs. I am equally passionate about writing on consumer tech and travel.