Breakfast is one of the most important meals of our day. After a long break of 8-9 hours from the last meal of dinner, breakfast literally breaks that fast for our body to start functioning for the rest of the day. Therefore, it is important to have a wholesome, nutritious breakfast. While it is important to pack our morning meal with every possible nutrient, you must also be careful of the ingredients that you are adding to your breakfast, especially if you are a diabetic.


Diabetes is a condition where your body is either not producing enough insulin or is not responding to the insulin produced. Diabetics are advised to be cautious about what they consume since they never know what can spike their blood sugar levels. Refined carbs or sugars are, of course, a big no-no, in fact, they must have a fibre-rich, protein-rich breakfast. Health experts and nutritionists often recommend diabetics to keep eating at regular intervals and not stay hungry for long. A fibre-rich diet will ensure that they are well-satiated for a long time. Hence, breakfast meal for diabetics should be nutrient-dense and devoid of refined sugar.


(Also Read: Have You Tried Granola Bars? A Healthy Alternative To Biscuits)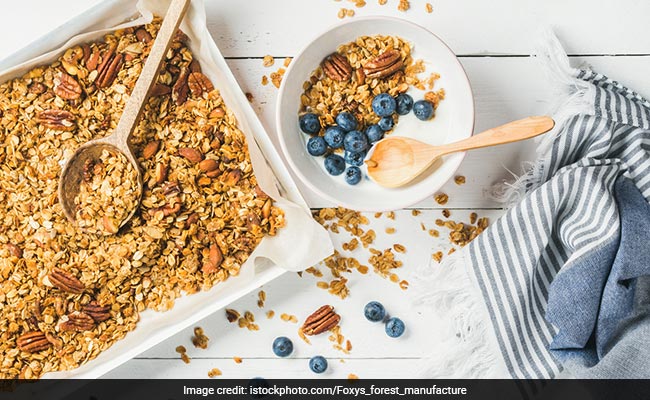 A wholesome granola is a great option for your next breakfast.
Here is a fibre-rich sugar-free granola recipe that you can easily prepare at home for breakfast. Packed with the goodness of
high-fibre
oats, yogurt, protein-rich flax seeds, and almonds, this granola bowl is the perfect way to start your day. In the recipe, oats are mixed with pumpkin seeds, sunflower seeds, sesame seeds and flax seeds, baked with a little tang of orange juice. It is then tossed with yogurt, almonds and fresh fruits. Yogurt and seeds together give in a creamy and crunchy texture to the bowl meal. This granola bowl is not just super healthy, but is also delicious and easy to make for breakfast.
Find the recipe of sugar-free granola bowl here and try it at home. Let us know your experience in the comments section below.
About Aanchal MathurAanchal doesn't share food. A cake in her vicinity is sure to disappear in a record time of 10 seconds. Besides loading up on sugar, she loves bingeing on FRIENDS with a plate of momos. Most likely to find her soulmate on a food app.