I was in Fort in South Mumbai a few days back. It is one of my favourite places in the city to eat in and roam around. I came across a couple of men making fresh
dosas
on a cart and selling them. I stopped to talk to them. "Where are you from? " I asked, expecting them to reply "Karnataka" as many
dosa
cart owners in Mumbai have told me in the past."Maid-ni- pur (Midnapore in Bengal)" they replied.I said, "Apnara Bangali/ Tahole dosa keno? Luchi banan" (Oh you are Bengali, why don't you sell
luchis
instead of
dosas
then?). They sheepishly assured me that they would sell
luchis
(the Bengali version of
puris
made with all-purpose flour) once the
rains
stop.
Now, here's the funny thing. Earlier in the morning I had spoken to a gentleman selling lassi and chaas from earthen pots at Bora Bazaar Road in Fort. I asked him where he was from. "Kolkata," was his answer. It was as if a Bengali Durga Puja association meet had been scheduled in Fort that morning.
There is nothing unusual about this though, Fort was one of the original CBDs (Central Business District) of Mumbai. Well before people began to talk of urban migration, people from all over India and beyond had come to work at Fort. As a result of this, an array of restaurants and street food stalls came up to the feed the worker bees of Fort. Many of these offered cuisines from the regions which the immigrants had come from. They offered food which reminded people of home and the prices were easy on the pocket too.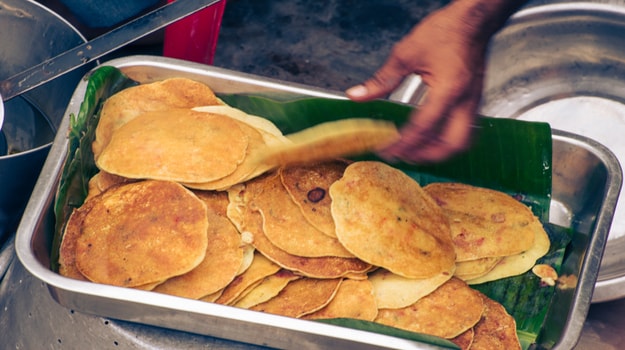 Plates from North India
Take for example, our first stop that morning, Pancham Puriwala. This restaurant is located opposite the CST station and is on the periphery of Fort. It holds the distinction of possibly being Mumbai's oldest running restaurant. It was started by a gentleman called Pancham. Legend says that he walked to Mumbai from Uttar Pradesh over a span of 40 days. He came to the city and started a shack where he sold UP-styled pooris (fiveto a plate). His family has carried his legacy onwards. The little shack has become a humble two storied restaurant where pooris are fried fresh all day.
For more North Indian, home-styled food, you can go to Moti Halwai opposite Yazdani Bakery. It was set up by a Punjabi family, which came from Karachi after they migrated to Mumbai post-independence. They had to start life from scratch as they had lost everything during the Partition. They set up Moti Halwai, which helped the family rebuild their lives. You get lovely, thick full cream lassi here as well as Punjabi-styled parathas, Sindhi Dal Pakwan, full Punjabi vegetarian thalis and mithais. Continuing on the North Indian theme, you should check out Vidya Dairy opposite the Fort Post Office and have the freshly fried jalebis there and khasta kachoris. The owners and staff here are from Uttar Pradesh and the crowds speak volumes about the food here.


Irani Cafés and Parsi Food
Then there are the Irani cafes and restaurants of Fort. A tribute to the many Parsis who once worked in banks, share markets and legal offices this side of town. The Irani migrants from Iran have been attributed by many to have started the restaurant culture in Mumbai with their Irani restaurants. Fort is where you can explore a world of Irani restaurants beyond the famous Britannia, located at nearby Ballard Estate. Parvez Irani's motorcycle garage converted into a restaurant, Ideal Corner, is 25-years old and is one of the 'newest' Parsi restaurants around. It is the one Parsi restaurant, which even most Parsi men who normally hate to look beyond their mother's cooking, approve of. My favourites here are the mutton dhansak, pulao dar, sali boti and my wife, a Parsi, loves the akoori (a spicy scrambled egg) too.
Another interesting place is
Jimmy Boy
near Horniman Circle. It draws its origins to a hundred year old Parsi café called Café India. The descendent of the owners decided to convert the cafe into a Parsi restaurant in 1990s. Their specialty is the
lagan nu bhono
or Parsi wedding feast platter that they offer. Or you can go to the more sleepy
Café Military
nearby and have the
kheema ghotala
, where an egg is beaten into
kheema
(minced meat) and finish it with a delightful caramel custard.
To get a taste of Mumbai before modern coffee shops came up, head to Yazdani Bakery, one of the last remaining Irani Bakeries. The aroma of fresh bread being baked will draw you in. The thing to order here is Irani chai with bun maska or brun (a crusty bread) maska. Maska is butter and they add a lot of it here. You dunk the bread into your tea and then have it.


From Down South
Or you could go to Swagat Restaurant near the Strand Book Store. It is an old school Udupi (from Karnataka) restaurant. I used to stop for a dosa and a filter kaapi here every evening before setting off for home for the six months when I had the privilege of working out of an office based in Fort. That's when I used to head down at lunch every day and discover a new restaurant in the vicinity.
Some of the places that I tried out included Hotel Deluxe, recommended to me by a Keralite reader of my blog. He said that he used to go there for a taste of home food when he worked at Fort. I love the sadhya at Deluxe, a vegetarian Keralite meal that is served on banana leaves. You can also try fish fry, specially karimeen (when in season), and Keralite fish curries. Or go for the mutton (goat meat) or buff chilli fry and have them with Keralite parotas. Do try the Keralite biryani made with short grained rice. Some of the other popular Keralite restaurants here are Taste of Kerala (on the same lane as Deluxe), Rahmania and Fountain Café.


Seafood
Mumbai's seafood restaurants, top on the list of many tourists who come to the city, are located here. Trishna and Mahesh for example. Interestingly, they are both run by Mangaloreans and do not technically offer 'local' food. These restaurants started as simple 'lunch homes' offering reasonably priced food for those who worked here. While Mahesh and Trishna have become pretty posh over the years, you can go to places such as Harish Lunch Home and Modern Lunch Home and have some beer with surmai fry and chicken kori roti to get a feel of the lunch homes of yore. My favourite is Apoorva, run by a Mangalorean family, whose owners are pretty hands-on at the restaurants. I just love the prawn gassi and neer dosa here. They do quite a nice surmai fry and the quintessential Bombay dish, butter garlic fry. I prefer the version with squids.

Maharashtrian Fare
The closest to Malvani food from coastal Maharashtra that you can get here is at some of the small Gomantak restaurants. One of the popular ones is Pradeep Gomantak, located opposite Ideal Corner. Manisha, the owner's daughter, is here at the cash counter every day while her staff feeds very economically priced sea food thalis to the people who queue up to eat here. They also have a few meat and chicken dishes and offal cooked in Gomantak style. The food is of the Gomantak or Goan Hindu style. To the outsider, the two cuisines can taste pretty similar.
There aren't too many restaurants offering Mahrashtrian food here. Food writer and blogger, Saee Koranne Khandekar once told me that this is because most Maharashtrians used to work in the mills of central Mumbai and not in Fort in the post-independence era. Which is why, you will find Maharashtrian eateries more in areas such as Dadar and Parel in Mumbai and not Fort.
While not a restaurant, you should check out the Bedekar Store in Fort. It is an outlet of the hundred year old company, which manufactures an array of Maharashtrian spice mixes, condiments and snacks. You can go home and recreate a taste of Maharashtra in your kitchen, with your purchases from here.

Gujarati Tadka
I haven't come across too many of Mumbai's Gujarati thali joints in Fort either. One of the closest would be Chetna at Kala Ghoda. However, Chetna is a multi-cuisine place and offers Rajasthani food too. You could hop into a tiny shop called Narendra Farsan Mart at Bora Bazar where you can buy home-made Gujarati farsan (snacks) such as dhokla, kachoris, pattice and puris. Or go to Suresh's Bhajia Shop (in the lane down Ideal Corner) to have Bhavnagiri mirchi fry (big green chilli peppers coated in a gram flour batter and deep fried).
Archaeologist, caterer and food historian, Dr. Kurush Dalal, who has grown up in Fort, suggests that one can check out a shop called Mangrolwala for packaged Gujarati farsan items at Bazaar Gate. You get Jain food items here too.
Fort is no longer the core CBD of Mumbai. Most offices have moved out, towards BKC and beyond. However, it is still full of life and the sense of history here is amazing. The best thing is that the restaurants that fed the denizens of Fort are still going strong. Their food is still consistent. The prices, easy on the pocket, the owners just as friendly as before. You have to share tables at most of these places so you might make new friends over your meal too.


My pick of 5 places to start off your Fort eating experience:
1. Pancham Puriwala for puri and bhaji with lassi.
2. Mutton dhansak at Ideal Corner washed down with a raspberry drink (this Parsi favourite drink takes a bit of getting used to).
3. Prawn gassi and neer dosa at Apoorva and surmai fry and squids butter garlic too.
4. Keralite Sadhya at Hotel Deluxe with some buff chilli fry on the side. Do order a karimeen fry, if it is in season.
5. Rava sada dosa or ulundu dosa and filter kaapi at Swagat.
6. Bun maska and chai at Yazdani Bakery (...that's the thing. You can't pick just 5 here!).About the author:Kalyan loves to eat and he loves to talk about all that he eats. His wife urged him to start writing about it, otherwise she would have to hear it all. He blogs as 'finelychopped' and according to a 2016 report published by Indian Cuisine RR, Kalyan has also been rated as 'top Indian food influencer on Twitter'.Disclaimer:The opinions expressed within this article are the personal opinions of the author. NDTV is not responsible for the accuracy, completeness, suitability, or validity of any information on this article. All information is provided on an as-is basis. The information, facts or opinions appearing in the article do not reflect the views of NDTV and NDTV does not assume any responsibility or liability for the same.