Fried Chicken Gets The Sweet-And-Spicy Japanese Treatment
Thomson Reuters | Updated: November 04, 2016 15:09 IST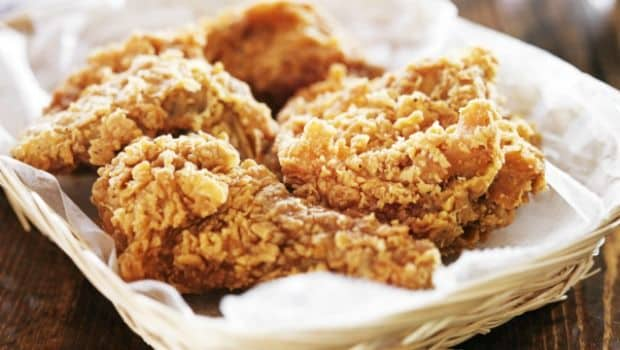 Fried chicken, oh how you are loved. Crisp on the outside, moist inside and savory-sweet, fried chicken is solidly on the list of favorite American foods. But not just in the U.S. Visit just about anywhere on planet Earth and you'll find a version of fried chicken. Twice-fried Korean chicken, pounded-flat German schnitzel, sweet chili sauce Thai and Senegalese peanut-accented chicken are all local favorites.

Chef Roger Lee recently took me into his kitchen at Roku in West Hollywood to show me how to make the classic Japanese fried chicken called tatsuta age.

Most Japanese restaurants focus on one particular dish or technique. Maybe it's sushi or ramen or tempura. Roku is one of those rare restaurants that celebrate many Japanese cooking techniques.
In the dining area, teppanyaki chef Michael Monzon engages his diners with Mississippi River boat excitement as he chars proteins and vegetables on his searingly hot grills.

Behind the sushi bar chef Juri Kobayashi is the quiet artist. His dishes are graced with subtle beauty and surprising flavors. A plate of amberjack sashimi is presented as if it were a delicate floral bouquet. Kobayashi decorates the thin slices of fish with slivers of strawberries and edible baby pansies. The seasoning comes from citrus yuzu, crunchy sea salt grains and spicy, freshly grated wasabi.
What diners never see is chef Lee's kitchen. Like Oz behind the curtain, Lee keeps the teppanyaki grill and sushi bar supplied with all their necessaries. His kitchen also serves up much of the menu, including savory hot and cold small plates. One of the most popular is his take on the classic tatsuta age.

Frequent an izakaya, an eating and drinking bar, and you have encountered tatsuta age or karaage, its close cousin. A small plate of Japanese fried chicken is an ideal salty accompaniment with an ice cold beer, glass of crisp Chablis or a vodka martini with a lemon twist.

Some kitchens prepare tatsuta age with chicken breast strips. Others serve tatsuta age "neat," without sauce. Lee uses deboned leg and thigh meat because the more flavorful dark meat stays moist when fried. Lee also coats his tatsuta age in a sweet and spicy ponzu sauce because he likes the play of textures and flavors.

Fried Chicken Tatsuta Age

The hot and spicy ponzu sauce can be served on the side or, as Lee does at Roku, the cooked chicken can be coated in the sauce before plating.

The chicken can be cooked in a deep fat fryer or, as Lee demonstrates in the video, in a shallow sauté pan.

As the preferred cooking temperature of 350 F is very important, for good results Lee recommends using a hot oil or candy thermometer.

Lee also recommends using dark ponzu, which has more flavor.

Sesame oil, cooking sake, mirin, dark ponzu, sambal chili paste, katakuriko (potato starch) and Sriracha give the dish its distinctive flavor. The ingredients can be found in most supermarkets or in Asian markets. To thicken the sauce, Lee prefers katakuriko for crispness, but corn starch can be substituted.

The chicken can be marinated for as little as 15 minutes, but Lee recommends overnight marinating to create the best results.

Prep time: 30 minutes plus overnight marinating

Cook time: 15 minutes

Total time: 45 minutes plus overnight marinating

Yield: 4 servings (2-3 pieces per person)

Ingredients

11 ounces deboned chicken leg and thigh meat, washed, pat dried
For the marinade:
2 cups soy sauce
1 tablespoon finely chopped ginger
1 tablespoon finely chopped garlic
1 tablespoon Sriracha
2 egg whites
1/4 cup sesame oil
For the spicy ponzu sauce:
1 cup cooking sake
1 cup mirin, Japanese cooking wine
1 cup dark ponzu
1/4 cup sambal chili paste
1 tablespoon katakuriko (potato starch) or corn starch
For frying and plating:
1 cup all-purpose flour
3 cups canola oil
Sea salt to taste
3 thin slices jalapeno, washed, pat dried (optional garnish)
1 lemon wedge, washed, pat dried (optional garnish)

Directions

1. Trim most of the fat from the deboned dark meat and portion into 1-ounce pieces approximately 1/2 inch thick for easy cooking. Leave some fat for flavor. If not cooking immediately, cover in plastic wrap and refrigerate.

2. Prepare marinade by placing all ingredients in a bowl and whisk to combine.

3. Submerge the cut pieces of chicken in marinade at least 15 minutes, preferably overnight. Cover with plastic wrap or place in an airtight container and refrigerate.

4. Just before cooking chicken, prepare spicy ponzu sauce by placing all ingredients except katakuriko or corn starch in a small saucepan on medium low heat. Stir well. Bring to a boil, then reduce to a simmer. Sprinkle in katakuriko and whisk well to dissolve. Reduce flame to low and cook until sauce thickens. Reserve until ready to serve.

5. Pour canola oil into a sauté pan. For safety, the oil should only fill the sauté pan halfway. Heat oil on medium heat. Use a hot oil or candy thermometer and bring the temperature of the oil to 350 F.

6. Remove chicken pieces from marinade. Drain to remove excess liquid.

7. Pour all-purpose flour into a bowl or onto a plate. Dredge each piece of chicken through the flour. Shake off excess flour.

8. To protect against being splattered by hot oil, drop each piece of coated chicken in the back of the sauté pan.

9. Brown on one side and use tongs to turn over each piece. The chicken should cook within 2 to 3 minutes when it reaches an internal temperature of 160 F.

10. To remove excess oil, place cooked chicken in a metal strainer. Season with sea salt.

11. Place cooked chicken in a bowl. Ladle in approximately 2 ounces of warm ponzu sauce. Lightly toss to coat. If serving sauce on the side, place in a heat-proof bowl on the serving dish.

12. Serve hot chicken pieces on an attractive platter with a garnish (optional) and warm ponzu sauce in a bowl (optional).


(This story has not been edited by NDTV staff and is auto-generated from a syndicated feed.)