A wave of new
bars
, cafes and
restaurants
has washed over Pune, helping to infuse new life into a fusty dining scene. From German Wurst and
Chinese
Dim Sum to
Malabari
Biryani and Chorizza
Pizza
, here are some of Pune's most interesting new offerings.
1. Shizusan
Lurking within Phoenix Market City Mall is Shizusan, serving up South East
Asian food
with great flair. Styled as an Asian 'pop' bistro, Shizusan's decor is subtle and restrained, thankfully shunning the typical red lanterns and fans that South East Asian
restaurateurs
are so fond of displaying. This inventiveness makes its way to the menu too: try the unusual Lamb and Leek Dim Sum; 12-hour Braised
Pork
Belly and the superb Pad Thai. For
dessert
, the
Peanut Butter
Pie and the Green-Tea Infused Tiramisu make excellent choices.Where: Phoenix Market City, Viman Nagar Road
2. The Greedy Man Pizzeria
The Greedy Man
Pizzeria
serves perhaps the best iteration of Napolitano-style pizza in the city. The perfect Neapolitan-style pizza has a light, plump circle of crust encircling its flatter centre, making it easy to finish even a 12-inch pie. The
pizza base
is slightly charred, its top clouded with fresh
tomatoes
and extra virgin olive oil, and toppings are minimal. Greedy Man ticks all of these, managing to perfectly couple taste with authenticity. Some of its tastiest offerings are Bozo (Chorizo Pizza), the simple Margherita and the cheesy Quattro Formagi.Where: Victoria Fort Leza, Kalyani Nagar Road, Kalyani Nagar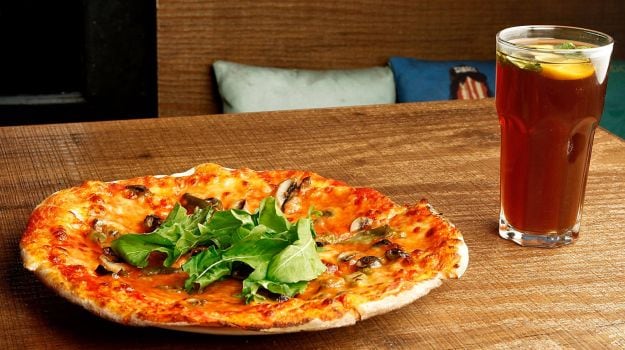 3. Mahlzeit
Mahlzeit in Koregaon Park is a great place to taste German food. This restaurant has rustic décor, but some excellent food with impressive portions. Try the Bratwurst, Currywurst and all manner of sausages really; Bratkartoffel Döner Kebab drenched in three sauces; and Bratkartoffeln crowned with a fried
egg
and drizzled with home-made
mayonnaise
. This is all made even more enticing by the fact that Mahlzeit also recently hosted a street food fest and a junkyard sale.Where: Sapphire Hsg. Soc., Lane Number 6, Koregaon Park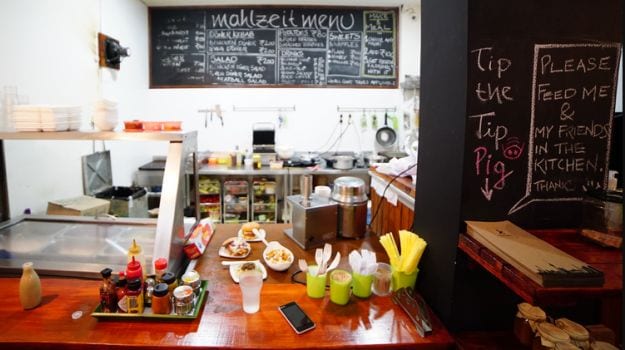 4. Madness - Social Clinic
Madness models itself as a restaurant hub. Since the space is split into three, even the crankiest diner is sure to find something that pleases him. First, there's the Social Clinic, a resto-bar themed rather curiously around hospitals. As a sufferer of many
medical
maladies, I cannot say quite how enticing the wheelchairs and syringes will be but its restaurant does promise us that this is an appointment we are sure to love. The food is a blend of
North Indian
,
Italian
and South East Asian, aiming to find something for everyone.Where: Lane 7, Opposite SBI Bank, Koregaon Park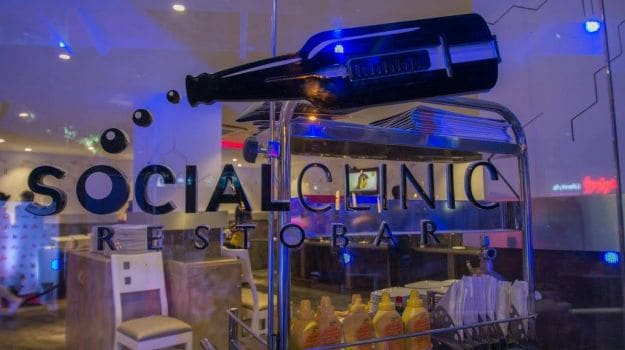 5. Donkey's Arse
Next door to Social Clinic is Donkey's Arse, an irreverently-named bar, that also serves
(you guessed it)
multi-cuisine food. Think Southern Fried Chicken Pav, Hot and
Spicy
Chicken and
Cheese
Jalapeno Grilled Steak. More importantly though, it serves as a venue for comedy clubs and live music acts. Where: Lane 7, Opposite SBI Bank, Koregaon Park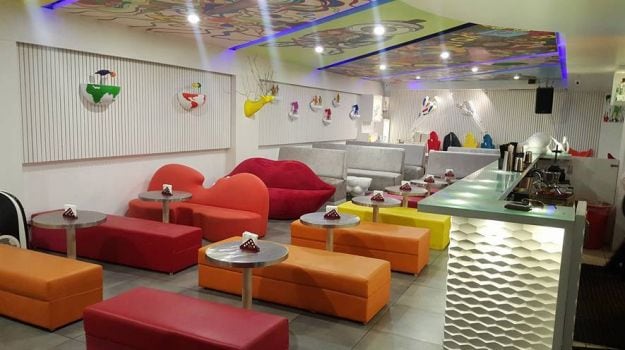 6. SuperheroesIt is the third in the tripartite restaurant hub of Madness. True to its name, the space is littered with superhero paraphernalia (a somewhat bizarre-looking Hulk greets you as soon as you enter) and is a vast play area for children. Superheroes is a boon for harried parents looking to offload their kids for a small time while they enjoy a quiet evening out - it offers nanny services, wholesome food, games and toys for little ones from 4 to 12 years.Where: Lane 7, Opposite SBI Bank, Koregaon Park7. Playboy Beer GardenPlayboy Beer Garden has been garnering rave reviews since it opened. It eschews the hedonism and the scantily-clad ladies of the Playboy Mansion, but instead offers an excellent bar menu, with Hoegaarden, Stella, Bira Blonde and White on tap. An in-house brewery is reputedly on the make as well. They aren't taking any chances with the food either - tandoori cooking, sizzlers, deli food and pizzas all jostle for space on the menu.Where: Balewadi High Street, Baner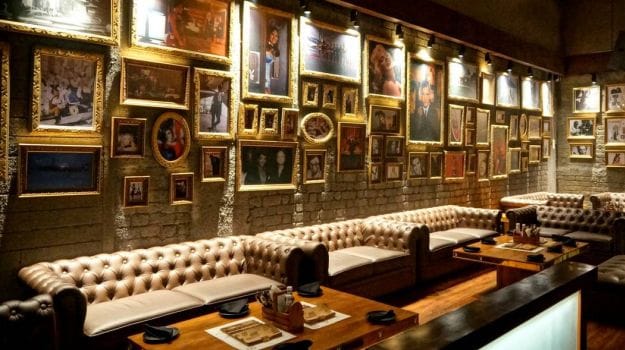 8. 212 All Day Cafe and Bar
A familiar name to Mumbai diners but a brand new one in Pune, 212 All Day Cafe and Bar introduces Chef Paul Kinny's signature dishes, such as his delightful Spiced Arugula and
Feta
Salad,
Coffee
Barbecue Spare Ribs,
Crab
Cakes, Cheese Cigarillos and the Hearth Stone Flatbreads. 212 also serves a great all-day breakfast, with lots of
egg choices
.Where: Phoenix Market City, Viman Nagar Road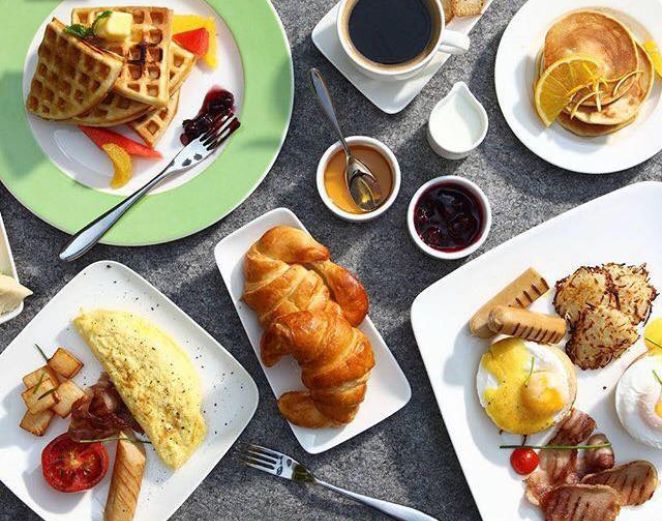 Image Credits: Facebook/ 212 All Day Cafe and Bar
9. Bubsterr's
Bubsterr's isn't the newest kid on the block, but it is certainly one of the best. Young and old sit side by side, admiring the exposed brick walls and colourful posters adorning the walls. The carnival atmosphere is matched by the food - it is best known for its
American
-style pizzas by the slice (each of which is a massive 10 inches), although you do get burgers and hot dogs. Bubsterr's Bacon Fiesta, with its crisp bacon and cheese topping, is an indubitable crowd pleaser but the more subtle charms of its Chicken Citron are equally beguiling. Wash it all down with the thick
Oreo
blend milkshake.Where: Princeton Society, Nilanjali Society, East Ave, Princeton Town Society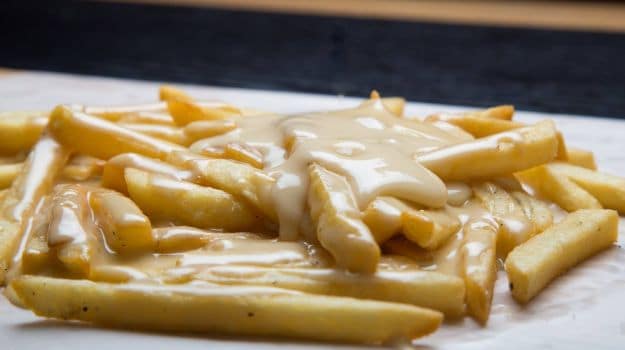 10. Savya Rasa
I've saved the best for the last. Savya Rasa opened last year and immediately hurtled into every gourmet's must-eat list. The menu unites South India's formidable regional cuisines, stretching from Syrian Christian and Nasrani to Nellore and Konganudu. The crowd-pleasing favourites of
idli
and sada
dosa
have been thankfully left off the menu; instead, you get delightful dishes such as Gongura Mamasam (
mutton
and sorrel leaf curry laced with a heavy hand of Guntur chillies), Bendakkai Goju (okra cooked in
coconut
, turmeric, tamarind and
jaggery
) and Meen Manga Curry (seer fish and raw mango in a coconut gravy).Where: CTS No. 15, Koregaon Park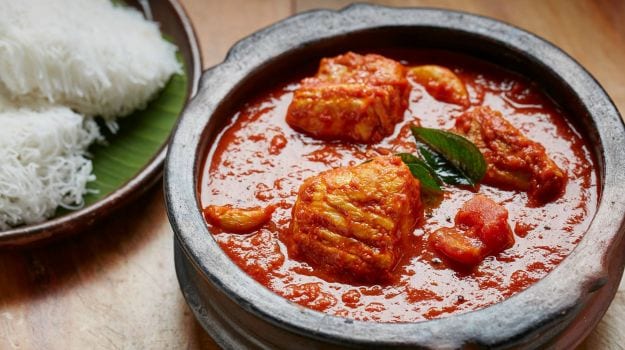 About the author:
Meher Mirza is an independent writer and editor, with a focus on food and travel. Formerly with BBC Good Food India, she loves anime, animals and artsy things but also comics, technology and death metal.
Disclaimer:
The opinions expressed within this article are the personal opinions of the author. NDTV is not responsible for the accuracy, completeness, suitability, or validity of any information on this article. All information is provided on an as-is basis. The information, facts or opinions appearing in the article do not reflect the views of NDTV and NDTV does not assume any responsibility or liability for the same.