Who is Gaggan Anand?
Just a Punjabi boy from Kolkata who has always been destined for greatness. Chef-owner of Asia's No.1 and the World's No.10 restaurant, he has been breaking ground with his thoughtful take on contemporary Indian cuisine, and experimenting with it, refreshingly, in unpretentious ways. With his restless creativity in the kitchen, he catapulted to fame almost overnight and unlocked the potential of Indian food. He experienced the freedom to create truly inspired dishes and thanks to his wild imagination, his restaurant is a magnum opus for gourmands all over the world. He was actually called the 'Titanic' of the family as he grew up wanting to be a chef, while all his cousins aspired to be doctors and lawyers. Everyone was shocked, but this culinary rockstar stuck to his guns because he was certain - cooking is all he ever wanted to do.
Gaggan was in India recently at an F&B Conclave & Expo event, where we had the pleasure to meet his brutally blunt, ridiculously passionate and talented self. Despite his rare and remarkable rise to fame, this world-renowned chef is surprisingly down to earth and not carried away by all the hype. He looks back on life and recalls his mother saying, "you have to be a chef" and the rest is well, history.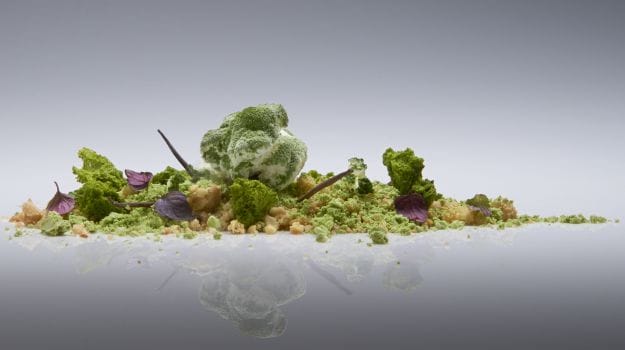 (Indian Restaurants that Serve Contemporary Food)About Giving New Form to The Street Food of India
"The real Michelin stars lie in the streets of India, but a progressive path was necessary to change the face of Indian cuisine globally", Gaggan remarks. Prompting a paradigm shift in how people view desi food, "I apply scientific cooking techniques to dishes typically eaten on the streets of India, by playing around with shapes and forms. We alter the presentation and texture just to arouse curiosity amongst diners, but retain the authenticity of flavours. I always wanted to do something different, not mainstream. And Gaggan is just that. A modern take on Indian classics. It isn't pretentious, just real food." So how did the master of deconstructing Indian cuisine reach such great heights?
Path to Glory
After completing his diploma in Hotel Management, he worked at The Taj group at Orient Express and at Zodiac Grill. He then moved to Thailand in 2007 as the head chef at Red Bangkok, a contemporary Indian restaurant, where he learned to master fine dining cuisine. Gaggan established quite the reputation coupled with raving reviews, and by the age of just 22- he had already cooked for legendary Abdul Kalam Azad, the former President of India and Bill Clinton, former President of the USA. And then, as he puts it, his "dream came true" - Gaggan was invited to the extraordinary El Bulli, under the ever-so inspiring Ferran Adrià of Catalonia, Spain. He was the first Indian to enter the hallowed doors of this world-famous laboratory which changed his philosophy of cooking altogether. "It was like a revelation. This stint in my life actually taught to me constantly think and innovate." In 2010, he took a risk and opened his own restaurant in Bangkok - Gaggan - and has been revolutionizing Indian food since.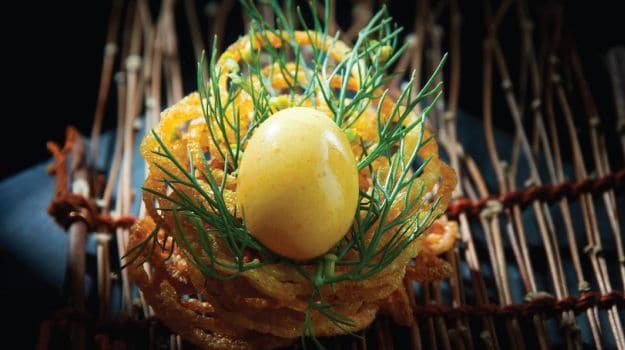 So What's On The Menu?
23 courses and each has a different technique, adding a unique texture. There are 3 tasting menus but no àla carte. "Chowpati Year 2050 is my space age twist on Bhel Puri. The crisp papdi comes with a sphere of yogurt reminiscent of soft quail eggs. The dahi is infused with chaat masala, ginger and amchoor and it's topped off with a light foam of chutney alongside some tangy tamarind. The inspiration for Chocolate Pani Puri actually came when I first tasted orange chocolate and chilli chocolate together. Our Dhokla Cake is a deconstructed version made with mustard seeds, curry leaves and coconut ice cream. Familiar in sight but still brings along an element of surprise. Bong Connection is a medley of a Bengali paturi and fried fish inspired by my culinary journey in India. Cooked in a sealed vacuum pouch, submerged in water and served with fried onions, mango chutney and an additional bread-crumb like element from a Bengali khatai. I constantly draw flavours from the streets of Kolkata since I grew up there. And even though I change the menu every 2 months, my classics will continue to remain till Gaggan shuts shop".
(Asia's 50 Best Restaurants - 2015)
And the
Gajar ka Halwa
on the nouvelle menu is inspired by his mom's version, but looks nothing like it! It's mind blowing how he dishes up Indian food that actually looks contemporary European at first glance.

With a 2 month waiting list, Gaggan's eponymous restaurant resides in the heart of downtown Bangkok in an 85-year old white colonial bungalow. With blaring music in the kitchen, especially Pink Floyd's 'Wish You Were Here' on repeat, you just know that the master is in the kitchen. "I'm all about progressive rock and progressive food. If guests want to see me in action, they can even choose to be seated at the chef's table in the private dining area which has a see-through glass." But it's not just him, they have 27 people on board of seven nationalities working together in the kitchen to create the Gaggan experience.
60 Seconds with Asia's Best Chef
Favourite ingredient: "I love kala namak because of the complexities it holds. The same yogurt with black salt tastes so much better than with table salt. Why? Because salt has chemistry, but kala namak adds a tinge of astringency."
The Science of Good Taste: "I do progressive Indian food, not molecular gastronomy. The key techniques range from the use of liquid nitrogen, gels, sous vide. So molecular gastronomy for me is just that, a technique. I wanted to get to the bottom of flavours," he remembers. "I wanted to use those techniques to extract the best flavours from Indian ingredients."
Biggest Influences: "Ferran Adrià, obviously. But other than him, the Roca Brothers. Just dining there is a learning experience, like a chapter in the gastronomic bible."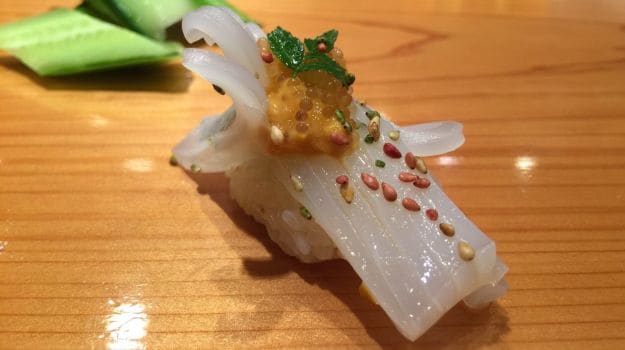 Gaggan's recent favourite: Raw Squid @ Ten Zushi, Kokura, Japan
Advice for Chefs:
"Cook and enjoy it. Don't get carried away with celebrity-ness. Just keep trying, keep innovating, keep experimenting". He adds (with a knowing smile), "and definitely don't copy". "We need more ambitious Indian chefs who just want to cook, not think about TV appearances."
Plans for India: "I had to get international recognition before coming back to India. If I had started here as a nobody, I don't think it would have worked." Now 5 years later, he's launching his first overseas outlet in Mumbai to feed his fan frenzy. Why Mumbai? "Well, Mumbaikars are the most adventurous when it comes to food. This new restaurant will be avant-garde cuisine with a taste of Gaggan. I actually have a folder on my phone for the menu which I keep updating as ideas pop up. I surely want it to include an open kitchen plus a dessert room, but am still in talks with a hotel. The name will have nothing to do with me, but Garima Arora, a journalist-turned-chef who will head the restaurant".(10 New Restaurants Launching in Mumbai To Look Forward To)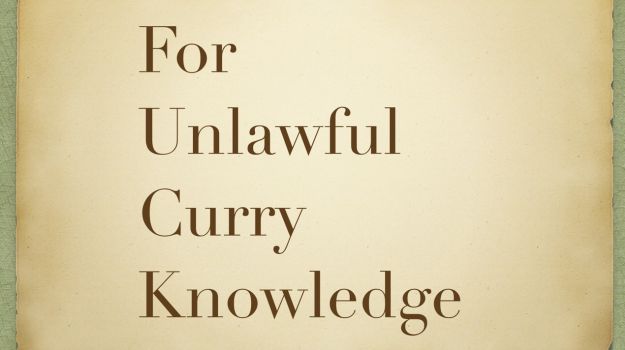 Gaggan's upcoming cookbook cover: "For Unlawful Curry Knowledge"
Recipe for Success
Gaggan is forever motivated to explore, learn and brainstorm . "I'm always on the lookout for new ideas so I travel as often as I can. I keep pushing the envelope, trying new recipes and even reworking the old ones. It's a constant challenge to innovate, to keep the culinary experience exciting for our customers. People want to eat food, not stories. So I don't put a dish on the menu till I know it's good enough for me. Because at the end of the day, if you don't get the flavour right, what's the point? Food has undoubtedly always been the real hero, not the chef." As he draws inspiration from his memories with a pinch of madness, Gaggan's bold attitude certainly reflects in his food.