I remember my mother loading huge glass containers with amle ka murabba and gave some after we had our lunch during winters. The process of making this sweet cum tangy dish took quite some time, but it was worth the effort. Made with Indian gooseberries or amla, murabba is a candied fruit that can be preserved for long duration of time and is said to have various medicinal properties. Murabba can be made using fruits like apple, apricot, mango, plum and quince, sugar and spices. Amla comes packed with vitamin C that helps boost the immunity system. Apart from this, it also helps slow-down ageing, brings relief to throat problems, reduces blood sugar levels and improves heart health. Amla has long been used for its medicinal and healing properties and murabba works wonders on your skin and hair and immunity system. So a chunk of amle ka murabba every day will surely keep the doctor away.


Here's an amazing recipe of amle ka murabba by Culinary Expert and Food Blogger Chef Reetu Uday Kugaji along with some essential tips to keep in mind.


(Also Read: 12 Amazing Amla Murabba Benefits: Digging Into The Sweet Relish)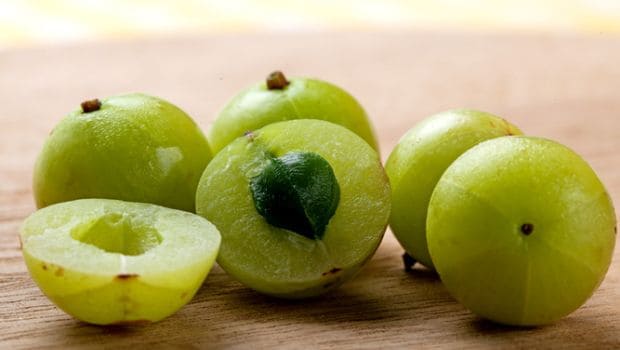 Indian gooseberry or amla cooked and preserved in delectable and flavoured saffron and cardamom sugar syrup:


Preparation Time: 10 minutes


Cooking Time: 35 to 40 minutes


Serves: 4


Ingredients and Quantity:
Amla- 1 kg
Water- 2 cups
Black Cardamom seeds, crushed- 3/4th tsp.
Freshly ground black peppercorn- Half tsp.
Rock salt- a pinch
Saffron - Half gm.
Almonds blanched and slivered- 10 nos. (Optional)
For the sugar syrup:
Granulated Sugar- One and a half kg
Water- 1.5 litres
Lemon juice- 1/4th tsp
Muslin cloth- 1/4th metre
Method
Wash the amla thoroughly and soak in two cups of water overnight. Pierce the amla with a fork in the morning. Do not discard the water.
Place amla in a non-stick pan and add the water in which it was soaked. Cover and cook on a low flame for about 15 minutes, till the amla is tender and the water reduces to half its quantity.
Drain the amla but reserve the water in which the amla was cooked.
Heat sugar with one and a half litre of water (which includes the reserved water) in a heavy-bottomed pan, till sugar dissolves completely and forms syrup of one string consistency.
Add a few drops of lemon juice to clarify the sugar syrup. Remove the scum or froth and discard.
Strain the sugar syrup through a muslin cloth to further remove the impurities.
Place the sugar syrup again on a low flame and add amla and continue to cook. Add the crushed black cardamom seeds, crushed peppercorn almonds and saffron.
Continue to cook, uncovered, on a low flame till the mixture is thick and the syrup is of two string consistency. Add a pinch of rock salt and mix well.
Cool it completely and store in airtight jars.
Chef Tips:
Choose amla which are bigger in size.
Do not overcook the amla in water as they tend to break easily.
You may add green cardamom powder instead of crushed black cardamom seeds.
Do not cook amla in aluminium or iron utensils.
Use a dry air-tight container to store the murabba, preferably a glass container.
Use a dry spoon to remove the murabba from the air-tight container to prevent it from spoiling.
The consistency of the syrup in murabba should be like honey.
Ensure that the amla is completely immersed in the syrup while it is stored.
If you are a jaggery lover, you can make jaggery syrup instead of sugar syrup.
Voila! A delicious batch of amle ka murabba is prepared. Bonus, you can store this murabba for almost a year.