Meat substitutes are a sorry sham compared to the glories of vegetables - and if you're inventive, you can use your greens in all sorts of surprising ways, from bolognese to brownies
Being a well-brought-up boy, I pride myself on leaving a clean plate. It helps that I have a double-jointed index finger: pressed down flat on a plate, it works like a sort of windscreen wiper, scooping up any leftover crumbs or juices and leaving the crockery (in my wife's words) "sinisterly clean".
It also helps that I am both greedy and curious. I'll eat just about anything, from the exotic (squashed guinea pig in Peru) to the humdrum (cold baked beans in the tin, with a splash of Lea & Perrins - mmm).
But we all have our limits. If there's one type of food I really struggle to choke down, it's the MEAT-IMPERSONATING VEGETARIAN OPTION. To call it food is perhaps too kind, since most of the time it appears to have been cooked up in a laboratory by a crazy scientist with a grudge against tastebuds.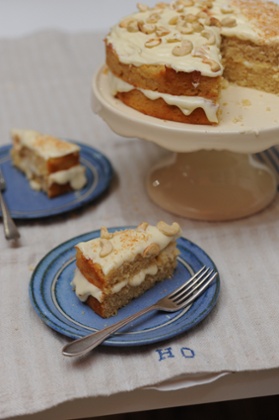 My five least favourite foodstuffs of all time are:
1 Vegetarian "bacon"
2 Vegetarian "sausages"
3 Nut cutlets (like a nut roast but formed into the shape of a lamb cutlet).
4 Quorn bolognese
5 Natto. It's not a meat substitute, but it is a Japanese fermented soy dish and it's slimy and disgusting.
And here's another one for the list. I recently found out that in the States you can buy a product called Un-Steak. I have never tried it, but not since coming across a well-thumbed cookbook called One Is Fun in a second-hand shop has a culinary discovery made me feel so sad.
If you don't want to eat meat, why would you eat a meat-impersonator? Especially when there's a perfectly good - no, amazing - alternative staring you in the face. Vegetables are so delicious, not to mention nutritious, there's really no need to resort to second-rate fakes.
Although I'm not vegetarian, I hardly eat any meat these days: a scattering of bacon for flavour sometimes, and a joint for special occasions. And since having children, I have learned to incorporate vegetables into all sorts of places that I wouldn't have done before. I melt down kale into the base of a bolognese sauce. I grate raw beetroot into my brownie mix or bake it for a long time and cut it into sweet "jellies". But my favourite unexpected vegetable dish has to be this parsnip cake - invented by my collaborator Jane Baxter.
It is unbelievably moist and delicious. It has a texture similar to coconut macaroons - a kind of jellied bite. It makes a great alternative to carrot cake and can be filled either with white chocolate cream-cheese icing or with a sweetened lime cream.
If it sounds to you like something a cranky health-nut would produce, please just make it once. I guarantee it will make you swoon and is destined to become a regular part of your repertoire.
Parsnip, cashew and coconut cake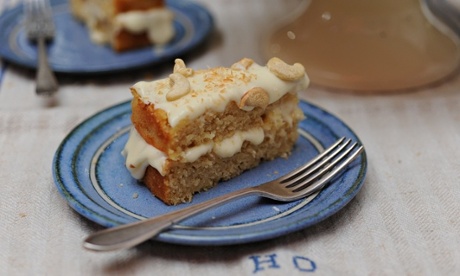 Prep time: 15 minutes
Cooking time: 30 minutes
Serves 8-10
250g butter, softened, plus extra for greasing
250g caster sugar
4 eggs
150g rice flour
2 tsp baking powder
100g desiccated coconut
200g cashew nuts, finely chopped
250g parsnips, finely grated
About 4 tbsp milk
For the white chocolate cream-cheese icing
100g white chocolate
200g cream cheese
75g butter, softened
A few drops of vanilla extract
300g icing sugar, sifted
1 Heat the oven to 150C/300F/gas mark 2. Grease two 22cm cake tins and line them with baking parchment.
2 Cream together the butter and caster sugar in a mixing bowl, then add the eggs to the mixture one by one, beating well after each addition.
3 In a second bowl, sift the rice flour with the baking powder and mix well. Add the coconut, cashews and grated parsnip.
4 Combine the two bowls of ingredients, adding the milk slowly, until the cake mixture reaches "dropping" consistency.
5 Divide the mixture between the two cake tins and bake in the oven for 30 minutes, or until a skewer inserted in the centre comes out clean. Set aside to cool.
6 To make the icing, break up the white chocolate and melt it in a large heatproof bowl set over a pan of simmering water, making sure the bowl doesn't touch the surface of the water. Leave it to cool a little.
7 Add the cream cheese, butter and vanilla to the melted chocolate and beat together. Gradually beat in the icing sugar.
8 Use half the icing to sandwich the two cakes together, then spread the rest of the icing over the top. Leave it to set a little before serving.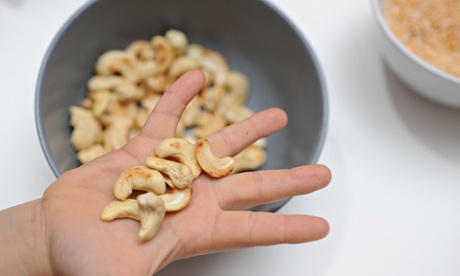 Tips
• For an extra flourish, sprinkle toasted coconut and chopped cashew nuts on top to decorate.
• For a sweetened lime cream as an alternative filling, fold the seeds of a vanilla pod into whipped cream and add the grated zest and juice of a lime with a little sifted icing sugar.
This recipe was originally published in Leon: Fast Vegetarian by Jane Baxter and Henry Dimbleby.
Henry Dimbleby is co-founder of the natural fast-food restaurant chain Leon (@henry_leon). Get your kids cooking at cook5.co.uk

Parsnip, cashew and coconut cake: have you ever seen a child look this excited about vegetables before? Photograph: Jill Mead/Guardian