Summers are here in full swing and so is the need to indulge in summer delights. When it comes to summer favourites, kulfi tops the charts. The joy of slurping on creamy chilled kulfi on a super-sunny day is above all. This rich frozen dessert made with reduced full fat milk is sure to keep you hooked for long as it is immensely delicious and appetising at the same time. Flavoured with either cardamom or saffron, kulfi is a must-have in summers. If you happen to be a kulfi lover and wish to make this summer special dessert in the comforts of your kitchen, then fret not, we've got you covered. Here is an easy-to-make yet quick kulfi recipe for you. If you have guests coming over this weekend, then bring this easy kulfi recipe to your rescue and impress them with your culinary skills. Read on to know about its ingredients and steps of preparation.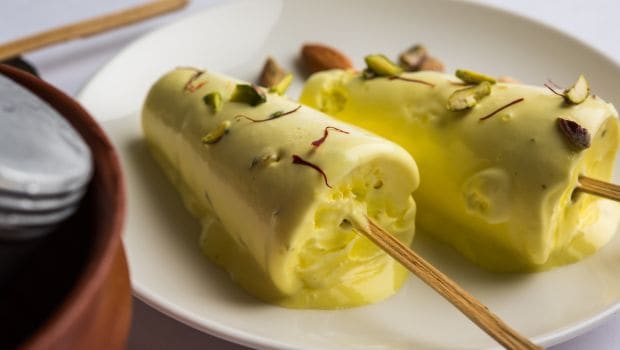 How To Make The Perfect KulfiIngredients:100 ml condensed milk
3-4 strands saffron (kesar)
1/2 tsp cardamom powder
1/2 litre full fat milk
2 tablespoons grounded pistachios
Note:
1. You can also use canned condensed milk for the
recipe
.
2. You will require kulfi moulds for this recipe, so keep them ready in advance.
3. Before starting the cooking process, soak the
saffron strands
in 1 tablespoon hot milk and keep it aside till further use.(Also Read:
Summer Alert: A Guide To Best Kulfi Falooda Places In Delhi​
)
Method:Step 1
Take a heavy-bottomed sauce pan and bring it on medium heat. Once the pan is sufficiently hot, pour milk in it. Let it come to a boil and then reduce heat so that the milk can simmer. However, keep stirring continuously.
Step 2
Cook the milk for roughly about 10 minutes (stirring continuously) or till it is reduced and has a thick consistency. Then pour in the condensed milk and mix the two ingredients completely.
Step 3
Now, it's time to add in the soaked saffron. Add the soaked strands in the mixture while it is still hot and give it a nice stir. Eventually, add the
green cardamom
powder and pistachio powder as well.
Step 4
Once the cooking part is done, switch off the flame and allow the mixture to cool. Here, in this step, you can also add rose water or 2-3 drops of kewra water in the mixture to give the dessert a nice aroma. However, it is totally optional.
Step 5
Now, the final step is to set the kulfi. For this, transfer the kulfi mixture into kulfi moulds and cover with air-tight lids. Place these moulds inside a freezer and let them stay for at least 4 hours.In order to savour the delicious summer dessert, you'd have to wait for a few hours till it is set completely. Once it is done, unmould the kulfi savour it with family and friends.
About Deeksha SarinAn eccentric foodie and a die-hard falooda lover, Deeksha loves riding scooty in search of good street food! A piping hot cup of adrak wali chai can make her day bright and shiny!