The bright pink and scaly outer covering of the dragon fruit, or pitayah, is striking enough to propel this beautiful fruit to the top of the most-loved exotic fruits out there. The pulp of the fruit is either a deep reddish pink hue or is white in colour and is speckled with tiny black bead-like edible seeds, much like you would see in kiwi. Dragon fruits are not very common in Indian grocery marts and you may not find them at your local subzi or fruit wallah's cart. But, they have become more and more popular in the subcontinent, especially among the urban population. Dragon fruits aren't just delicious to eat but also come with a host of health benefits, and are incredibly versatile too. The aesthetic appearance of the dragon fruit makes it a common feature in desserts, salads, mocktails and smoothies. It can also be enjoyed as a quick and refreshing healthy snack, between meals.


(Also Read - 7 Amazing Dragon Fruit Benefits: The Antioxidant & Vitamin Powerhouse)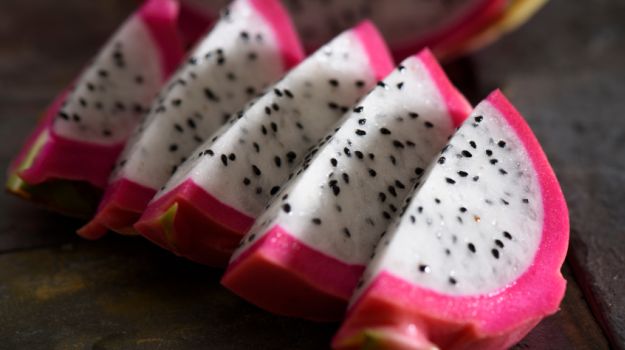 Dragon fruits aren't just delicious to eat but also come with a host of health benefits
Did you know that the dragon fruit belongs to the cactus family? This, of course, justifies its scaly covering. It is full of fibre and, hence, can be easily incorporated into your weight loss or healthy diet. The fruit has a somewhat bland taste and, hence, is usually consumed with a little sugar or honey drizzled on top of it. A 100-gm serving of dragon fruit contains 268 calories, with 3.57 gm of protein, according to the United States Agriculture Department data. It is also full of antioxidants, which fight skin infections and are important for maintaining a healthy heart.
(Also Read - How to Eat Dragon Fruit: 5 Delicious Ways to Try it)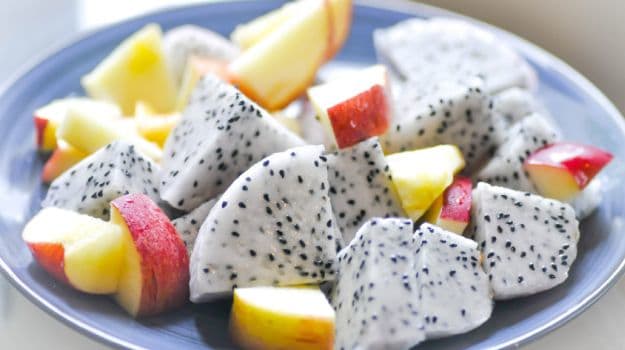 Dragon fruit contains 268 calories, with 3.57 gm of protein
Here are some reasons dragon fruit should be included in your diet:
Boosts Immunity: The presence of vitamin C in dragon fruit makes it an immunity booster. Vitamin C is also crucial for the absorption of iron in the body.
Improves Skin Quality: The vitamin C present in dragon fruit is also responsible for making our skin healthier and more flexible, as it promotes collagen production. The antioxidant content of the fruit is also responsible for keeping the skin and hair healthy.
Promotes Weight Loss: Dragon fruit is rich in fibre, which improves digestion and may also help in weight loss by promoting satiety and eliminating the need to eat more often.
Boosts Bone Health: The potassium and calcium present in dragon fruit is essential for maintaining bone structure and bone health. Potassium also helps in maintaining the pH balance of the body and keeping the kidney and heart healthy.
Promotes Heart Health: The antioxidants present in dragon fruit are great for maintaining heart health by reducing risk of arteries getting clogged with plaque.
How To Peel Dragon Fruit


Peeling a dragon fruit may look like a daunting task, but it's quite a simple one, all thanks to its thick outer covering. Depending on what you need your dragon fruit pulp for, there are different methods of peeling and cutting a dragon fruit:
Scooping Method: All you have to do in this method is to cut the dragon fruit lengthwise, using a good and sharp knife. A ripe dragon fruit can be cut quite easily. Once the dragon fruit has been cut into two neat halves and the pulp is exposed, take a spoon and scoop the pulp out carefully into a bowl. The pulp comes off quite easily and if you see the peel sticking to the pulp in some places, trim it off, using a sharp knife. You can use these scooped out halves to cube the pulp and toss it into salads or garnish your desserts with it.
Hand-Peeling Method: Cut off the crown of the dragon fruit and then simply pull onto a scale on the peel using just your hand. You can peel the whole dragon fruit very easily in this manner by simply pulling the peel off from the pulp in concentric circles. What you will get in the end is a whole dragon fruit pulp, while may or may not have peel scraps sticking to it. Shave off the remaining peel from the pulp, using a sharp knife.
Use A Fruit Scooper: If you have a fruit scooper, you may not even need to peel the dragon fruit to extract its pulp. All you will have to do is to cut the fruit lengthwise and use the scooper to scoop out small, smooth and completely round balls of the pulp that you can throw in along with other fruit pieces in your fruit salad.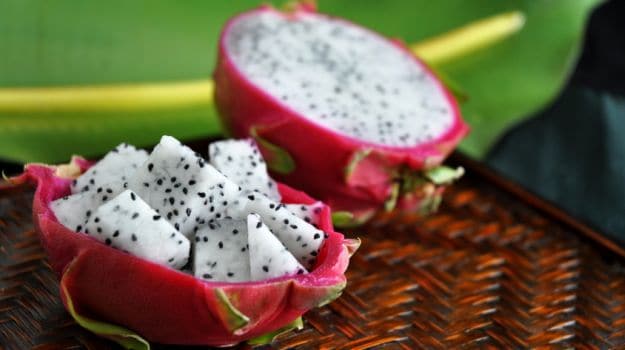 Dragon fruit may look like a daunting task, but it's quite a simple one
So, now you know! Peeling a dragon fruit is extremely easy and if you can lay your hands on some ripe dragon fruit, be sure to add it to your grocery bag and consume it for its amazing health benefits.
About Sakshita KhoslaSakshita loves the finer things in life including food, books and coffee, and is motivated by self-indulgence and her love for words. When not writing, she can be found huddled in the corner of a cosy cafe with a good book, caffeine and her own thoughts for company.