There was a time when
cocktails
meant getting a round of
Cosmopolitan
, Bloody Mary, Tequila Sunrise, Margarita, Whisky Sour and other classics. These cocktails had set such a benchmark that trading them to try new flavours hardly saw any takers. Even if the urge to experiment with other concoctions took over once in a while, we would soon find ourselves getting back to the comfort of sipping the classics. But that was then. Now, in the age of mixology, not only are diners warming up to new cocktail trends like nitro-cocktails, smoked cocktails, haute ice, fat washed spirits and the like, but loving the infusion of Indian flavours too.
Indian cocktails today are presented with as much drama and tantalising tasting notes as cocktails done in the West. Not only are they a refreshing change, but it is also intriguing to see familiar ingredients teaming effortlessly with different spirits and creating blockbuster hits. Bartenders are using a range of Indian ingredients such as tamarind juice, aam panna, kokum, masala tea, shikanji, jaljeera, jamun kala khatta, sugarcane juice, gol gappa pani and other favourites to create heady mixes along with an extra dose of nostalgia. Have you tried the golgappa vodka shots, or the sharabi lassi? Have you heard about the Hajmola-tini? They are thrilling and deadly.
Then there is the plethora of Indian spices and herbs that make shaking up cocktails even more exciting - from amchoor (raw mango powder), cardamom, black pepper and curry leaves to gondhoraj lemons, bhoot jolokia and more!
So What Flavours Pair Best?
Rahul Raghav, Beverage Manager at The Bombay Canteen says, "We always find that bright and citrusy as well as fruity flavours like orange and pineapple are a favourite amongst guests. I feel today most of us are using tropical fruits which are locally and easily available along with some spices, herbs and syrups to add depth of flavour. For example, some combinations that go well together are mango and basil, banana and cinnamon as well as vegetables like cucumber and mint, and carrot and lemongrass. Also some of my favourites are using amla, kokum and tamarind in the cocktails. For our next menu we are experimenting with beetroot, fresh berries, toasted rice and tirphal spice."
Nitin Tewari, Head Bartender at Ek Bar says, "Indians love sweet sour and a little touch of spice.
Simplicity is the key, with a touch of nostalgia. Fresh herbs like mint, basil etc. always works as well as flower flavours. My focus have always been to find new, unknown local ingredients and turn them to cocktails like mango ginger (Amada from Kolkata), kewra, rose water, Coorg coffee and chocolate, etc. In this season's menu, you will find North East Indian flavours like bhut jolokia, smoked pork, betel leaf etc."
If you have been wondering what Indian cocktails bartenders across the country are shaking up, here's a round-up of some favourites out there -
1. Kanji - Ek Bar, Delhi
Kanji is a popular Indian drink, which can be referred to as the ancient probiotic drink. It is made through the process of fermentation using mostly black carrots or even beetroot. Ek Bar's Kanji cocktail is an interesting representation of the drink, created using in-house beetroot kanji, pickled beetroots, tequila and lime. Some of their other popular Indian cocktails include Anaar-Kali (pomegranate, rose water, star anise vodka and tonic), Badam Milk Punch (whisky, milk, nut and saffron puree, almonds), Ek Bar Chaas (vodka, pineapple yoghurt, honey and orange), Sarson ka Sour (tequila, campari, brown mustard, orange juice and egg white), Murubba Mule (vodka, murubba, bitters, lime juice, home-made ginger beer) to name a few.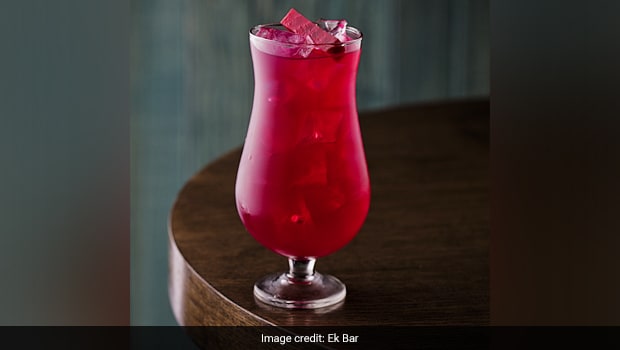 2. Mangaa - Monkey Bar (Bengaluru, Delhi, Kolkatta and Mumbai)
Monkey Bar is known to be among the first few bars to have started the trend of chic Indian cocktails in the country. One of their most loved concoctions till today is the Mangaa, a chat-pata drink made with aam panna, vodka, sweet lime, cumin and salt - childhood favourite represented in the most delicious way. From their seasonal specials, we have enjoyed the Soulful Kadhee (gin, kokum syrup, tender coconut, curry leaves and lime cordial) and the Chilli Puli (tequila, tamarind paste and green chilli).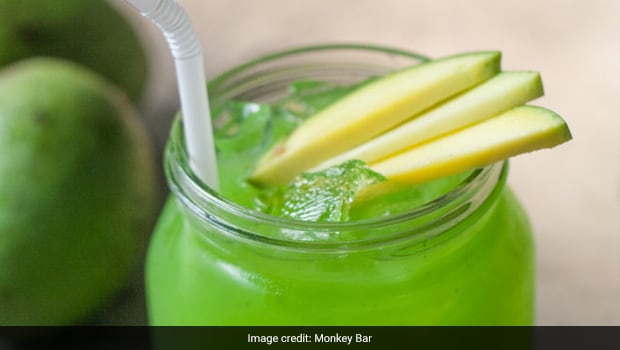 3. Tamarind Whisky Shake - The Bombay Canteen, Mumbai
The Bombay Canteen offers an interesting range of Indian cocktails, with many seasonal specials too. A hot favourite is the Tamarind Whisky Shake, and it's really commendable how effortlessly the two main ingredients pair together - the tang from the tamarind and heat from whisky, along with orange juice and lime juice. Other favourites are Ganga Jamuna Margarita (tequila, triple sec, sweet lime, pineapple, orange and salt), Gin and Tulsi (a take on Gin and Tonic with gin, jaggery and tulsi) and Tar-Booze (with vodka, watermelon juice, kala namak and pomegranate juice.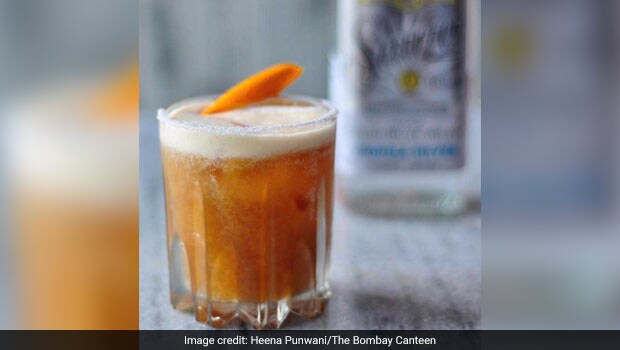 This whisky cocktail offers tangy flavours of tamarind
4. Very Berry Khatta - The Sassy Spoon, Mumbai
Trust The Sassy Spoon to give an interesting desi twist to their cocktails and make them sassy. One of their all-time favourites is the Spiked Very Berry Khatta, made with fresh mulberries muddled with oranges, with a hint of grapes and kala khatta. One cocktail that always draws attention is the Pani Puri Margarita, where the spicy pani is shaken with tequila, triple orange liqueur and fresh citrus mix.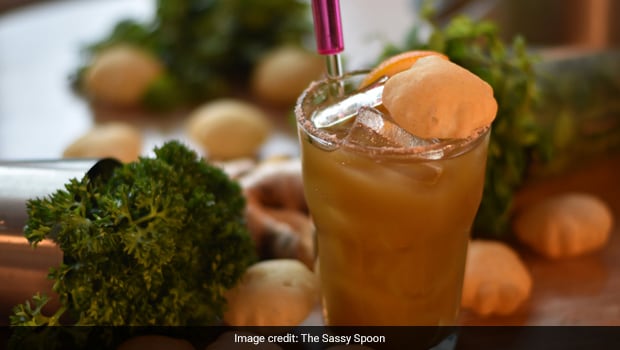 Sassy Spoon gives an interesting desi twist to their cocktails
5. Chuskiwala Sangria - Sodabottleopenerwala (Delhi-NCR, Mumbai and Bengaluru)
The popular Parsi restaurant is also known for its bar, for shaking up some heady cocktails with a Parsi twist and an interesting tale behind it. One of their seasonal favourites is the Chuskiwala Sangira, where you get the double joy of enjoying your sangria as well as the Indian popsicle in one refreshing drink. Their other popular drinks include Mumma Nu Double Dose, an interesting take on Whisky Sour with rum, whisky, dates, saffron and beaten eggs; Bombay Julep (rum, jardaloo/apricots, mint and honey); and Old Bawa (their take on Old Fashioned) among others.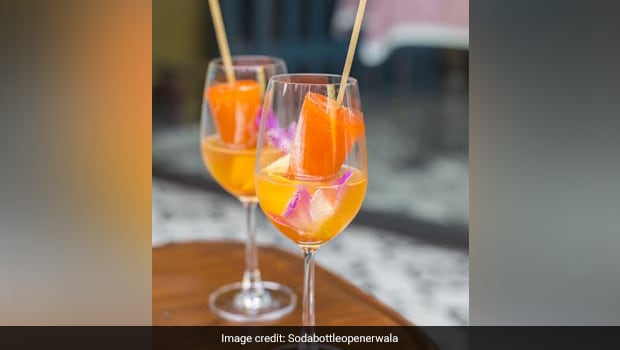 6. Prankster, Gurugram
As the name suggests, the food and drinks in this popular bar in Gurugram is never short of thrills. Here you can expect lots of childhood favourite ingredients that are skillfully blended to present you a nostalgia-filled cocktail. Take for example the Purani Dilli Collins, a gin-based cocktail with hajmola syrup; or the Paan Pasand Mojito with paan pasand flavour. Some of their other striking cocktails are Masala Chai Sour, Baba Ji Ki Booti, among others.
7. The Permit Room, Bengaluru
From the people behind Bengaluru's most loved brew pub Toit, comes another favourite hangout - The Permit Room. For those who fancy their cocktails, this is the perfect place to head to for some South Indian flavour twists. You could try the Paati's Magic Rasam, which is actually a spicy rasam spiked with whisky; Rum Pazham Pori (a banana flavoured drink with rum, cardamom, clove, lime and sugar); or the Fizzy Kosambari (gin, cucumber, pomegranate, grated coconut, soda) among others.
So next time you want to let your hair down and have a good time with your friends, you have a list of Indian cocktails to make the most of. Great flavours packed with nostalgia, and it's bound to be a great hit.
Disclaimer:
The opinions expressed within this article are the personal opinions of the author. NDTV is not responsible for the accuracy, completeness, suitability, or validity of any information on this article. All information is provided on an as-is basis. The information, facts or opinions appearing in the article do not reflect the views of NDTV and NDTV does not assume any responsibility or liability for the same.