Jain Coffee House is located in Chawri Bazar, but away from the chaotic and bustling roads. This
coffee
house isn't easy to spot, as it is hidden inside the labyrinth alleys of
Old Delhi
. In fact it is so well hidden that for many years only the locals knew about this place. Over the time this coffee house has garnered immense praise and popularity for their fruit
sandwiches
. It entices you, as you gaze at your sandwich being prepared right in front of your eyes; two slices of
white bread
are placed on a slab, one of the slices is generously smeared with orange marmalade and another with
butter
, and thin slices of home-made cottage cheese (paneer) are placed on it. Then seasonal fruits of your choice are sliced and placed over the strips of paneer and topped with pomegranate seeds. Lastly, a special
masala
is dredged over it before placing the bread slice on top.
For the fruit sandwich, you can choose your fruits from pineapple, chiku (sapota), apple, bananas and grapes depending on the season, but you can grab drool worthy mango sandwiches throughout the year. They also serve toasted sandwiches, which are filled with cucumber and tomato slices and are layered with cottage cheese and butter. They sprinkle pomegranate seeds and masala over it along with finely chopped coriander leaves and green chillies. It is served with mint chutney that makes it lip-smacking good.

Jain Coffee House has a vast array of sandwiches on their menu like Fruit Sandwich - in which they combine pieces of different seasonal fruits, Individual Fruit Sandwich of five varieties, Malai Toast, Paneer Toast and Samosa Sandwich. You can gulp down these carefully prepared sandwiches with the variety of thick frothy shakes, spiced tea or coffee (hot and cold) that they offer. During summers you can quench your thirst by guzzling down luscious Mango Shake.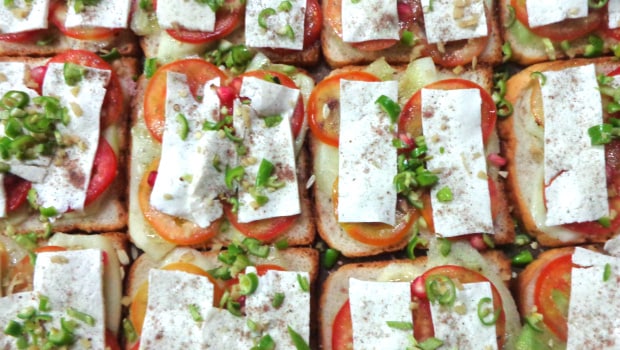 This coffee house and the concept of fruit sandwiches was initiated by Late Lala Shambhu Dayal Jain in the year 1948, who migrated to Delhi from Shikarpur in western Uttar Pradesh. The principal business of the Jain family is still grain-trading, and the coffee house is a side business. Shambhu Dayal had three children; Mangal Singh Jain looks after the adjacent grain store whereas his younger brothers, Pawan Jain and Anil Jain manage the coffee house. This coffee house has been selling the famous fruit sandwiches from 69 years now. By now they have served people from all over the world.
On your first visit to the cafe, you may be in a doubt, whether this 'much-talked-about' Jain Coffee House really serves the best fruit sandwiches or not. The ambience of the cafe is such that it has misled almost every first-timer; it is seven decades old, dimly lit, with no signs of renovation. In this stall, even today, most of the things are of the era when the cafe was established by Lala Shambu Dayal Jain. The very setting detaches you from the present time and transports you to the era of the 40s, giving a sense of how Old Delhi would have been in those times. But contrary to the ambience you will indubitably get the best Fruit Sandwiches here, this is also what the owners claim. The quality and taste of their sandwiches even outclass the sandwiches that you would get in some well-established cafe or restaurant.

They prepare their famous coffee in a gigantic coffee-making machine, which is now an antique piece in itself. It is because of their peerless sandwiches that the Jain brothers witness a massive footfall throughout the day. Word of mouth praise has also helped their business to flourish. It's quite evident, even with the new age cafes coming into existence, this vintage coffee house has not lost its charm and has managed to attract more and more customers over the time.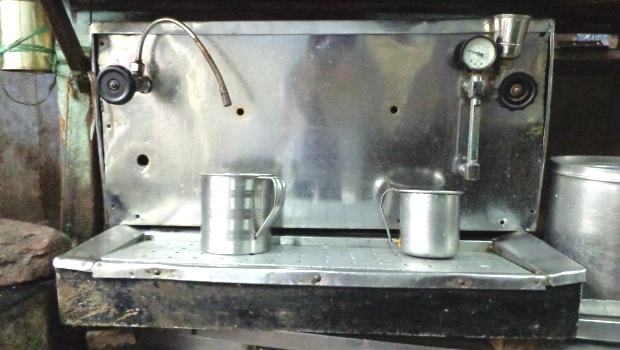 To get there, walk from Chawri Bazaar metro station towards Nai Sarak; in between you'll find Raghuganj entrance on your left, before Nai Sadak. Walk through that narrow lane which will open into a small courtyard, which was once the city's major grain market (mandi). Jain Coffee House is located in the corner at the far left just adjacent to the Punjab National Bank ATM.
Timings: 10 AM - 9PM
Address: Shop No-4013, Raghu Ganj, Chawri Bazar, near PNB ATM, Delhi 110006
Cost: INR 200 for two people (approx)
Tel: 011 2391 8925
Disclaimer:
The opinions expressed within this article are the personal opinions of the author. NDTV is not responsible for the accuracy, completeness, suitability, or validity of any information on this article. All information is provided on an as-is basis. The information, facts or opinions appearing in the article do not reflect the views of NDTV and NDTV does not assume any responsibility or liability for the same.