With Eid being just around the corner, it is getting tough to contain our excitement to get our hands on the festive delicacies. Sweet
sewaiyan
, rich
haleem
, robust
nihari
and the melt-in-mouth kebabs, just a mere mention of these dishes is enough to get us drooling. But did you know that some of these delicacies have a sumptuous history behind their origin? For instance, the famous Kakori Kebabs are believed to have been invented by the rakabdars (cooks of Awadh specializing in meat delicacies) of an insulted Awadhi Aristocrat.
Kakori which is a district in the outskirts of Lucknow (Uttar Pradesh) is renowned for two things - the Kakori conspiracy of 1925 that went on to become one of the hallmarks of the Indian freedom movement, and their irresistible Kakori Kebabs. One of the most famous dishes of Awadhi cuisine, these kebabs are known for their soft texture and fragrant flavour. Just like Seekh Kebabs, they are grilled on skewers and served with Indian breads (mostly, naan). In fact, they were modelled as a softer and tender version of seekh kebabs which were already popular in Awadh.(Also Read:Galouti Kebab: The Melt-in-the Mouth Delicacy Originally Made for a Toothless King)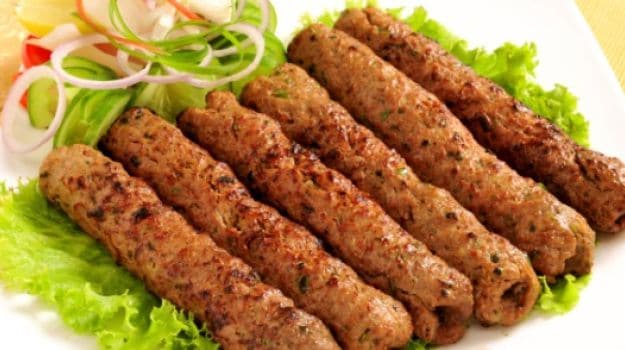 As per the legend, a local lord of Lucknow in the Kakori district, Nawab Syed Mohammad Haider Kazmi, arranged a party for one of his British accomplices during the mango season. The Nawab served the best of Awadhi cuisine for his foreign friends, including the very popular seekh kebabs. His lavish Khatirdari took a major setback when a British official made a mean remark about the course and chewy texture of the Seekh Kebabs. The offended Nawab asked his Rakabdars and khansamas to design a tender version of those kebabs, the very next day. The cooks spent many days and nights in the royal kitchen to create a more refined variant of the kebabs and then after about ten days of rigourous experimentation, they came up with what are now popularly known as the Kakori Kebabs. These kebabs has a very fine, soft and smooth texture. The use of 'Maliabali' mangoes to tenderise the meat and a host of eclectic spices, was the secret behind the softness of these kebabs and their distinct flavour. Thereafter, the Kakori Kebabs rose to fame. Crossing the territories of Kakori, these kebabs became popular in the entire region of Awadh, and gave birth to the art of using raw fruits (like raw mango and papaya) as tenderizers in kebab recipes.
Kakori kebabs are a great option for a dinner or lunch party. Impress your guests with this tender delicacy and be the star of the party. Here's an easy recipe by Chef Niru Gupta to enjoy authentic Kakori Kebabs at home.
Ingredients of Kakori Kebab
Oven temp: 425F-220 C
2 cups minced mutton/lamb
1 tsp ginger-garlic paste
2 tsp salt
1/4 tsp powdered black pepper
2 tbsp chopped green coriander
Chopped green chillies to taste
2 Tbsp chopped raw papaya
4 cloves
1 black cardamom seeds
1/8 tsp powdered cinnamon
1 tsp cumin seeds
1 blade mace
1/4 tsp grated nutmeg
2 cups onions - sliced thin, and browned crisp in 1/2 cup ghee
1/4 cup bhuna chana - powdered
1 egg
Ghee for brushing some chaat masala
Onion rings and lemon wedges for garnish
How to Make Kakori Kebab:
1.Mix all ingredients except ghee and garnishes to marinate for about 4 hours, then grind to form a smooth, thick paste.
2.Knead this mixture well and mix in the roasted gram and the egg.
3.Cover and refrigerate for another hour.
4.About 25 minutes before serving, shape the meat around the skewers and place the kebabs on to a grill over a drip tray, or in a pre-heated oven (also on a drip tray).
5.If cooking them over a charcoal grill, you will have to keep rotating them so that they brown and cook evenly.
6.They should take 15-20 minutes to cook.
7.Brush with ghee and cook another 2 minutes.
Serve garnished with chaat masala onions and the lemon and serve with green chutney.
About Sushmita SenguptaSharing a strong penchant for food, Sushmita loves all things good, cheesy and greasy. Her other favourite pastime activities other than discussing food includes, reading, watching movies and binge-watching TV shows.