Lasagne
– the Italian baked dish is a favourite pick among the many
varieties of pasta
. Layered with ragù or vegetables, béchamel sauce and
cheese
, it is decadent and immensely satisfying. Much like our
biryani
, the trick lies in assembling all the ingredients in neat layers before putting it into the oven for baking. This is when all the flavours blend together to create a lip-smacking dish.As much as we identify lasagne as
Italian
, history reveals that it was a traditional dish of the Greeks. Of course, it was not as heavily laden with richness as what we know of lasagne today. It was mostly made with leftovers using flat dough sheets (which could possibly be the oldest form of pasta), and cooked in a dish known as 'lasanon'. Hence the name or so some theories claim.The evolution of lasagne is incredible, from the Greeks to the Romans, Italians, Americans and even Indians, where we have managed to give it a spicy spin with our huge repertoire of
masalas
. Come to think of it, lasagne is a versatile dish, and there's no limit to the number of variations you can bring into it.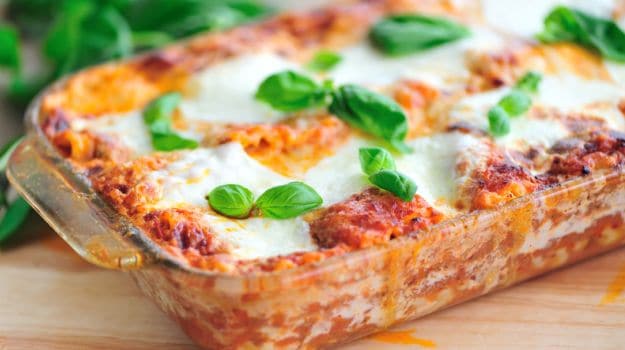 The Layered Pasta Dish
Making lasagne is considered to be an art, where each layer reveals a bed of spiced filling, and the sauces make it look irresistible. Traditionally, it is made using ragù (which is a meat-based sauce), béchamel (popularly known as white sauce) and
parmesan
. Other versions of the recipe often substitute parmesan with ricotta,
mozzarella
or cheddar. Some restaurants even throw in a mix of cheese to make three-cheese lasagne and the like.Coming to the
meat
, while mostly minced beef or lamb is used, you can tweak the recipe to include chicken, pork and or just go vegetarian. Saute the meat and veggies in a
mix of spices
and herbs, and that will help in building the flavour profile of the final dish. If you love to sprinkle red chilli powder in all your dishes, you can generously do so in this recipe to turn up the heat. Or even add a teaspoon of pickle for a
desi
touch.The pasta sheets can be brought from the stores, but if you are up for some
elaborate cooking
, then there's nothing like making the sheets at home. Yes, it requires a little effort, but nothing extensive or unachievable.
3 Recipes to Try at Home
Here are three delicious lasagne recipes for you to try at home –
1. Lamb Lasagne
Recipe by Chef Manju Malhi
Serves 8
Sheets of lasagne layered alternatively with thick lamb and tomato sauce (meat sauce) and a creamy bechamel sauce. Sprinkled with cheese on top and baked till golden. This lasagne recipe makes for a heavy and hearty meal. For the recipe, click
here.
2. Chicken Lasagne
Recipe by Chef Tomasso Maddalena Travertino, The Oberoi
Serves 4
White wine infused chicken dumplings, lasagna roundels and bechamel sauce cooked together and served with poultry. For the recipe, click
here.
3. Vegetable Lasagne
Recipe by Chef Niru Gupta
Serves 4
Brimming with many flavours, this lasagne recipe is absolutely irresistible. Sheets of lasagne layered with tomato ketchup, white sauce and vegetables, drizzled with cheese on top and baked till golden.
For the recipe, click
here.