School lunch boxes are usually the beginning of most of our culinary discoveries. Mine certainly started in Don Bosco School, Chennai, where religious and class boundaries were non-existent; especially during lunch time. If there's one aroma that made me smile on an occasional off day at school, it was the irresistible whiff of
biryani
. Quite a few of my school mates had a strong connection with Ambur, a town in Tamil Nadu with a global reputation for churning out high quality leather footwear and products. But back in India it's
biryani
that Ambur is best known for.Located exactly halfway between Chennai and Bengaluru, Ambur was an important town in the erstwhile Arcot region that were once lorded over by the Nawabs of Arcot. Given the
fascinating biryani trail
that touched different corners of the country it was only a matter of time that this ultimate comfort food arrived in these parts. What used to be loosely categorised as Arcot Biryani has now become Ambur Biryani, reflecting this town's strong culinary credentials.Hasin Baig can take some of that credit. Legend has it that he was a cook in the kitchens of the Arcot Nawab before setting shop in his hometown Ambur. What started as a small establishment has grown into a powerful brand a century later. Ambur's Star
Biryani
(they like to spell it as
briyani
) is now run by Muneer Ahmed and Naseer Ahmed, direct descendants of Hasin Baig.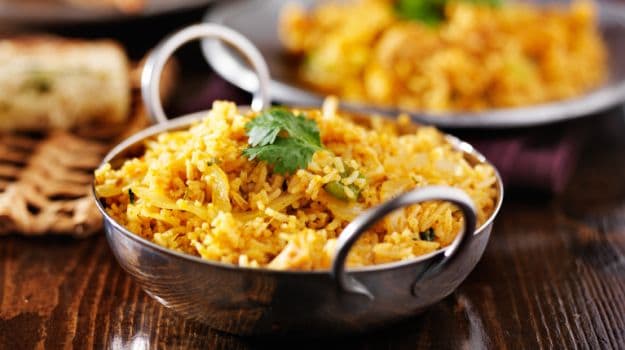 Star Biryani has spread its wings to include Chennai and Bengaluru and has also spawned a host of clones who all claim to be the best in Ambur. It certainly doesn't make things easy for road trippers on NH4 (that also connects Chennai with Bengaluru). Some Ambur regulars swear by the more modest Rahmaniya hotel, one of the three establishments that Star Biryani manages in Ambur but most locals will tell you that the best
biryani
in Ambur is not served in restaurants but at homes and weddings.Years after we passed out of school, one of my friends – a leading footwear exporter from Ambur, offered to organise
biryani
from Ambur for one of our reunions. It was the best
biryani
and the most flavourful I've tasted; ever. I went back to him to put me in touch with some of his cooks for a
recipe
and also dope on what makes Ambur Biryani special.Mukarram who has been cooking at Ambur weddings for a few years believes it's the unique cooking style – where the rice and meat are cooked separately before bringing them together in a covered vessel in traditional
'dum' style
. There are varying theories about the
type of rice
that an authentic Ambur Biryani needs to be crafted with. While the popular notion points to the small grain 'Seeraga samba'
rice
, quite a few cooks like Iqbal tell me that
Basmati rice
also works equally well. Some cooks believe that the unique 'dum' cooking style takes the rice out of the equation.The other interesting Ambur Biryani recipe tweaks include curd and mint leaves. Ambur Biryani might be spicier than its
Lucknowi
counterpart and yet it's usually eaten with Kathirikai Pachadi (locals also call this Khattay Baingan), a spicy accompaniment made with aubergine.Almost every cook I spoke to was happy to share his Ambur Biryani recipe confident that the typical home serving for a family of four can't compete with the large scale
biryanis
they prepare in huge utensils over wood fires. Ambur Biryani might be synonymous with mutton but the
chicken
and beef versions are quite common too.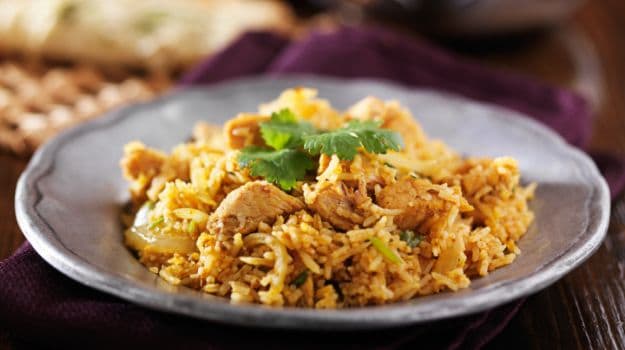 Here's Khader bhai's (another
biryani
cook in Ambur) Ambur Mutton Biryani recipe:
Ingredients:
1 kg rice (Basmati or Seeraga Samba)
1 kg mutton, chopped
200 ml refined oil
2 Tbsp ghee
50 gm curd
300 gm tomato, finely chopped
400 gm onion, finely chopped
2 cinnamon sticks
4 cardamom pods
4 cloves
A small bunch of coriander
A small bunch of mint leaves
½ lemon
2 green chillies
1 tsp chilli powder
100 gm garlic, peeled and pounded into a paste
80 gm ginger, pounded
Salt to taste
Cooking method:
1. Heat oil in a kadai and add the whole spices. Let them crackle and then gradually add half the quantity of onions. Saute for 3-4 minutes.2. Add the garlic paste, ginger paste and then the red chilli powder and mix well.3. Add the mutton pieces, salt, tomatoes and the remaining onions, and mix well.4. Add the green chillies, curd and lemon juice.5. Fry the meat for 12-15 minutes, adding a little water and then pressure cook this (the korma) for about 20 minutes.6. Cook the rice for about 5 minutes in a separate vessel and then drain the excess water.7. Bring the korma and the rice together in a heavy bottomed cooking vessel, carefully arranging them in multiple layers. Sprinkle the ghee as you layer the rice and the korma.8. Add the finely chopped coriander, mint leaves and salt (to taste).9. Cover the vessel with a thin cloth and cook on a low flame for about 10 minutes in 'dum style'.
Note: You could place a larger vessel with water under this vessel as a precaution (to ensure the biryani doesn't stick to the vessel).10. Serve hot with condiments like raita or Kathirikai Pachadi.
About the Author:
Ashwin Rajagopalan is a Chennai-based writer who writes on topics related to food, gadgets, trends and travel experiences. He enjoys communicating across cultures and borders in his weekday work avatar as a content and editorial consultant for a global major and one of India's only cross cultural trainers.
Disclaimer:
The opinions expressed within this article are the personal opinions of the author. NDTV is not responsible for the accuracy, completeness, suitability, or validity of any information on this article. All information is provided on an as-is basis. The information, facts or opinions appearing in the article do not reflect the views of NDTV and NDTV does not assume any responsibility or liability for the same.
About Ashwin RajagopalanI am the proverbial slashie - a content architect, writer, speaker and cultural intelligence coach. School lunch boxes are usually the beginning of our culinary discoveries.That curiosity hasn't waned. It's only got stronger as I've explored culinary cultures, street food and fine dining restaurants across the world. I've discovered cultures and destinations through culinary motifs. I am equally passionate about writing on consumer tech and travel.