Navratri
is an important festival celebrated across India. Many people fast on all nine days of the Navratras in North, West and Central India.
Fasting
is not just a way to pay your gratitude to the Goddess, and it is not just tradition to not consume
alcohol
and non-vegetarian food, but also logical. According to Ayurveda, grains, onions, garlic and meats should be avoided during a seasonal change as our bodies tend to have low
immunity
around that time.Navratri fasts give you a chance to
detoxify
by eating foods that are light on the stomach and can be digested easily. Here are a few dishes that could be made differently with global inspirations, using ingredients typically consumed during Navratras.
1. Tapioca & Quinoa salad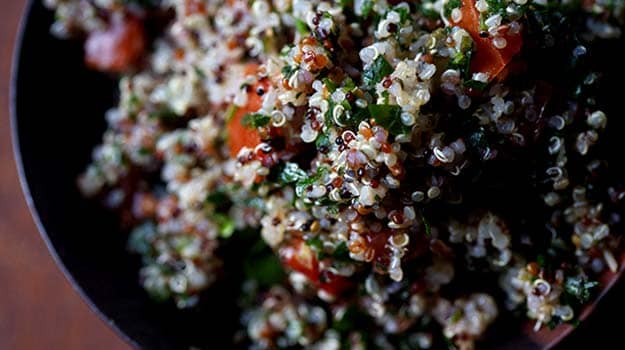 Serves:
4
Preparation Time:
10 minutes
Cooking Time
: 10 minutes
Ingredients:
·Cooked Tapioca 60gms
·Cooked Quinoa 80gms
·French Beans 60gms
·Snow peas 60gms
·Broccoli 30gms
·Sesame seeds (black & white) ½ tsp
For the Dressing:
·Honey: 300gms
·Soy Sauce: 1 tbsp
·Lemongrass: 60gms
·Thai Chilli: 30gms
·Pickled Ginger: 60gms
·Sesame Oil: 2 ½ tbsp
Method:
1) To make the
dressing
, add the honey, soy sauce, pickled ginger, lemongrass, thai chilli in a bowl and mix thoroughly. You may strain this through a fine mesh and incorporate into the salad.2) Dress the
quinoa
and tapioca with the soy dressing and a hint of cumin.3) Blanch the
vegetables
and refresh in ice water. Pat dry and dress them in the dressing as well.4) Place the tapioca mix in a ring and then spoon the veggies on top. Garnish with some sesame seeds and cress. Serve chilled.
(Add nutrition boosters to your daily diet- Shop now!)
2. Pea & Mint Appetizer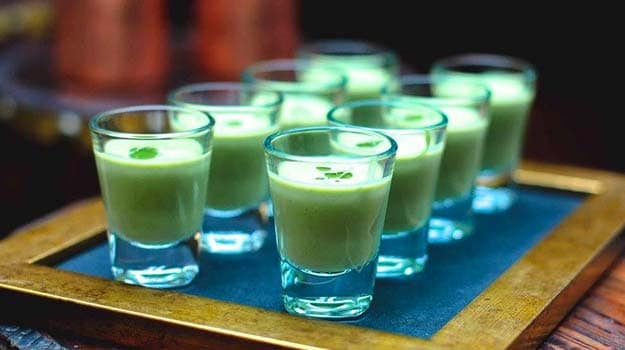 Serves:
4
Preparation Time:
10 minutes
Cooking Time:
10 minutes
Ingredients:
·Peas (Frozen) 500gms
·Spinach 100gms
·Carrots 100gms
·Celery 100gms
·Thyme 5gms
·Bayleaf 1
·Mint 150gms
·Butter 200gms
·Cream 300ml
1) To make veg stock, dice the carrots and celery and place in a pan with thyme, bay leaf and one fourth the mint. Fill up with cold water. Bring to the boil and simmer for 10 minutes. Allow to cool.2) Melt
butter
, add the frozen peas. Add the warm stock, cream, chopped spinach and mint leaves. Cool. 3) Blitz in a blender and pass through a fine sieve. Check seasoning. Serve as a super
healthy appetizer
or between meals. This can be served chilled or hot. With a bit of mint oil or plain extra virgin olive oil.
3. Provencale Aubergine Caviar with Guacamole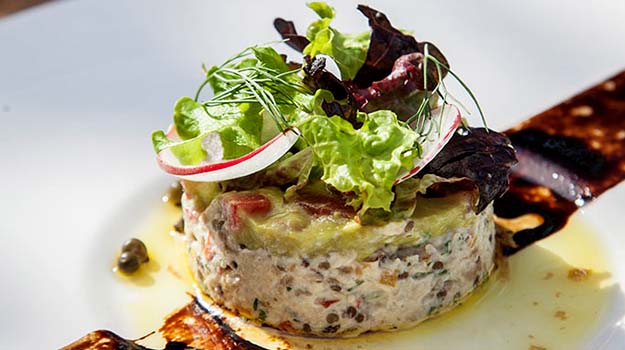 Serves:
4
Preparation Time:
10 minutes
Cooking Time:
15 minutes
Ingredients:
·Red pepper - 1
·Yellow pepper - 1
·Green Pepper - 1
·Parsley 200gms
·Aubergine 500gms
·Hung Curd 200gms
·Cumin freshly grounded - 2/3 tsp
For the Guacamole:
·Avocados 2
·Tomato 200gms
·Lemons 2
1) Roast the
aubergine
in an oven till soft. Take out the inside and discard the skin.2) Mince the aubergine and squeeze out the water.3) Dice the peppers finely, chop the parsley too. Gently fold all the ingredients together. Check seasoning.4) For the Guacamole, mash the
avocado
with a fork and mix in the lemon juice. Cut the tomato petals into small squares and mix into the avocado mash.5) To serve, place the chilled aubergine caviar in a ring on a plate. Top off with guacamole and serve with
croutons
or toast or even tapioca popadums or potato wafers.
4. Water Chestnut Crumble Pudding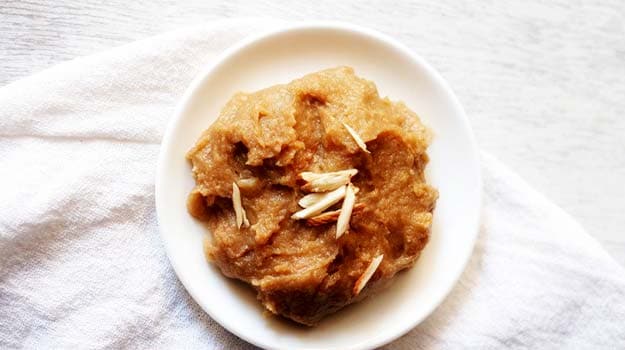 Serves:
4
Preparation Time:
10 minutes
Cooking Time:
10 minutes
Ingredients:
·1/2 cup Singhare Ka Atta / Water Chestnut Flour
·1/2 cup Sugar
·2 tbsp + 1/2 tsp clarified butter
·1 cup Water
·1/4 tsp Cardamom Powder
·Almonds for garnishing
1) Heat 2 tablespoons of clarified butter in a pan. Add and roast the flour over a medium flame for 5 - 7 minutes or till it turns light brown color and
aromatic
.2) While roasting the flour, bring one cup of water to a boil in another pan. Now add boiling water, while stirring continuously to avoid lumps. Keep stirring and cook for 2 -3 minutes or till the mixture thickens and forms together as a mass.3) Now add sugar and
cardamom powder
and mix it very well till sugar dissolves. Keep on stirring for a couple of minutes or until the mixture thickens and leaving the sides of the pan.4) Add remaining 1/2 tsp of ghee and mix it well. Turn off the flame. Garnish with finely chopped
nuts
and serve warm!
Disclaimer:
The opinions expressed within this article are the personal opinions of the author. NDTV is not responsible for the accuracy, completeness, suitability, or validity of any information on this article. All information is provided on an as-is basis. The information, facts or opinions appearing in the article do not reflect the views of NDTV and NDTV does not assume any responsibility or liability for the same.