Poha is an absolute breakfast essential for many people. Light, flaky flattened rice turned into aromatic, flavourful dish, gives a refreshing jump-start to the day. Poha is consumed in almost every part of the country, each region having its own signature style of making poha. The most common way of making poha is cooking it with curry leaves, mustard seeds, peanuts and rounding it off with a dash of lemon juice. Are you already salivating? Poha is a go-to breakfast dish that takes minutes to prepare and is also fulfilling. It's so delicious that we won't mind having it every day, right?


If you agree with us, then we'll help you fix a new poha dish every day. Poha is a versatile food that can be made in many ways. We came out with some of the easiest poha recipe ideas that are not state-specific and can fit all kinds of palates.
5 Different Ways Of Making Poha

1. Tangy Poha
There are two ways you can treat your taste buds to some tanginess in the morning for a fresh start. Add lots of tomatoes or curd, or both, while cooking poha. The addition of lemon juice will enhance the tartness of this dish.

2. Bread Poha
Break brown bread or white bread into tiny pieces and add them right in the end when your poha is almost cooked. Drizzle some water and mix well so that the bread and the poha take in all the flavours from the spices and lemon juice. You can also completely do away with rice and make this poha with bread only. Check out this easy recipe for making bread poha.


(Also Read: How To Make Maharashtrian Kanda Poha At Home)
Bread poha

3. Nuts Poha
Not just peanuts, you can pick from a range of dry fruits and add to your poha - almonds, cashews, raisins, walnut, the list is endless. The assortment of nuts will give a new dimension to your favourite poha.

4. Fruits Poha
If you haven't tried it yet, we suggest you please do. Make your pick from cranberries, strawberries, dates, apples, and pomegranate. Here is a recipe of cranberries poha that you must try making.


(Also Read: Here Is The Recipe Of Red Rice Poha That You All Must Try)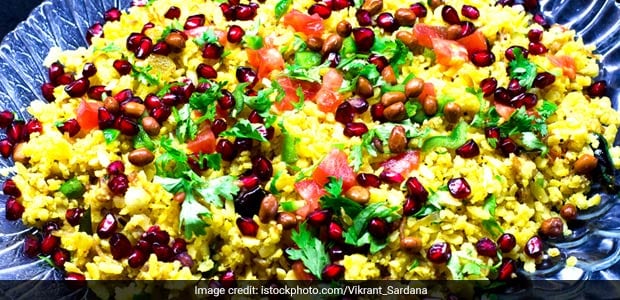 5. Veggie Poha
Pick one vegetable of your choice and make your poha around it. Spinach, potatoes, tomatoes, soya and other such veggies can be great options to give your poha a veggie angle. Take inspiration from this recipe of soya poha. In fact, you can also mix in all veggies of your choice and make it an all-out vegetables poha.

We are sure your regular poha must be dear to you. But some change once in a while can do no harm. So, pick your cue from the ideas above and cook poha is the best ways possible.


About Neha GroverLove for reading roused her writing instincts. Neha is guilty of having a deep-set fixation with anything caffeinated. When she is not pouring out her nest of thoughts onto the screen, you can see her reading while sipping on coffee.