Image credit: www.grammarsofcooking.blogspot.in
Think of a
healthy Indian breakfast
to kickstart your day and
poha
is probably going to be the first option to come to your mind. The wholesome dish made of flattened rice is immensely popular across the country, particularly
Madhya Pradesh
and
Maharashtra
. Almost every household has its own way of preparing it; some use onions and tomatoes, some peas and peanuts and others use a whole bunch of vegetables along with a mix of spices and fresh herbs.
Poha, avalakki or flattened rice is prepared by first par-boiling the rice, and then pounding it to remove the husk, thereby flattening it. In the process, the husk as well as the outer bran and germ layers are removed. It is then left to dry for about two days when there occurs a slight fermentation process. As such, poha is said to be beneficial because it contains gut bacteria which aid in digestion.
A healthier variation to the everyday poha is the red poha, which is made from red rice. In the recent times, red rice has garnered much attention because of its health benefiting properties. The red colour is due to the presence of a pigment called anthocyanin, which is also a flavonoid. Moreover, unlike white rice, red rice doesn't undergo excessive processing, and as such the other bran layer remains intact, which is rich is fiber, vitamin B, and minerals like calcium, zinc, iron, manganese, magnesium etc. Red rice is also enriched with antioxidants that help in fighting free radicals in our body, preventing the risk of diseases like cancer.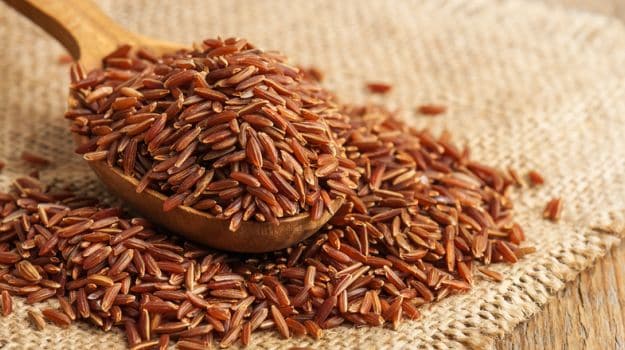 How to Use Red Poha
Red poha is slightly coarser in texture as compared to white poha. It does require a little getting used to, but once you do, you are bound to include it in your regular diet. It is really about making a healthier choice.
Red poha can be used pretty much the same way as white poha. You need to wash the poha and soak it in water first, for at least 20 minutes, so that it softens, and then stir fry it with other vegetables and spices. Most recipes in the North call for onions, tomatoes and potatoes, along with fresh coriander leaves to garnish. Whereas in the West and South, you will find the use of peas, curry leaves and lots of peanuts. You can also use your favourite mix of vegetables such as French beans, carrots, cauliflower, etc.
Probably what makes poha such a popular dish is the mix of different flavours and textures - it's spicy, tangy, sweet and crunchy all at once. To turn up the heat, you can use fresh green chilies or a spoonful of red chilli powder. Rye or mustard seeds are commonly tossed in, while some recipes prefer the use of cumin seeds. Fresh herbs like coriander and curry leaves can work wonders to add some zing. But don't forget to finish off with a squeeze of lime before serving.

If you are looking for an interesting way to spruce up regular poha, we have just the right recipe for you-Red Rice Poha
Recipe by Chef Vicky Ratnani
Giving a Continental spin to poha, red rice poha is cooked with peppers, button mushrooms, wild mushrooms, wine, seasonings and cheese. Try it to believe it! For the recipe, click here.
Other Ways to Use Red Poha
Apart from using the ingredient to make the breakfast dish, you can also use it in salads, quick stir-fries and to make lip-smacking chaats with boiled potatoes, and tamarind and mint chutneys. So, go on and indulge!