There's a theory that sambar as we know it today may have actually originated in the kitchens of the Thanjavur Marathas. It's impossible to think that a dish that is an integral part of menus across most of Southern India was actually a contribution of the Thanjavur Marathas, a community that even most people in Tamil Nadu have little knowledge of. I first heard this theory a little over a decade ago from Praveen Anand, who is currently the Executive Chef of the Crowne Plaza Chennai. It was also the first time I experienced Thanjavur Maratha cuisine at Dakshin, the South Indian signature restaurant at the hotel. To explain this theory, I will have to take you on a little historical journey.
Who are the Thanjavur Marathas?
For centuries Thanjavur was the power centre of the Cholas, one of the mightiest Indian kingdoms whose territories extended across the Bay of Bengal as far as Indonesia. As their powers waned, Thanjavur changed a few hands before Chattrapathi Shivaji's half-brother seized it from the Nayaks in 1674. There were a series of wars but by 1798 Serfoji II Bhonsle (also spelt as Sarabhoji II Bhonsle) took over the reins largely backed by the British. The British were now in control. Serfoji II's three decade reign is best remembered for his contributions to art, literature and also cuisine. It's no coincidence that this was the same time that Lucknow cuisine was evolving into what we know it as today.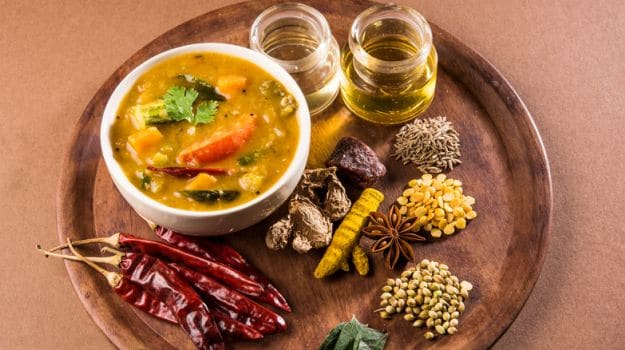 India's first Royal cook book?
A lot of my conversation with Chef Praveen Anand revolved around Sarabhendra Pakasathram, a set of two Marathi manuscripts that are now housed at the Saraswathi Mahal library. Serfoji II was passionate about food and ensured his scribes recorded oral statements of his palace cooks in the 1820s.
Almost two hundred years later many traditional recipes in India are being lost due to our inherent dislike for documentation. The Royal Kitchen had three clearly demarcated silos - a Brahmin vegetarian kitchen, a non-vegetarian kitchen and an English kitchen (quite a few of his cooks travelled to Fort St. George in Madras to master Western cuisine). In many ways his royal kitchen was almost structured as a modern hotel kitchen with specialists for tasks like meat carving. Sarabhendra Pakasathram remains one of India's most exhaustive culinary accounts and among the most ambitious attempts to document the entire culinary secrets of a Royal kitchen.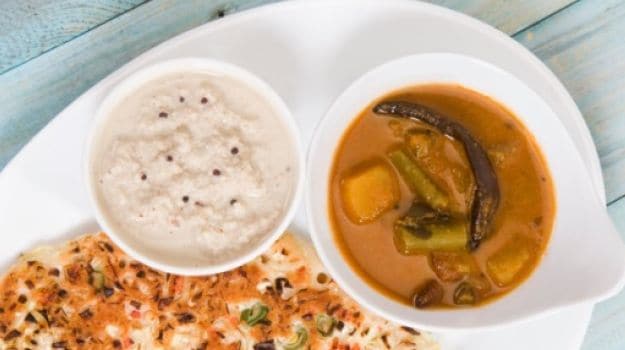 In Search of Thanjavur Maratha Cuisine
Dakshin was probably the first restaurant to showcase this rare and almost forgotten cuisine but it does so in short fortnight-long promotions from time to time. About seven years ago I went to Thanjavur in search of Thanjavur Maratha cuisine and came back utterly disappointed. Not a single restaurant in this magical town featured this cuisine on their menus. My only brush with the cuisine was at the Saraswathi Mahal library where I managed to snatch a quick look at the manuscript after much prodding. Thanjavur Marathas now make up a miniscule percentage of the population in and around Thanjavur. The Thanjavur Marathi dialect is an integral part of their identity and so is their cuisine that is still being cooked at many Thanjavur Marathi homes to this day.
Thanjavur revisited:
About four years ago, I was at Svatma in Thanjavur, a stately heritage home that has reimagined as a luxury heritage hotel. Svatma has managed to identify members of the Thanjavur Marathi community to train their culinary team and create a Thanjavur Marathi thali .The menu here is strictly vegetarian - similar to the type of cuisine that would have probably been churned out at Serfoji II's vegetarian kitchen. Of course meat is a big part of Thanjavur Maratha cuisine right from the days of Serfoji II. I also sampled few Thanjavur Maratha dishes at the Vivanta Chennai IT Expressway including the Shunti - Coarsely chopped lamb dumplings deep fried, wrapped in dried banana strings. The masala uses nutmeg, Star anise, Saunf, Methi seeds, Cinnamon stick - and raw rice.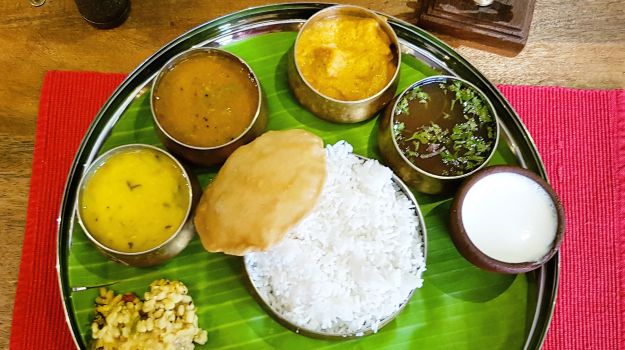 Thanjavur Marathi Thali at Svatma; Image credit: Ashwin RajagopalanThe platter at Svatma includes Dalchi, a delicious variant of the standard poori that features a blend of rice and wheat flour, served with Ambat Bindiya - okra tossed with a blend of unusual spices. There was also Kaccha Pulicha, with uncooked tamarind extract, onion and coriander, swinging in flavours from a cold rasam to the 'paani' in a paani poori. But it was the Amti that took me back to the theory on the sambar.
Was Amti the Original Sambar?
The story of the sambar goes back to the reign of Shahuji I (1684-1712). His kitchen is believed to have tweaked the Amti using tur dal instead of moong dal and most importantly substituted kokum with tamarind pulp. This theory (there's no documentary evidence though) also suggests that the dish was named after the Royal visitor of the day - Sambhaji, the Second Emperor of the Maratha empire. It's a theory that has its share of proponents and nay sayers but there's no denying that these two dishes taste remarkably similar. The sambar has been further refined with different versions not just in Tamil Nadu but across Southern India but the roots for this dish could well be in Maharashtra.About the Author:
Ashwin Rajagopalan is a cross cultural training expert and lifestyle writer. When he's not writing about food, he thinks about gadgets, trends and travel experiences. He enjoys communicating across cultures and borders in his weekday work avatar as a content and editorial consultant for a global major and one of India's only cross cultural trainers.
Disclaimer:
The opinions expressed within this article are the personal opinions of the author. NDTV is not responsible for the accuracy, completeness, suitability, or validity of any information on this article. All information is provided on an as-is basis. The information, facts or opinions appearing in the article do not reflect the views of NDTV and NDTV does not assume any responsibility or liability for the same.
About Ashwin RajagopalanI am the proverbial slashie - a content architect, writer, speaker and cultural intelligence coach. School lunch boxes are usually the beginning of our culinary discoveries.That curiosity hasn't waned. It's only got stronger as I've explored culinary cultures, street food and fine dining restaurants across the world. I've discovered cultures and destinations through culinary motifs. I am equally passionate about writing on consumer tech and travel.