The similarities are all there. Both preferred vegetarians, trained chefs who specialise in Indian food, smart marketers with a great deal of business acumen and a certain persistence to succeed. The differences? Let's just say that Saransh grew up watching
Sanjeev Kapoor
's
Khana Khazana
with his grandparents when he came back from school and the latter only discovered this prodigy much later in life. A short chat with this chef, TV presenter and now author (India on my Plate) turned into a marathon two hour session with no awkward pauses in between the banter.
Fate or persistence?

To say that success was fated, would be wrong. Saransh Goila fought tooth and nail for where he has reached. He tasted failure, rejection and despondence, so every drop of acceptance and celebrity-hood is welcomed with open arms. Yet, hearing his story took me back to Steve Job's speech at Stanford, one which had a profound impact on me and my career choices too. Steve insisted that one not be trapped by dogma, follow your heart and intuition. They somehow already know what you truly want to become. Everything else is secondary. He also spoke about connecting the dots, which brings me back to whether this was fated. He said, "You can't connect the dots looking forward; you can only connect them looking backward. So you have to trust that the dots will somehow connect in your future. You have to trust in something - your gut, destiny, life, karma, whatever".

Growing up

Saransh grew up in Pitampura, Delhi in a middle class business family. Life was comfortable but money was not aplenty, thus the only family-entertainment was planning the week's menu, which was done with great interest and care. "My father would get angry and even stage a walk-out if aalu was cooked twice in the week. Experimenting in the kitchen was given so much importance at home".

Thus, the young boy of 12 was already playing around in the kitchen, much influenced by his seven cousin sisters. With time, he began to be known in the family as 'the boy who cooks', a recognition that made him feel important and he started learning various different styles of cooking from everyone in his extended family. When it was time to decide what to do after 12th, he knew that physics or theory was not his cup of tea. But what he did have, was a deep love for theatre and skill in the kitchen. Between the two, the family agreed that becoming a chef was a little more stable as a career and off he went packing to IIHM-Aurangabad, run by the Taj Group of Hotels.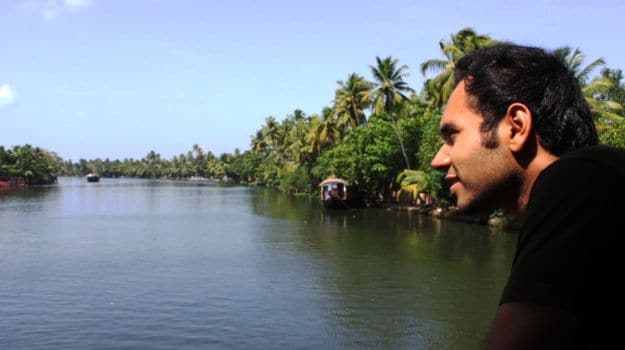 From 95kg to 65kg

"Body shaming is common now but growing up, I was never made to feel fat, even though I was always a 'chubby' kid", Saransh recounts. It was only in college that his professor saw an upcoming trend of chefs that defied the older, pot-bellied experts in the kitchen. He urged him and when that did not work, challenged him to lose two kilo in the next month. Which he did, and then he never looked back. By the end of his hotel management, Saransh had lost 18kg and was quite the sensation on campus. How did he manage to do that, I asked him. "I ran every morning. 2 km to start with and thereafter 5km. I also stopped eating carbs at night. At all. I would load up on vegetables and daal but did not eat carbs at dinner for three years. When I started seeing the effect on my body and in the attention that I was attracting, it motivated me further".

The big break

The big break did not come easy though. A few years of hard core cooking in the kitchens of Leela Hotel, Bangalore had him convinced that he did not want to be buried inside the kitchen. So he went back to the other thing he loved, acting, and studied under Barry John for six months, understanding the nuances of acting. On the side, he kept in touch with food by taking up food styling assignments for Prahlad Kakkar (after relentlessly pursuing him for a break and even sitting outside his office for 14 hours). By now, he knew what he wanted to do.
And when Sanjeev Kapoor called him in for an interview and asked him the same question, he replied simply "I want to become you". Acting and cooking converged in this one medium called Food Shows and that is where he wanted to make his mark. This clarity was rare, and perhaps one of the reasons why he bagged the spot as a contestant on Madhuri Dixit's comeback show, Maha Challenge (which he went on and won) and eventually a show of his own on Food Food called Roti Rasta aur India where he travelled across the length and breadth of the country in 100 days, eating, cooking and exploring.

The under-rated dishes in India

Which brings us to the question, of all the things he ate across India, which dish does he wish finds its place in restaurant menus. After much thought, he told us about an Indianised hot dog sold in Indore called Johny Hot Dog. An oblong pav stuffed with mutton cooked in Indian spices, slathered with chutney and onion rings, this sounded like a little bit of heaven (Floyd Cardoz, are you listening?). Having travelled across so many towns and eaten the local food, I asked Goila which city he could finally crown the 'Food Capital of India', a topic that usually invites much controversy. After much thought, Saransh declared that it could only be Delhi, not so much for the fact that he grew up here, but "because Delhi tends to take in any cuisine from around the world and excel in it". His love for small towns however, made him sneak Indore and Surat into that list too.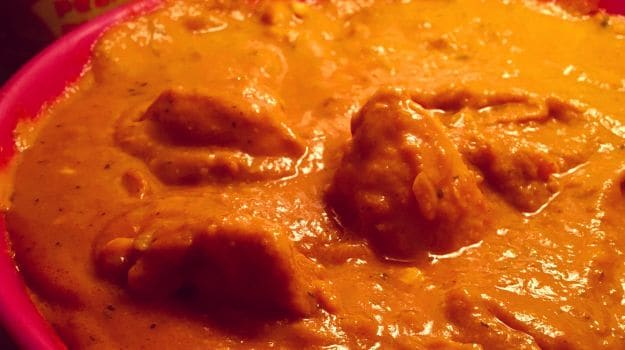 #GoilaButterChicken
Before we wrapped up, I couldn't hold back my curiosity and asked him how and why did a preferred vegetarian come to be known by the Butter Chicken he cooked up. In his answer was a reflection of the acumen we mentioned above. " The recipe comes from my family recipe of Paneer Butter Masala. I would have preferred to make something different like Pesto Paneer. But when I moved to Mumbai, I quickly realised that the city was starved for good North Indian food, in particular, good butter chicken.
I also realised the importance of networking and getting to know people in the industry. So I started hosting closed group dinners at my place, where I would whip up this butter chicken and invite people whom I had been interacting with on Twitter and yet hadn't met. It was a unique concept and people loved it. It was food writer Nikhil Merchant who came up with the hashtag and it has stuck since. Ofcourse, my vegetarian family often threatens to disown me for associating their name with a chicken dish", he quips.

Where from here?

I am grateful for where I have reached, people know me and I love that feeling. But there is tons I need to still achieve. I want to be the guy who brings Modern Indian food (of the Bombay Canteen variety, not Indian Accent) into the kitchens of housewives. In that sense, I am a cook more than a chef. I love interacting with people, with the camera and closed groups. Thus, was born Goila Butter Chicken outlet in Mumbai. A takeaway and delivery counter only, it focuses on flavour rather than frills like decor. The smokey butter chicken is being spoken about by celebrities and food lovers alike.
The start may have been slow but Saransh Goila's got momentum on his side. With his name being whispered in culinary circles and his book on the bestsellers' shelf, we can only wait to see if the prophecy is true - Whether Saransh Goila will go on to become India's next Sanjeev Kapoor. Only time will tell.