They may seem unassuming but these are no ordinary chefs. They cook for some of the most powerful leaders in the world. They put their best culinary-foot forward when other Heads of State come visiting too. That's Club des Chefs des Chefs for you or CCC as it is known. An exclusive club of some of the most skilled chefs from around the world who are proud flag-bearers of their country's cuisine.Now imagine an invitation to a six-course gala dinner cooked by these Masterchefs themselves. Who would skip an invite like this? I wouldn't. And, I didn't.This exclusive club boasts of members who are chefs to Presidents, Prime Ministers and royals across the world, including US President Barack Obama, the British Queen and the German Chancellor and they decided to hold their General Assembly Meet in New Delhi this year – a first for India. They met PM Narendra Modi and President Pranab Mukherjee during the visit. Chef Montu Saini, Executive Chef to President Pranab Mukherjee and the host chef this year, made sure the chefs didn't go back without a whiff and a taste of some authentic Indian flavours.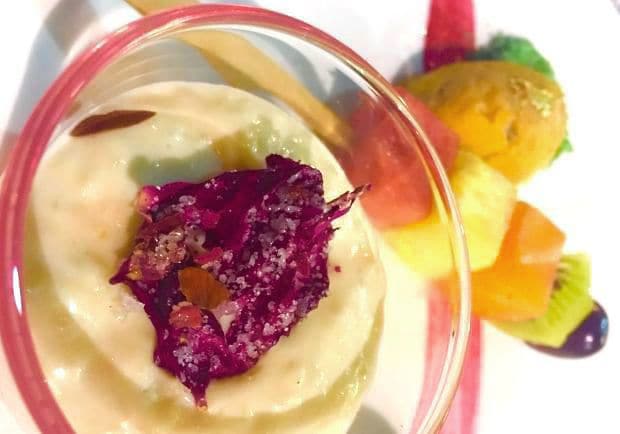 Gulukand Phirni by Executive Chef Montu Saini
There were
golgappas
and
aloo tikkis
on their menu, along with a trip to the famous Khari Baoli in Chandni Chowk as part of the itinerary. Chef Comerford, Executive Chef at the White House told me it was 'the highlight of her trip to India', shortly before we sat down to eat.Gilles Bragard, who founded the CCC club in Paris in the year 1977, began the proceedings by telling us that he was very happy the Club was in India finally and how Culinary Diplomacy was at the heart of the club's existence. He said the Club meets once every year so that 'Chefs who cook for Kings and Queens should feel like Kings themselves sometimes'. Anyone who loves food and understands the behind-the-scenes sweat and toil by Chefs couldn't disagree with that.Something else said during the evening struck a chord with me - Chef Montu said, 'If you are not at peace from the bottom of your heart, you can't create good food'. And the Chefs at this Gala must all be at peace because the food served was absolutely outstanding.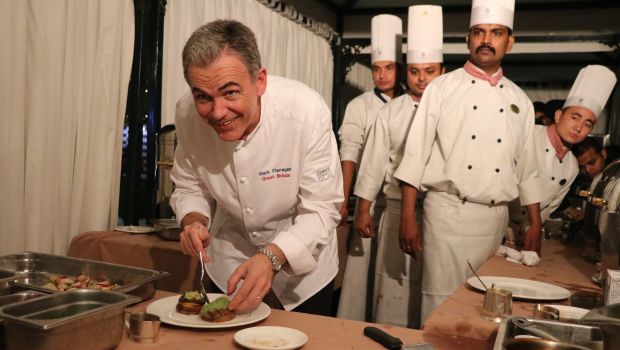 Chef Mark plating his dish for the Gala dinner with the Imperial team
The Royal Menu

Here is an exclusive glimpse at what we ate:
Selection of Cold and Hot Canapes
By Chef Prem Kumar Pogakula
Executive Sous Chef, The Imperial, New Delhi
Roasted Kuri Squash
By Cristeta Comerford
Executive Chef White House, USA
Risotto with Mix Herbs and Aged Parmesan
By Fabrizio Boca & Massimo Sprega
Executive Chefs to the president of the Italian republic
Fresh Sole Roulade with Vegetable Confit and Black Olives
By Christian Garcia
Executive Chef to the Prince of Monaco
Loin of Lamb with Basil and Medley of Vegetables
By Mark Flanagan
Royal Chef Buckingham Palace
For Vegetarians :
Cottage Cheese and Basil Polents With a Medley of Vegetables
By Mark Flanagan
Royal Chef, Buckingham Palace
Dessert:
Rose Scented Rice Pudding, Sweetened Pumpkin and Fresh Fruits
By Montu Saini
Executive Chef to the President of Republic of India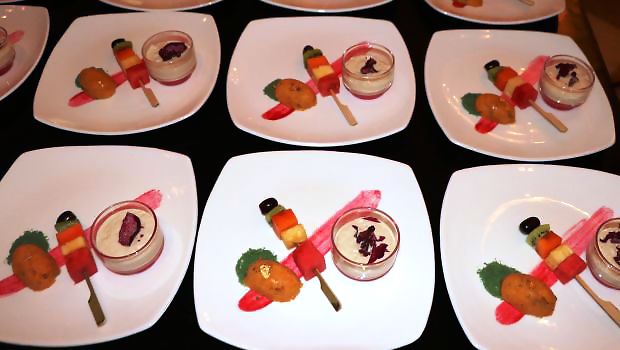 The Gala was a Charity Dinner meant to raise funds for Nobel Peace Laureate Kailash Sathyarthi's Children's Foundation. And what better place to host this historic dinner than at the majestic 1911 lawns at
The Imperial
, New Delhi? Spearheading the gala event was Chef Prem Kumar Pogakula, Executive Sous Chef of the
hotel. Just like a State Visit – preparations for this dinner had been under way for nearly a year! Since the chefs would only be in the country for a few days, Chef Prem had the all-important task of making sure everything was just right for every single course served.
'The chefs have been working with me in the
kitchen
too and were highly impressed with our infrastructure, team and the local produce and flavours," he said. "I believe they have taken home with themselves not only Indian culture and food, but also our traditional Indian hospitality, post their stay at The Imperial".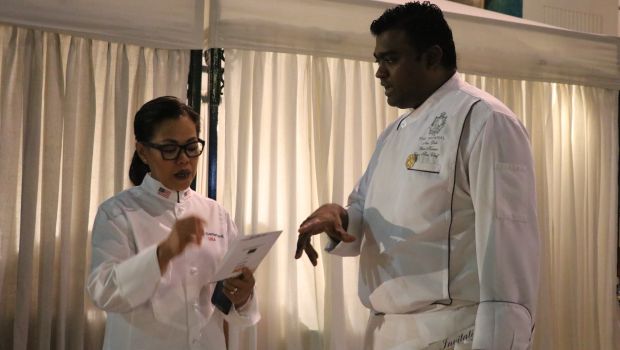 Chef Cristeta, Chef at The White House, in conversation with Chef Prem
As each course was served, a handful of us soaked in the truly historic nature of a
dinner
such as this. As food continues to bring people together across borders, culinary exchanges like this one cannot be applauded enough. What a privilege to be amongst the best of the best!
Christmas
has come early this year!