'Samosa'
and chutney. The mere mention of this drool-worthy combination makes you want to forget about all the calories and just gorge on the crisp delight that is loved by many across the country. But did you know that this famous North Indian snack has its origins in Central Asia and only traveled to the subcontinent during the medieval time along with foreign traders? The earliest origins of the
samosa
could be traced in the ancient trade routes from Central Asia. These crisp, small and stuffed pastries were easy to make during the night halts. It was also convenient to pack in the saddle bags of the travelers for the journey next day.The crispy pastries were referred to as Sambusak or Sambusaj and our very own Samosa hails from the same family. Abolfazl Beyhaqi, a noted Iranian historian of the 10th century, mentioned about the snack in Tarikh-e Beyhaghi (Persian literature). Closer home, the Delhi Sultanate royalty and poet Amir Khusro also shared in one of his accounts how the kings and other noble men relished the 'samosa prepared with meat, ghee and onion'. However, the most popular historical mention of the snack has to be in theAin-I Akbari(Life of Akbar), a 16th century seminal Mughal document, which mentions the recipe of the central Asian snack and says, 'the people of Hindustan refer to it as the Sanbusha
'
.(Also read:
10 Best Samosa Recipes​
)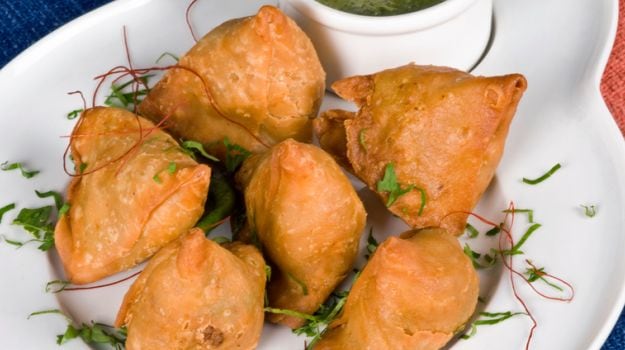 You will find them in road side tea shops and even in high-end restaurants. Especially in parts of North India, the snack is an absolute hit. In a diverse country like ours, the samosa has been adapted differently by different regions. Punjab, Delhi Himachal, Uttar Pradesh and the rest of the north India like to mould their samosas with a spicy filling of masala potatoes, peas and crushed green chillies. Some may add raisins and cashews to the filling. Made with crisp covering of
maida
(refined wheat flour), these pastries are deep fried and served with coriander or
mint chutney
, ketchup or in some parts even with
choley
(curry of chickpeas).
Shinghara- The Bengali Version of Samosa
The East-Indian version of the samosa is referred to as the
Shinghara
or
Singhada
in parts of Bengal, Orissa and Jharkand.
Shinghara
is no less loved and is a hugely popular tea time snack.
Shingaharas
are fried deep in vegetable oil to attain the perfect golden brown colour. Like samosas, they are also meant to be consumed hot with ketchup or tamarind or mint chutney.
Shingharas
can also be made into a chat along with yogurt, chutney, chopped onions, coriander, and chaat masala. the non-vegetarian varieties of
Shingara
are called
Mangsher Shinghara
(mutton shinghara) and
Macher Shinghara
(fish shinghara). Bengalis and their deep rooted love for the sweet has an impact on the Shinghara too. They have a sweet version of the popular snack which is called the
Narkel er Shinghara
(coconut shinghara) along with some other varieties that are filled with khoya and dipped in sugar syrup. (Also read:
Where Do You Get The Best Samosas in India?​
)
Here is a list of other features that distinguish a shinghara from a samosa.1. It is believed that the Shinghara gets its name from the water chestnut (singhara) as the snack closely resembles its triangular contours. In fact, one of the trickiest thing to do while making this snack is folding it in its signature triangular form.2. Shingharas are light yet flavourful puff pastries which happen to be a bit smaller in comparison to its plump North or West-Indian counterparts.3. Shingharas are more crispy and the filling mostly consists of small pieces of boiled potatoes, peas, along with other optional ingredients like cauliflower (Fulkopir Shinghara) or mutton (Maangsher Shinghara). 4. The filling is made with maida or white flour. It is also not as spicy as the Samosa and some preparations may have a hint of sweet too. However, it must not be confused with Bengali Mishti
S
hingara that is filled with sweetened reduced milk, or the Labongo Lotika, which is a khoya-stuffed dessert secured with cloves (labango) and dipped in syrup.5. A traditional
shinghara
always has a thin and flaky coating, unlike the samosa which can have a thicker outer layer to hold the rich filling.Apart from the difference in the filling and the thickness of the crust. There isn't much of a difference between shinghara and samosa. Be it in the preparation, serving or the love it shares amongst all its admirers. So go bite into the crispy delight and rejoice.
About Sushmita SenguptaSharing a strong penchant for food, Sushmita loves all things good, cheesy and greasy. Her other favourite pastime activities other than discussing food includes, reading, watching movies and binge-watching TV shows.