On a chilly day, nothing can quite beat the pairing of one cup of
chai
, I tend to favour ginger tea a bit here, and steaming
samosas
. And what's rather interesting is that while this savoury snack is popular across the country, each state pretty much has its own version. For instance the Punjabi
samosa
is dominated by potatoes and peas, with raisins and cashews added in to enhance the flavour. In
Gujarat
, the
patti samosa
is quite popular. And this one is stuffed with finely chopped potatoes that are allowed to cook in the oil as the
samosa
is fried. The
patti
is also made with wheat flour instead of
maida
(refined flour) because cabbage is often an important ingredient, and refined flour can't quite hold that ingredient together.The Bengali
samosa
, which is referred to as the
singara
, uses potatos and peas, and cauliflower, and even peanuts for a little crunch. Even though it's hot thanks to the chillies used, it's much milder than other
samosas
when it comes to the spice factor. In Karnataka, onion
samosas
is a big hit, as is keema
samosa
, made popular by some of the local bakeries. In Delhi, apart from the potato
samosa
, the one with keema, khova, or even moong dal are quite popular. Now let's go on a
samosa
trail, looking for some of the best in different parts of the country.
(Banana Chips, Lukhmi, Samosa and More: Hot and Sizzling South Indian Monsoon Snacks)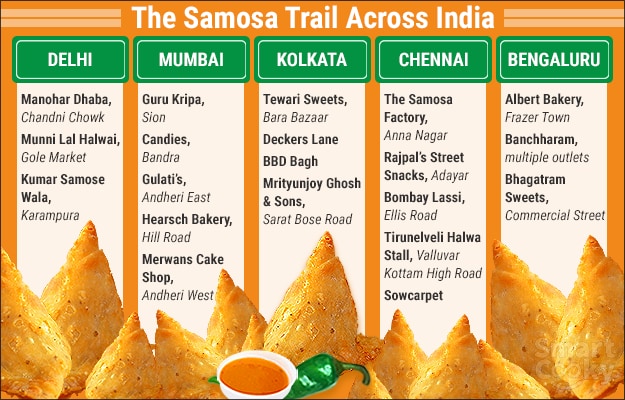 The Famous Snack in Delhi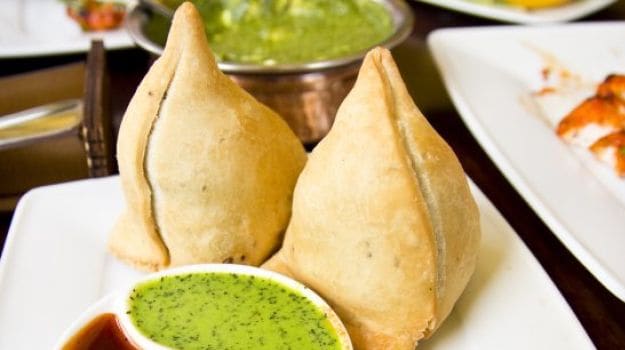 Manohar Dhaba
in Chandni Chowk serves what is known as the Japani Samosa and no one know why it's called so. However, it apparently has 60 layers of flour, and is filled with potatoes. It's served with
chhole
and a pickle.
Munni Lal Halwai
at Gole Market is famous for the classic potato
samosa
. Served with mint
chutney
, this shop seems to have perfected the recipe.
Kumar Samose Wala
near Milan Cinema in Karampura has quite a surprising range of
samosa
s – starting with ones filled with peas and paneer, sweet corn, moong dal, vegetarian
keema paneer
, and even chowmein!
(The Greek Connection: From Kofte and Pulao to Halwa and Samosa)
Mumbai's Samosa Eateries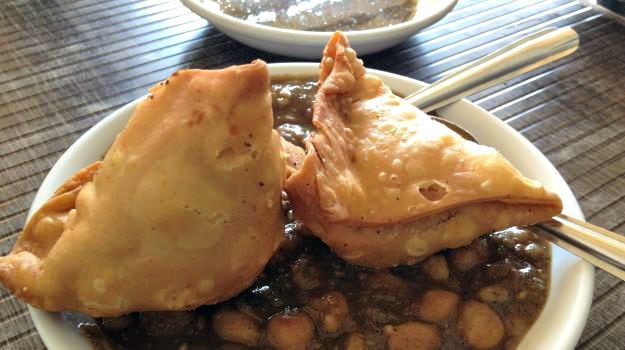 Gulati's
in Andheri East is famous for their fresh
samosas
, served piping hot. Fried in vanaspati, the pastry is known to be near perfect. But then again, personal opinions do tend to matter.
Hearsch Bakery
, on Hill Road, Bandra West, sells four different kinds of
samosas
, and of them the mutton mince is quite popular. You also get mini
samosas
here that are sold by the dozen. And if you want a sweet
samosa
, try the one stuffed with
mewa
at
Merwans Cake Shop
in Andheri West.
(Recipe: Gujarati Samosa)
Kolkata's Love for Singara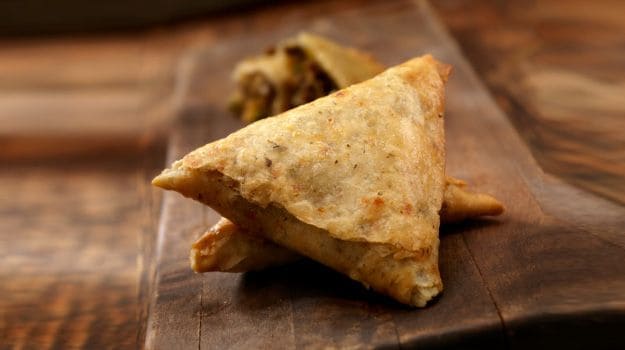 The
samosa
or
singara
in Kolkata is practically woven in to the Bengali food culture. And it's often served with sweet
jalebis
. Across stores, you get different varieties of the
samosa
. While most serve the more commercially viable
samosa
, the true flavour of the
singara
remains in the hands of the local sweetshops; stuffed with peas and potatoes and peanut, and if the shop is slightly upmarket, you'll also find bits of cauliflower florets in it.
Tewari Sweets
in Bara Bazaar is still known to have some of the best
samosas
in town, perfecting the art of spicing the filling, and frying the pastry in
ghee
.
Deckers Lane
and
BBD Bag
are known for their street food and this is also where you'll find some of the best Bengali and North Indian
samosas
.
Mrityunjoy Ghosh & Sons
on Sarat Bose Road, a century-old rundown sweetshop, is also quite popular for their Bengali
samosa
, stuffed with cauliflower of course.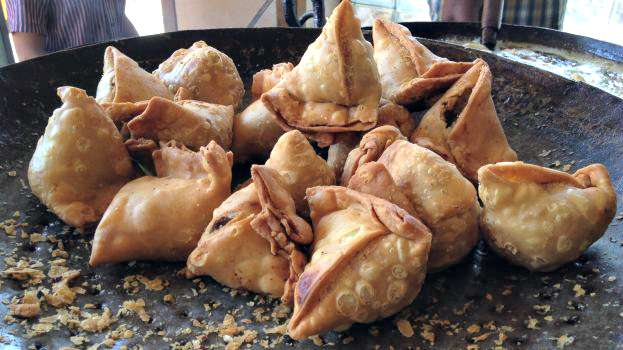 Recipe: Punjabi Samosa
Chennai's Range of Samosas
Chennai has a few
samosa
stores it can boast about. Located in Anna Nagar is
The Samosa Factory
that serves up some decent ones. The Chinese
samosa
seems to be quite popular – filled with cabbage, beans, carrots, and potatoes, and cooked in soy and chillies – and is, let's put it this way, interesting. Tucked away in Adayar is
Rajpal's Street Snacks
, which serves rather good
samosas
too. The pastry and the filling are cooked just right.
Bombay Lassi
on Ellis Road, apart from its
lassi
, is rather popular for their
samosas
too, and you get to eat them with sweet brown, and a green tangy dip. The
Tirunelveli Halwa Stall
, located on Valluvar Kottam High Road, is yet another place to go for the
samosa
in Chennai. The make fresh batches twice a day, and that contributes to the popularity of the place. Or, you could just head over to
Sowcarpet
to treat yourself to lots of those deep-fried triangles in plenty of tiny stores that dot the area.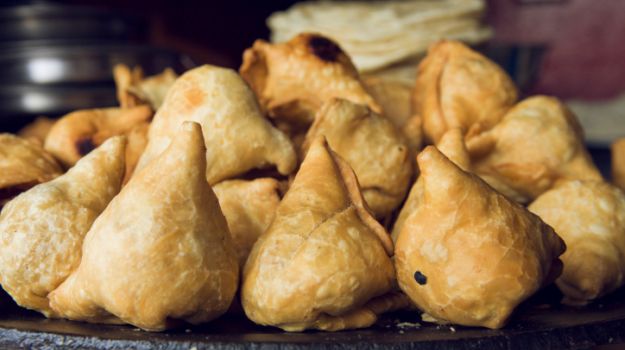 Bengaluru's Keema Variant
Think of
samosas
in Bengaluru and you're reminded of
Albert Bakery's
keema samosas
. They're as crunchy as it can get, and decadent. If you have a slightly posh palate, most of the five star hotel coffee shops serve the
samosa
. But the flavour truly is on the streets. From the onion varietythat is served at tiny roadside tea stalls across the city, to some of the popular sweetshops, one can literally find all kinds of
samosas
in the city.
Banchharam
, with its three outlets (Koramangala, Marathahalli, and Ulsoor), probably serves the best Bengali
singara
in the city. The ones at
Bhagatram Sweets
in Commercial Street are considered to be one of the best in town though.
Disclaimer:
The opinions expressed within this article are the personal opinions of the author. NDTV is not responsible for the accuracy, completeness, suitability, or validity of any information on this article. All information is provided on an as-is basis. The information, facts or opinions appearing in the article do not reflect the views of NDTV and NDTV does not assume any responsibility or liability for the same.