It was sometime in January in the mid-80s; My entire house was yellow, and not because the family was inflicted with jaundice or some such. It was Saraswati Puja, a fairly big deal for
Bengalis
, and my aunts, cousins and grandmother had gotten themselves yellow
saris
in its various avatars. The entire house smelt of flowers, incense, with my aunt meticulously drawing the goddess' delicate feet at the threshold of every room with a rice paste. My focus was on a different kind of yellow though; in a big deep wok, simmering away to glory, was
cholar dal
(
dal
made with split
Bengal gram
). While my grandmother's wing woman always cooked the other dishes, she would take personal interest to make sure that the
dal
was nothing short of perfect. And therefore, constant stirring, monitoring, tasting, reducing of the flame would go on - a sight that I have never been able to wipe from my memory.The
dal
was soaked hours before it was actually cooked, and all the ingredients, such as
turmeric powder
, sugar, cumin powder, red chilli powder, chopped coconut bits (this cannot be avoided), a few raisins, and the spices -
cinnamon
,
cloves
, bay leaf, cardamom,
dry red chillies
, hing (asafoetida), ghee - for the tempering, were kept aside, separately on a large plate. No ginger or garlic goes into this one, probably because it's cooked mostly for special occasions, religious being one of those.
Always cooked to a slightly thick consistency, a runny cholar dal would never win my love, even though plenty of street side stores serve a watered down version of the dal, with pooris.
What's beautiful about this preparation is that each grain of dal is practically separate, and practically undamaged in the cooking, and yet when you put it in your mouth, you rarely have to chew it. The combined sweet and slightly hot flavours need to be balanced perfectly - a little of something more, and it's a failure. Yes, my grandmother was a perfectionist. And each Saraswati Puja, she would make this beautifuldal, along with small, white, and absolutely round luchis. My cousins and I could eat at least a dozen of them!(Buy high-quality organic dals & all your groceries from SmartCooky)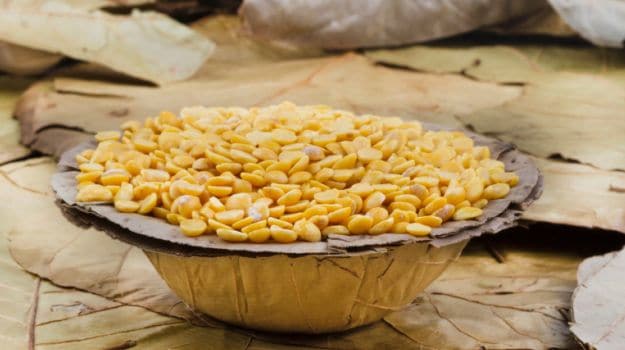 The Bengal gram's purpose in life however is not restricted to the cholar dal. We would even gently roast it at home, and spike it with chopped onions, green chillies, tomatoes, and even some puffed rice as an evening snack. It wasn't a regular thing though, but on days when all the kids in the house were hungry at the same time, and improvisation was necessary. Little did we know back then that chana dal is high in fibre, and helps to lower cholesterol. Who thinks of cholesterol at the age of nine? But in case you're at that stage where you are constantly worried about your health know this - chana dal also has a low hypoglycemic index, and therefore good for diabetics; it's also a good source for zinc, calcium, and protein; it's also low in fat, and digests easily. And if you're making the dal the Bengali way, you can always ditch the hing to make it gluten free!
There's another dish that comes out top notch if you can pull it off. It's the cholar daler paturi (steamed cakes). Here the dal is soaked overnight since it requires no boiling the day after. It is then turned into a paste with green chillies and coconut. A little bit of mustard oil is added to the paste. This paste is then shaped by hand and packed into banana leaves, and then roasted on top of a hot griddle, with the flame turned down to a minimum. The griddle also needs to be covered, and it takes about half and hour to cook. While the preparation of the dal itself isn't tedious, the banana leaves need to be prepped by softening it over a low flame, and then de-veining it. The veins are later used to tie the parcels. And then there's the quintessential 'bora' or rather fritters. These fritters can be made with different kinds of dal, but the one with Bengal gram is a personal favourite.
For this, the cholar dal is soaked overnight again, and then made into a batter the next morning by grinding it with chopped ginger and green chillies the next day. A little water is added to get the right consistency. Then goes in baking soda, turmeric powder, coarsely ground dry red chillies, cumin seeds (roasted and ground), chopped coriander leaves, and of course salt. Take a small scoop of this batter in a spoon, and deep fry it. It's perfect with mint chutney, and of course piping hot tea.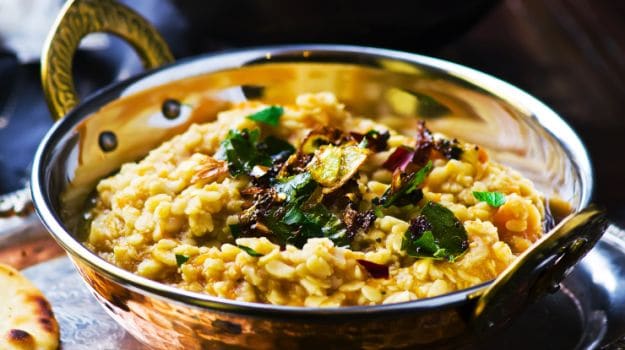 However, Bengalis don't have monopoly over this pulse. I have tasted extremely delicious preparations that use all sorts of ingredients that we don't. For instance, garlic, onions, and tomatoes are used to make a slightly spicy chana dal curry. Some people add garam masala powder to it, and even fenugreek leaves, or dry mango powder. This particular recipe is not common in my house though. If you like methi (fenugreek), you can add more of methi leaves to the dal to make a different kind of curry, and avoid garlic if you like. Incidentally, hing appears to be a common ingredient across recipes; there must be something special about the combination. Then again, there's something special about cholar dal itself.
About the author:
Priyadarshini Nandy would love to call herself the writer who "divides her time between London and Prague", but being able to call both Bengaluru and Kolkata her home is equally gratifying. As an independent journalist, she writes about food, theatre, travel, and more food, for various publications - new age and old school.
Disclaimer:
The opinions expressed within this article are the personal opinions of the author. NDTV is not responsible for the accuracy, completeness, suitability, or validity of any information on this article. All information is provided on an as-is basis. The information, facts or opinions appearing in the article do not reflect the views of NDTV and NDTV does not assume any responsibility or liability for the same.