The scorching summer heat can lead to a number of season-specific ailments. These include dehydration and feelings of lethargy, low energy, headaches, nausea etc. In order to keep your body cool and healthy during summers, it is crucial to have a well-balanced diet. Eating fresh, whole foods can help your body stay cool during the hot sunny days. Additionally, staying away from red meats and processed foods is also recommended to avoid digestive troubles like heartburn, gas and bloating. Fresh fruits and vegetables not only supply the system with essential vitamins and minerals necessary for keeping the body healthy, but also keep your body cool and counteract the heat built up during an intense workout session. They're also important for keeping your body hydrated.


Apart from these, there are some other foods that you can include in your daily diet to keep your body cool. Basil seeds or sabja seeds are a great example of foods that can keep your system cool naturally. These tiny, black seeds are added to a number of foods and drinks during the hot summer months, to enhance their nutrition. Let's look at the benefits of consuming sabja seeds during summers.


Also Read: Summer Diet Tips: 5 Nutrition Mistakes To Avoid During Summers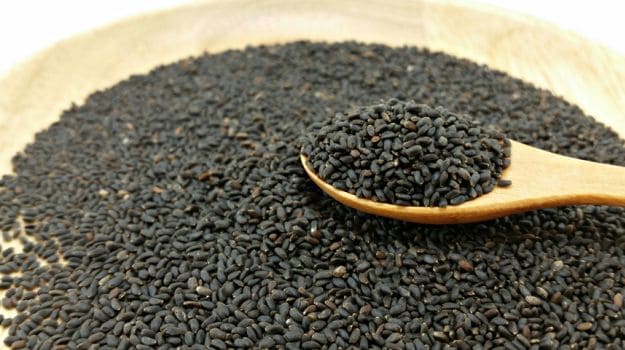 Summer Diet Tips: Sabja seeds are typically consumed during summers
Sabja Seeds (Basil Seeds) Benefits For Summers
Also known as tukmaria, sweet basil seeds or sabja seeds are consumed primarily in summers, due to their purported ability to cool down the body. Here are some more benefits of consuming sabja seeds in summers:


1. Weight Loss: Sabja seeds are packed with fibre, particularly soluble fibre, pectin, which may promote weight loss by suppressing hunger pangs.


2. Promotes Digestion: For people having digestive troubles during summers, sabja seeds are especially beneficial. Pectin functions as a prebiotic and helps the growth of beneficial bacteria in the gut.


3. Blood Sugar Control: Soluble fibre is also important for regulation of blood sugar levels and since sabja seeds are rich in soluble fibre, they may help people with Type-2 diabetes.


Also Read: Why Kala Namak (Black Salt) Is Added To Indian Summer Drinks
Summer Diet Tips: Sabja seeds are rich in soluble fibre
4. Rich In Essential Minerals: Sabja seeds contain magnesium, potassium, iron, calcium and also happen to be an abundant source of vitamin A.


5. Regulates Cholesterol: Some studies have shown that people who consumed sabja or basil seeds daily reported reduced cholesterol levels. Basil seeds inhibit cholesterol absorption in the digestive system.


Also Read: Add These 3 Spices To Your Chai To Stay Cool Naturally
How To Consume Sabja Seeds During Summers
Here are some ways to consume sabja seeds to cool down and stay healthy during summers:


1. Ice-creams and faloodas: Top your homemade ice-creams and faloodas with soaked sabja seeds during summers. Here's a recipe of falooda you'll love.


2. Lemonades: Sabja seeds are tasteless and have a soft, bubbly texture. You can add them to your lemonade during summers.
Summer diet tips: Add sabja seeds to your lemonade during summer
3. Smoothies and Milkshakes: Sabja seeds can be used as alternatives of chia seeds in smoothies to make them more fibre-rich. They're also low in calories and hence, make for healthy addition to breakfast smoothies.


4. Breakfast Oatmeal: Making hot oatmeal for breakfast? Add some basil seeds to the mix to give it a boost of minerals and vitamins. Cooking the oatmeal with basil seeds will thicken the oatmeal quicker.


5. Yogurt And Fruit Parfaits: Top your fruit parfaits and summer yogurt bowls with soaked sabja seeds to add a delicious and crunchy texture to them, as well as to improve their nutrition.


Basil seeds or sabja seeds are also rich in omega-3 and omega-6 fatty acids. Pregnant women are recommended to consult their nutritionist before adding basil seeds to their diet.

(This content including advice provides generic information only. It is in no way a substitute for qualified medical opinion. Always consult a specialist or your own doctor for more information. NDTV does not claim responsibility for this information.)