Many people out there feel that healthy food is boring and tasteless, and it contains everything that they never enjoyed eating in the first place. However, fitness trainer Yasmin Karachiwala is here to bust those myths. In an Instagram post, she shared her own guilt-free snack recipe that you can munch away without worrying about the calories. Yasmin dished out a healthy treat of sprouts bhel for an evening snack. And it's all the more fun because it requires no cooking and is super quick to rustle up.


(Also Read: Have A Strong Hankering For Something Sweet And Delicious? Try Yasmin Karachiwalas Delectable Cinnamon Roll Recipe)


For the dish, Yasmin used moong sprouts, boiled and sliced sweet potato, finely chopped onions, tomatoes, coriander, and spoonfuls of tamarind and mint chutneys. She added salt for taste, then, mixed it all well in a bowl, and topped it with crunchy sev. You can opt for baked sev to save you from any guilty indulgence.
Yasmin captioned the post, "Try my sprout bhel, which will tickle your tastebuds and satiate your hunger! The easiest recipe to enjoy with your family and friends."
Taking note of Yasmin's sprouts bhel, here are a few more healthy recipes that you may like. From broccoli chaat to corn bhel, there's something for everyone.


(Also Read: Looking For Healthy Dessert? Try This Choco-Chip Peanut Butter Brownie By Yasmin Karachiwala)


Toss some roasted or charred broccoli with cooked masoor dal, boiled potato, chaat masala, and olive oil. Add Tabasco sauce to give it a tangy twist.
You'll need kidney beans, chickpeas, and green beans for this yummy snack. Throw in slices of boiled potato along with onion and tomato. Sprinkle some chaat masala and drizzle it with olive oil.


Millets and ragi are low in fat and their flakes can be used for a crunchy treat. Add some peanuts, sesame and a generous amount of lime juice to make it more interesting.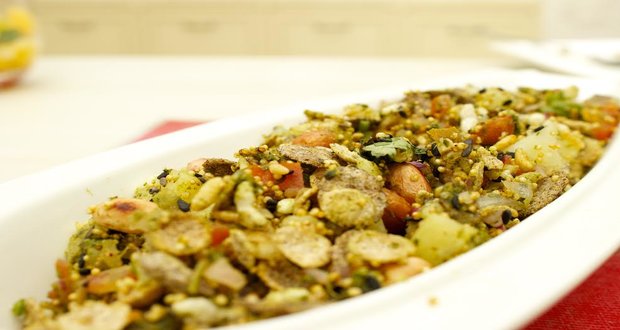 Mix boiled corn in coriander chutney and you'll start salivating just by smelling the bowl. Add potatoes, onions, and lime juice for the signature bhel dressing. Don't forget the sev.


5. Jowar Medley


After soaking the jowar overnight, boil and toss it in a sizzling pan of mustard seeds, curry leaves, and green chillies. You can add zucchini or corn too. Your perfect evening snack is ready!


Once you are done with work and step away from the workspace in the evenings, try these quick and healthy snacks. They are the perfect way to recharge after a busy day!