There is no doubt by now that diabetes is one of the most prevalent medical conditions all across the world. According to a study, published in the journal The Lancet, about 98 million Indians would be suffering from diabetes by the year 2030. World Diabetes Day is celebrated every year on November 14 to spread awareness regarding this increasing challenge in the world of health and nutrition. What makes it worst is that diabetes, characterised by elevated blood sugar levels, is a chronic, irreversible condition. But what makes the situation better is the fact that it can be prevented and managed too. One can manage blood sugar levels by simply tweaking the diet and lifestyle a bit. One can start by eating seasonal foods at first and fortunately winter season comes loaded with many such foods!
Here are 9 of the best winter foods that you can include in your diet to manage diabetes:
1. Fenugreek
Have methi seeds as is or make delectable dishes from methi leaves, fenugreek (methi) is an ideal winter food you may add to your diabetes diet. It is brimming with health benefits in all its forms. The only food with an unusual amino acid called 4HO-Ile that has possible anti-diabetic qualities such as enhancing insulin secretion and increasing insulin sensitivity, methi is said to be extremely beneficial in managing blood sugar levels. Here are two methi recipes to try this winter season:


Methi comes in many different forms including seeds and leaves
2. Carrot
Rich with multiple nutrients, carrot is one winter veggie that is low on carb with low Glycemic index that help in ensuring gradual release of sugar in blood. Are you already thinking of ways to include carrot in your diet? Here are two options to begin with:


Carrot can be consumed in many ways.
3. Orange
All citrus fruits, including oranges, are often dubbed to be superfoods by experts. In fact, American Diabetes Association considers all citrus fruits, including lemon, as 'Diabetes Superfoods'. With low Glycemic index, one can include oranges across dishes such as salads and fresh homemade juices. Here are two ways to include orange in diet:


Orange has many health benefits.
4. Guava
Brimming with dietary fibre that induces satiety and prevents blood sugar spikes, guava also has a low Glycemic index. There are many ways to include this fresh winter produce in diet, you can however start with these two amazing recipes.


- Guava and cottage cheese salad
Guava is full of fibre.
5. Spinach
Along with being a rich source of fibre that takes longer to digest, spinach is a non-starchy vegetable and also has low Glycemic index. Here are two news ways you can consume the wonderful vegetable:


6. Beetroot
Many studies have claimed that beetroot is beneficial for people with type-2 diabetes. Consultant Nutritionist Rupali Datta says that a subtle sweet taste of beetroot makes people think that diabetics should avoid it. However, beetroot is a rich source of fibre and minerals like fibre, potassium, iron and manganese. Here are two beetroot recipes you must try:


Beetroot is a rich source of fibre and many minerals.
7. Cinnamon
Almost all of us are aware of the healing properties of cinnamon, but it's role in managing blood sugar levels might surprise you! With the large amount of antioxidants, cinnamon help in reducing the oxidative stress in the body that aggravates the risk of diabetes. According to the book, 'Healing Foods', by DK publishing House, "Cinnamon is also a digestive aid that helps normalise levels of both glucose and triglycerides (a type of fat) in the blood, reducing the risk of diabetes and heart disease." Try these cinnamon-based recipes to include it in the diet besides having cinnamon-infused water:


8. Sweet Potato
Sweet potato (Shakarkandi) has a medium to low GI and also has a decent amount of fibre which actually may help regulate the blood pressure in contrast to regular potatoes. Try yummy shakarkandi ki chaat this winter season to include it in your diet. Make sure to limit the portion!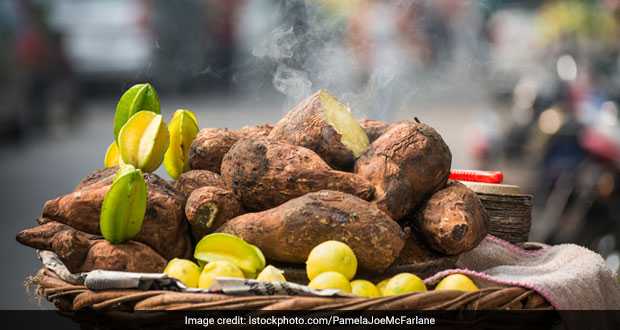 Shakarkandi ki chaat is a yumym snack.
9. Clove
According to various studies, clove helps keep a check in blood sugar spikes and promote insulin production. A study, published in Journal Natural Medicine, analysed the hypoglycaemic effects of clove on genetically diabetic mice and found that the extract helps increase the secretion of insulin and improves the body's response to insulin. One can include laung or clove in your morning cup of tea.
Clove helps keep a check in blood sugar spikes.
Include these winter foods in your diet to manage blood sugar levels and share your experiences with us in the comments section below.
About Aanchal MathurAanchal doesn't share food. A cake in her vicinity is sure to disappear in a record time of 10 seconds. Besides loading up on sugar, she loves bingeing on FRIENDS with a plate of momos. Most likely to find her soulmate on a food app.