surili akhiyon wali from the movie Veer opposite superstar Salman Khan and her recent not-to-miss maahi ve music video from the movie Wajah Tum Ho. Also known as the doppelganger of the gorgeous Katrina Kaif, Zareen Khan has had her ups and downs in Bollywood. Initially, Zareen drew flak for her weight. However, she has done some beautiful roles recently and made us fall for her beauty and admire her determination. Her steamy music video in Hate Story 3 gave us some serious fitness goals. Her inspiring weight loss journey from 100 kgs to 57 kgs has been remarkably amazing. For all those who are on a weight loss mission, take tips from Zareen Khan's exceptional transformation.

Zareen Khan's Weight Loss Journey





Zareen Khan has always been vocal about how she deals with body shaming and never hesitated from giving people who encourage it her piece of mind. Not a very long time ago, she posted pictures from her teenage years on Instagram and wrote a long post stating that when she looks at these pictures she feels proud of what she is today. She never let anything bother her and decided to kick start a weight loss journey when she felt she was ready for it. You can read this commendable post here: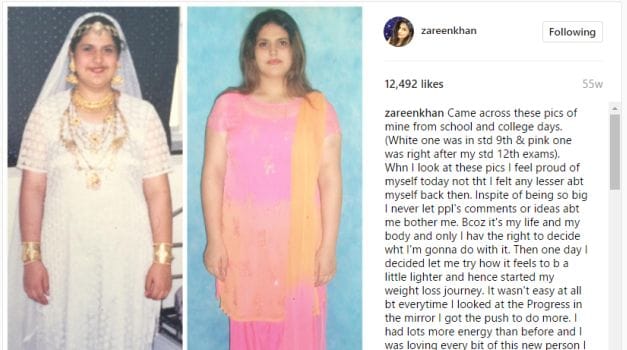 Zareen Khan has been vocal about body shaming For starters, Zareen is a strict non-believer of weight loss pills, and refuses to endorse them. In an interview with a leading daily, Zareen shared that she cannot endorse something she doesn't believe in. She believes that there is no shortcut to losing weight and that she puts in a lot of effort to work out and maintain her weight. Here is what she posted, "No Shortcuts... Only pure hard work! #IWillBeMe"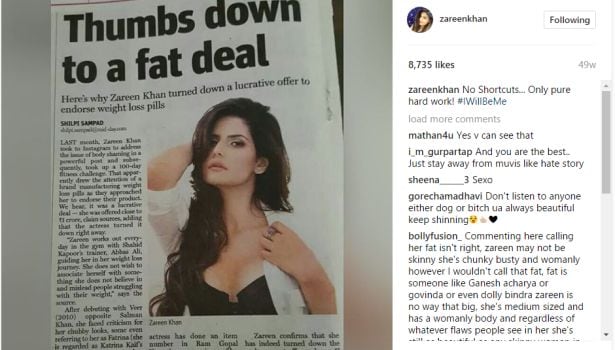 Zareen refused to endorse any weight loss pills

Zareen Khan always wanted to be a doctor, however, as she grew up, her ambitions changed and she harboured a desire to become a model and actor. It is then that she decided to get fit. It definitely wasn't an easy start for Zareen as she was a big foodie and had to develop a great will power to curb her food cravings.

Zareen's weight loss journey from 100 kilograms to 57 kilograms has been credited to her Pilates trainer and Fitness Expert Yasmin Karachiwala. She started off with Pilates and weight training to build stamina. She also indulged in swimming and jogging. Zareen ate every two hours to increase her metabolic rate and burn more calories. Soon after, she started doing yoga to tone her body and stretch her muscles.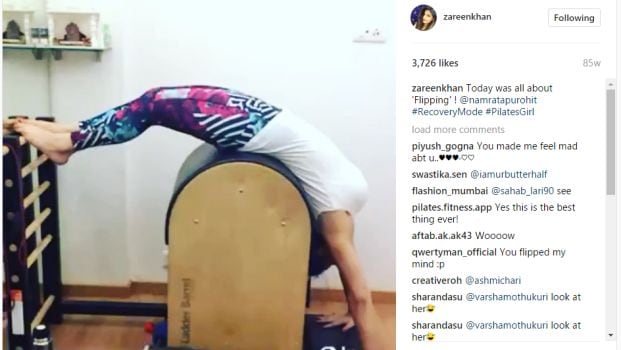 Pilates was one of the biggest sources of Zareen's weight loss



The star showed off her fit body in the song Character Dheela from the movie Ready, when people noticed her drastic weight loss after her debut in Veer. Finally in Housefull 2, Zareen had a complete makeover as she had a much toned and healthy body.

Zareen Khan is currently a proud member of Bodyholics Combine Training Gym in Mumbai and trains with Abbas Ali who challenges and motivates her to do better. It looks like her Mondays are full of energy and motivation. Zareen took to Instagram to thank her personal trainer in this photo with a heartfelt caption saying, "He challenges me to push myself to limits I dint know I cud reach! My Motivator- @Bodyholics #MondayMotivation"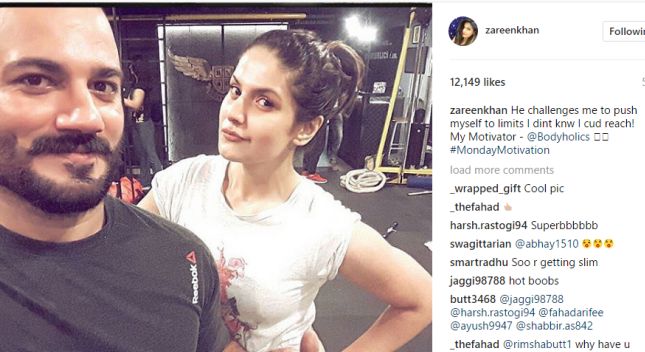 Zareen Khan's Mondays are full of energy and enthusiasm

Zareen believes in loving your body the way it is. She often shares her opinions about accepting your body and who you are. In an interview with another leading daily, she stated that she hates the concept of dieting and thinks it is very unrealistic. Without denying herself anything, she sticks to a high protein diet which includes a lot of vegetables and juices. She also mentioned that she was obsessed with drinking a lot of water every day.

According to an interview given by her during the TGB Calendar launch, Zareen revealed that she is a vegetarian by choice and that it was a very tough choice to make as she was a hardcore non-vegetarian since childhood. She also stated that she eats whatever she wants to in the right quantity and at the right time. If she feels like binging she goes for it but in a limited quantity. Another fitness tip that Zareen shared during the same interview was that it is imperative to walk every day for at least fifteen minutes no matter how busy you are. It not only keeps you fit but also keeps your skin glowing and healthy.





Zareen keeps sharing pictures of her workouts, especially the challenges she is given by her instructor. This one video that was shared by her has her doing the Delta Force (strength workout) focusing on her shoulders. Here is the video that will want you to rush to the gym: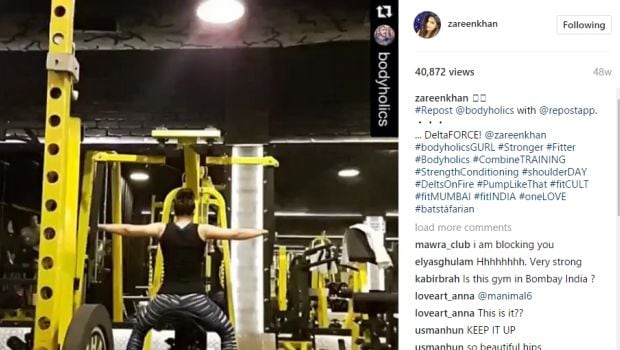 Zareen is an inspiration to all those who are looking at losing weight

Hats off to have achieved a healthy and fit body and we hope she continues to inspire us for many more years to come!


You may remember her as