Shahid Kapoor, along with Actress Sonam Kapoor, was named as the 'Hottest
Vegetarian
' by
People
magazine for Ethical Treatment of
Animals
(PETA) India this year. Shahid Kapoor rings in his 36th birthday today. With his latest film
Rangoon
receiving such a massive good response by the audience, the actor couldn't have asked for a better birthday gift. Based in the backdrop of Second World War,
Rangoon
is Shahid's third film with director Vishal Bhardwaj. After
Kaminey
and
Haider,
the audience have already touted this duo as the
desi
version of Leonardo di Caprio and Martin Scorcese, and can't wait for them to deliver the same magic in
Rangoon
.
Even amongst the industry, the Rangoon fever is pretty high. Post the screening of the film, actor Randeep Hooda tweeted "Go on a lyrical trip to a bygone enchanting era woven together by love that you can die for #Vishalbhardwaj is simply #Hollywood #Rangoon." Calling it a "masterpiece", actor Suneil Shetty tweeted, "Another masterpiece by #VishalBhardwaj. Power packed performances and magical cinematography! Cinema at its best! #SaifAliKhan #KanganaRanaut. Nawab Malik, U were outstanding! Perfect justice to D character! Loved meeting Mira, such a sweetheart. God bless U both."(sic)
Shahid himself has been super upbeat about the film, especially on social media - his instagram and snapchat is flooding with the actor's whacky posts, and his fans can't be happier. In an interview Shahid revealed "I am in the mood to feel excited to do fun stuff, I have a film coming up on the 24th of February. One day before my birthday. So it is good times I am having fun."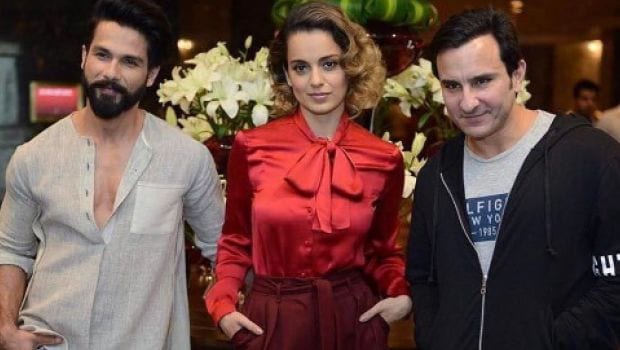 Also Read: (Happy Birthday Kangana Ranaut: Here's What Keeps Her Bold and Beautiful)For his birthday the actor most probably would be flying out of town with his wife Mira and baby girl Misha. His wife Mira Rajput recently hosted a pre-birthday bash for the actor in their Juhu apartment. Deepika Padukone, Ranveer Singh, Katrina Kaif, Varun Dhawan along with multiple other industry stalwarts marked their presence in the bash.
One striking feature of the party was its menu- which was pure vegetarian. Mira personally worked on the menu which included the most exotic vegetarian dishes customised to the liking of her husband. Shahid Kappor who happens to be a staunch vegetarian is also on a strict diet for his next venture - Padmavati. Keeping that in mind, the menu was worked around detox shots made of celery, kale, cucumber, kiwi and carrots. The party menu also included refreshing salads, smoothies and guilt-free desserts, an insider claimed.
Owing to their leaning to their spiritual leanings, Shahid and Mira had a full vegetarian menu laid out on their wedding as well, their wedding reception, however, was a lavish spread of both vegetarian and non-vegetarian delicacies.


But here's a fun trivia for his fans. The actor was not a vegetarian all his life, and has only turned towards being one about 15-16 years ago, after reading a book gifted to him by his father. Shahid's father and actor Pankaj Kapur, who also happens to be a follower of the spiritual organisation 'Radha Soami Satsang Beas', gifted the actor a copy of Life is Fair by Brian Hines, which speaks of a Karmic connection of vegetarianism. Shahid read the entire book while he was travelling in a flight, and by the time he off-boarded, he was a vegetarian!
The decision came with its own share of hiccups, but the actor has had no looking back. Shahid himself admitted to the hassles of building a body with a limited protein intake. Ruling out the major sources of protein in meat and eggs, the actor took a bold call, but not an impossible one. His diet is rich with nutritious food like spinach, beans, fruits and fresh vegetables. He also avoids food dense in fat or carbs, and takes several small meals throughout the day. As far as his protein requirement is concerned, he fulfils them with regular dose of whey protein and other protein supplements.Also Read: (A Peep into Rangoon Actor Saif Ali Khan's Fitness and Not So Nawabi Diet)


The fitness icon is almost always on a strict diet for his film requirements, but deep down he also admits to being a foodie. In monsoons, the actor loves indulging in bhajiyas andvada pavs. His favourite cuisines are Indian, Italian, Chinese, and Japanese and favourite dish is 'Rajma Chawal'. Nothing can beat the 'Ghar ka Khana' for this hottie. Shahid once also praised his father's cooking skills, claiming that he makes the best rajma-chawal ever. As for the actor's own cooking, he is pretty adept in makingparanthasof all sorts aloo, paneer, cheese and gobhi.