Your fitness regime needs to be a dynamic one. Experts believe that it is important to keep playing around with your workout plan to stave off monotony and plateaus. If you happen to be the one who is always in search of something exciting and adventurous, aerial yoga can be your best bet. It is one of the most popular fitness trends across the world. Ever since the West caught up with yoga, fitness experts from all over started experimenting with the age-old art to arrive at dynamic workout routines. We've already talked about the efficacy of regimes like PaYo and Buti Yoga that are seen as a departure from traditional yoga yet having its essence at the very core.
Aerial yoga is traditional yoga against gravity. The practitioner is suspended in the air - at least three to four feet off the ground - with the help of a specially designed cloth-based hammock. While in the air you try to get into various postures and hold the pose. Trust us, it might look easy to practice but in reality it is way too much to handle all at the same time. Remember, you are against gravity, so you not only need to balance your weight, but hold the position for a considerable amount of time.(Also Read: Buti Yoga: A Fitness Routine Exclusively Designed for Women)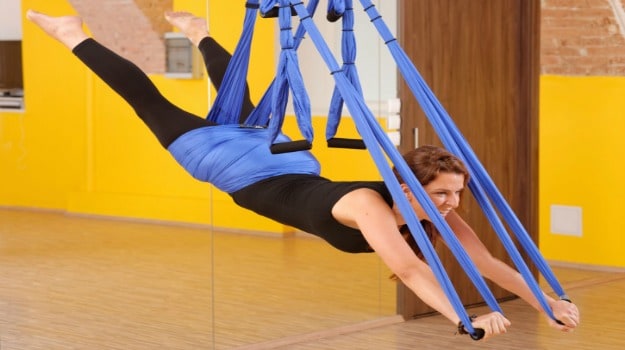 But, how is aerial yoga beneficial over the regular yogic practice where you are engaging in a body-weight workout? "Actually, you might think that aerial yoga is less effective, but it is certainly not. It engages your muscles like nothing else. You are constantly struggling not only with your body-weight but with the gravitational pull, which will always keep on challenging you," said Manisha and Kavita, Co-Owners of The Yoga Chakra, Greater Kailash II, New Delhi.
Aerial yoga is excellent for flexibility. Essentially, the workout is a brainchild of a former gymnast Chris Harrison who thought of marrying yogic postures with acrobatics. As you counter gravity, not only are you burning calories, building muscles, enhancing your core strength but also expanding your flexibility. It is great for the spine and blood flow.(Also Read: Power Yoga: Is it Really Worth the Hype?)

"Aerial yoga builds endurance and strengthens your back. All parts of your body are actively engaged while you try to flex and hold mid-air. You literally feel your body opening up and refreshed. I would highly recommend it for those who seek some fun and adventure and an added dose of challenge from their fitness routine," concluded Manisha.
Anybody can try aerial yoga, however, a lot depends on your current state of fitness and flexibility. Do not be deterred, with practice and determination you can eventually beat all odds and nail the art.
(Also Read:
Beer Yoga or Bier Yoga, the Hot New Fitness Trend Everyone's Talking About
)

Lately, many celebrities have been spotted trying their hands at this exhilarating practice. "Names like Gwyneth Paltrow, Mariah Carey, Natalie Portman, Vanessa Hudgens and Pink have often been associated with aerial yoga," reported IANS.
Back home, Bollywood's favourite dance diva Malaika Arora Khan has also been seen performing aerial yoga.

Excited already? Step out for your aerial yoga trial class but before you go it is imperative to keep following things in mind:
- If you've had a history of spinal injury or any-bone related trauma, discuss it with your health expert as well as your aerial yoga teacher.
- Always learn under a certified practitioner.
- People who experience vertigo should not try aerial yoga.
- Those with a history of high blood pressure, bone replacement surgery or cardiovascular issues should also check with their doctor before giving it a try.
- Pregnant women should not try aerial yoga.
- Practice bare feet and wear comfortable but fitted cloths.
- Don't have a heavy meal prior to your session.
- Ensure that your hands are not slippery.
- Keep yourself hydrated.