Kathi rolls are one of the most beloved street foods in India. In your city, you're bound to stumble upon several stalls selling a variety of kathi rolls. Bursting with flavours and perfect for on-the-go munching, these rolls have earned a reputation for being both satisfying and wholesome. It's no wonder people seize every opportunity to indulge in one. Many of us try our hand at making them at home. Yet, more often than not, we fall short of replicating the same flavour and texture of street stalls. Is there a secret masala that they use for their stuffing, or is it some unique technique that we're missing out on? Well, the truth is not as complicated as it may seem. With a few simple steps, a bit of attention, and you'll be able to make authentic kathi rolls with ease in your own kitchen.
Also Read: 6 Interesting Ways To Make Kolkata Kathi Roll - Recipes Inside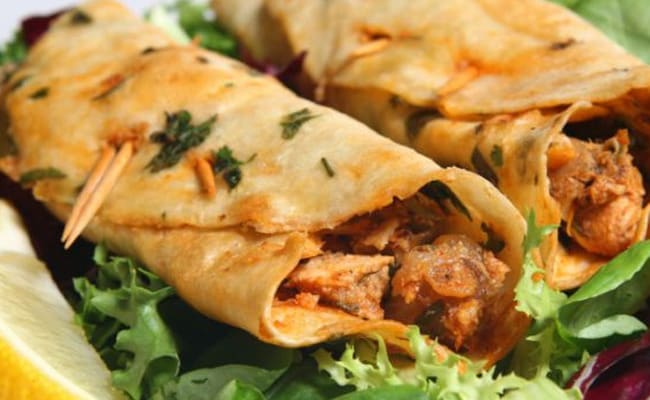 Here Are 5 Tips To Make Street-Style Kathi Roll At Home:
1. Use the right type of bread:
The type of bread you use to make the roll makes all the difference. After all, it's what helps keep all the stuffing intact. Stick to using a paratha, as it gives the kathi roll a perfectly crispy and flaky texture. You can even scramble an egg on top of it for authentic street-style flavours. If you prefer a softer texture, you can even use roomali roti.
2. It's all about the marination:
Kathi rolls can be stuffed with a myriad of different fillings. Be it veggies or meat, make sure to marinate all of it well. Blend them nicely with all the masalas and allow enough time for them to sit. The longer you allow the filling to sit, the better it'll absorb all the flavours, ensuring a burst of flavour in every bite.
3. Set the right heat:
While eating kathi rolls on the street, you must've noticed vendors cooking the marinated stuffing in a large wok on a high flame. This helps give it a distinct taste and a slightly charred flavour. It may take a bit of practice, but using a high flame is best for recreating street-style flavours. However, be careful not to burn it.
Also Read: Craving Kathi Roll? You'll Love This Butter Chicken Kathi Roll Recipe
4. Add a generous amount of chutney:
The yummy chutneys inside a kathi roll are what makes it taste so delicious. The chutneys add moistness and a burst of flavour. Classic pudina chutney is the most preferred chutney that is used inside kathi rolls. You can even add some sweet chutney to balance out the spiciness. Whatever your choice may be, make sure to always add a generous amount of it!
5. Wrap it the right way:
Kathi rolls taste good only when the stuffing is evenly spread inside them. No one likes to bite into a roll that feels empty on one side and overstuffed on the other. To ensure everything stays in place, it's important to wrap it the right way. Place a generous amount of stuffing in the centre and fold it over nicely. Secure it with a toothpick for better protection.


Making street-style kathi rolls is not as difficult as it seems. Just be mindful of the above-mentioned tips, and you'll be able to recreate authentic flavours in your kitchen. Click here to explore our best kathi roll recipes.
About Vaishali KapilaVaishali finds comfort in eating parathas and rajma chawal but is equally enthusiastic about exploring different cuisines. When she's not eating or baking, you can often find her curled up on the couch watching her favourite TV show - FRIENDS.