Marinade Recipes: I am an alchemist in the treatment of meat. I have spent countless hours scouring the internet for marinade recipes and unspooled dozens of unsuccessful dishes on my long suffering family and friends. I have deployed a vast constellation of spices and condiments on to hapless pieces of meat, realising only too late that yoghurt and duck make for strange bedfellows, and barbecue sauces slathered on fish do not make a pleasant couple. My honour roll of failures is about a mile long. However, through immense trial and error, I have learnt a few basic rules of marinades. Firstly, you can marinate anything – fruit in wine; tofu in sesame oil, rice wine vinegar and soy sauce; vegetables in olive oil, lemon juice and garlic; so on and so forth. But mostly, marinades are used with fish, poultry and red meat.


Secondly, they are usually composed of fats and acids (and whatever extra flavouring you want to introduce) that help break down the meat, seal in moisture and add flavour. One of the best ingredients that most of us are already familiar with is yoghurt. Yoghurt has microbes and lactic acid that helps to break down chicken and mutton, making them tender without being mushy. Vinegar is another such ingredient. Pureed papaya is an excellent building block in a beef marinade while pineapple juice works well on pork. You can use oils in a marinade as well – they pool flavour deep into the meat. Again, a very Indian marinade flavour is ginger-garlic that not only adds bags of flavour to the fish or chicken you use it on, but also softens and tenderises it. Lime juice is another acidic element that tastes particularly well with fish.


All those are the basic building blocks, of course. To them, you must add all your flavouring and aromatic frivolities. Chillies, garam masala, turmeric, coriander, cardamom, mustard, coffee, oregano, onions, kasuri methi (especially for chicken)...it all depends on your taste. An unusual marinade I found was from the Memon community that marinates chicken in crushed garlic (with skin) for about ten minutes.

Marinade Tips and Tricks
Adding a little sugar to your meat will help caramelise and tenderise it. Don't add too much salt, because it will draw out moisture (aside from tasting mouth-puckeringly harsh). Don't throw in anything you have at home – be judicious and make sure of the flavour combinations you choose. Remember that the whole point of a marinade is to enhance the flavour of the item you are marinating; the marinade itself is not the star. Prick the meat with a fork or make cuts in it, to ensure that the flavour seeps deep within.

Fish requires the least time for marinating, since it has soft flesh, while poultry items such as chicken need at least an hour in their marinade bed. A whole chicken takes longer than its parts to infuse with flavour. I have once marinated a pre-roast chicken for 24 hours in a bath of salt water and flavourings and it made the chicken, the most wonderfully tender-fleshed one I have ever cooked.


Marinade Recipes
Here are some marinade recipes for you to try -

1. Green Masala Fish Marinade
I like to use this simple yet delicious marinade for fried fish.
Ingredients:
1 cup coriander
1 Tbsp ginger-garlic paste
2 Kashmiri red chillies
A squeeze of lemon juice
Method: Blend all the ingredients together and marinade the fish (kane or bangda) for 30 minutes before frying.

2. Basic Chicken Marinade
Here is a very basic marinade recipe for chicken –
Ingredients:
1 cup dahi (or fresh cream)
Few strands of saffron
1 Tbsp kasuri methi
Juice of ginger and garlic (that I squeeze out from 1 Tbsp ginger-garlic paste)

Method: Mix all the ingredients and let it rest on the bird for a couple of hours and then pan fry.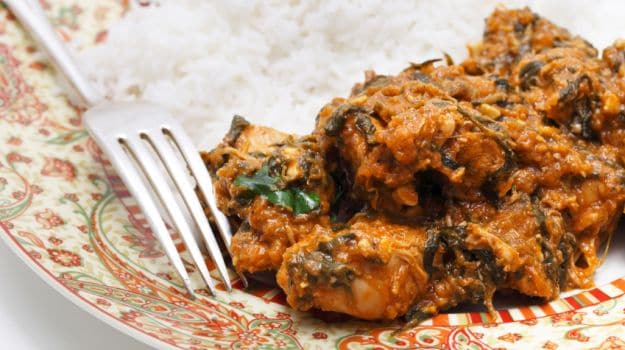 3. Black Pepper Lamb Marinade

I especially enjoy this marinade concoction that I tweaked from Lourdes Tirouvanziam-Louis' delightful book, The Pondicherry Kitchen. This comes from her Black Pepper Lamb Assad.
Ingredients:
500g lamb
1 tsp powdered turmeric
1 green chilli, chopped
1 tsp black pepper
2 diced onions
1 Tbsp of garlic paste
1 clove
1 cinnamon stick, small
1 Tbsp ghee
1 cup dahi
Salt to taste

Method: Mix all the ingredients and marinade the lamb overnight. Then cook it with coconut milk on low heat and serve.

4. Kebab Marinade
Here is a marinade recipe for Gola Kebab from a quartet of books called Muslim Dishes (published by Revolutionary Books). It is superb.

Ingredients:
1/2 kg minced mutton
25g raw papaya
3 tsp poppy seeds
4 cloves
1 piece of cinnamon
1 black cardamom
3 pieces of mace
12g roasted gram
4 pieces of cardamom
1 tsp ginger-garlic paste
2 onions, chopped
A handful of mint
A handful of coriander leaves
2 green chillies, finely chopped

Method: Mix the mutton in raw papaya and let it rest for 15 minutes. Meanwhile, grind the remaining ingredients and marinate the mutton for 2 hours before shaping into kebabs and frying in a wok.


5. South East Asian Beef Marinade

Ingredients:
1 cup soy sauce
1 Tbsp water
A pinch of sugar
1 Tbsp sesame oil
1/2 Tbsp ginger-garlic paste
2 beef steaks

Method: Mix all the ingredients and apply on the meat. Let it rest for minimum 6 hours before you grill or barbecue the meat.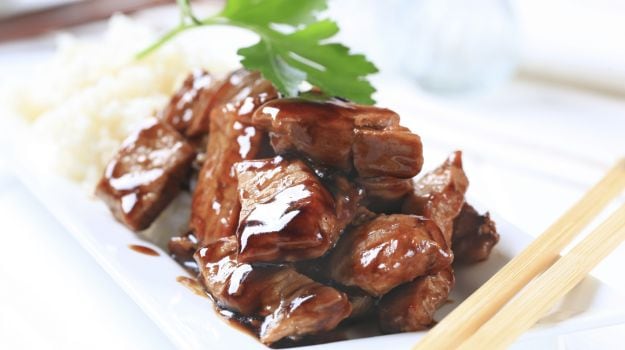 6. Cider Pork Marinade

Ingredients:
2 kg pork
½ cup brown sugar
1/4 cup salt
1 Tbsp coriander seeds
4 cups apple cider vinegar

Method: Boil 1 cup water, sugar and salt on high heat, then reduce and simmer until the sugar and salt dissolve. Add in about 4 cups of cider, the magic ingredient, and cool. Add in the remaining ingredients and marinade the pork overnight before grilling it.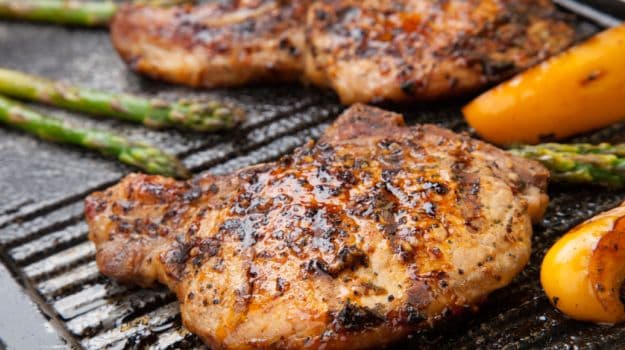 7. Asian Tofu Marinade

Ingredients:
1/2 cup soy sauce
1/2 Tbsp rice vinegar
1/4 tsp sugar
1/4 tsp ginger-garlic paste
1 tsp chilli sauce
1 Tbsp sesame oil

Method: Mix all the ingredients and marinate the tofu for 20 minutes. Grill or quickly cook it in a pan and serve.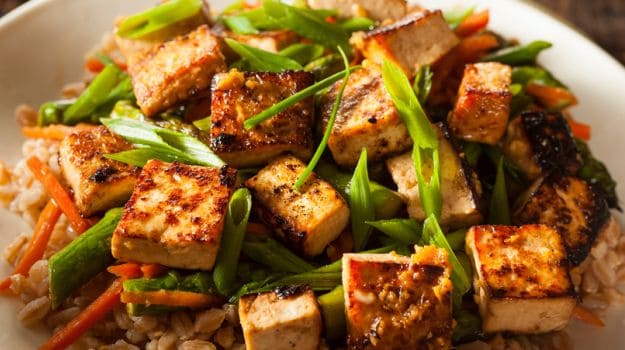 Lip smacking chicken recipe with an achaari marinade and a mouth-watering tadka, and grilled to perfection.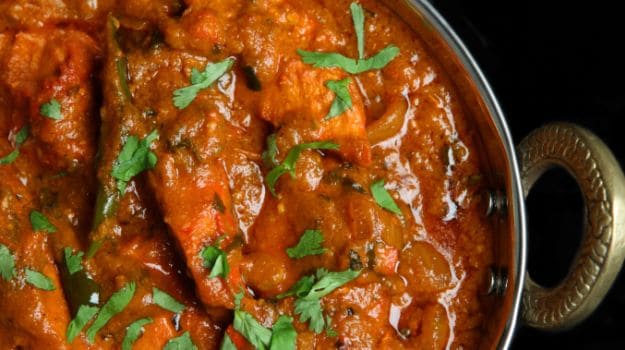 Recipe by Chef Vicky Ratnani

Lovely and delicate rawas fish fillets marinated in a coriander marinade and pan seared. Drizzled with some ginger lemon sauce.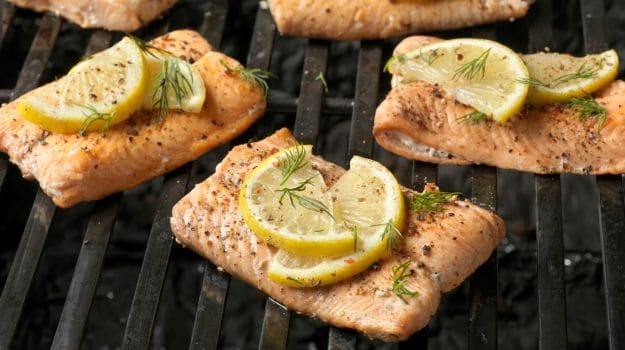 Recipe by Chef Vicky Ratnani

Prawns dipped in a delicious garlic, parsley and balsamic marinade and pan seared. Served with brown rice onion pilaf.