Hazelnut Recipes: Yes, we know what brought you here! Hazelnut makes us all think of gooey chocolate spreads, desserts and milkshakes, but what you might have missed is that hazelnut is a great addition to even savoury dishes. Hazelnut and chocolate might be a match made in heaven but don't let this make you believe that it might not go with a salad or a wrap. The rich and nutty flavour of this underrated nut can be used for so much more than confining it to just confectionary bakes. Just roast the hazelnuts and its buttery flavour will impart so much more to any dish you add it to.
Health Benefits Of Hazelnut
And no, we wouldn't say it's time to move over the hazelnut spread now, because when it comes to those chocolate cravings, we are all in the same boat. But when someone says how unhealthy it is, tell them how underrated the benefits of hazelnut are! While it is of no surprise that nuts have turned out to be extremely healthy in the past and are made into some of the most nutrient-rich snacks in the recent past. But did you know the many health benefits of these tiny delights? Hazelnuts are also known as 'filberts' and are sweet in flavour, this is why they are mostly found in shakes, chocolates and other irresistible desserts. Like other nuts such as walnuts, almonds, peanuts and cashew nuts, hazelnuts are also packed with nutrients that are essential for our body.


As per the book Healing Food by DK Publishing, "hazelnuts are rich with antioxidants and are said to contain vitamins, minerals, proteins and fibre that can improve the overall health." Let's look at the many health benefits of including hazelnut in our diet:
1. Promotes Heart Health: Hazelnuts contain a large amount of monounsaturated acids and fibre that help reduce LDL or unhealthy cholesterol and increases the healthy cholesterol. Along with it, the presence of magnesium may promote healthy rest between contractions and prevents overexertion of the heart.


2. Increases Muscle Strength: Hazelnut has magnesium in abundance that helps in regulating the amount of calcium that goes in and out of our body. The optimum amount of calcium in the body promotes muscle contraction and allows the muscles to relax, which prevents cramps, spasms, soreness and fatigue.


3. Rich in Antioxidants: The abundance of antioxidants in hazelnut prevents free radicals from damaging the organs and cells.


4. Improves Cognitive Functions: Packed with vitamin E, folate, thiamine and fatty acids, hazelnut helps in keeping the brain sharp and improving cognitive functions.


The benefits of hazelnut are sure to get you hooked with more of it and not just to the sweet delights. With our list of some of the best recipes, hazelnut is ready to break its stereotype as just a dessert ingredient.
Here Are 5 Best Hazelnut Recipes To Try At Home:
What's a hazelnut story without a hazelnut cake, right? Hazelnut cake here is a super easy and quick one to prepare at home, in less than half an hour, and with just a few ingredients, you'll have the most delectable microwave cake to gorge on! Sugar, flour, egg, baking powder and oodles of hazelnut, this cake is perfect to prepare for the next special occasion at home! Find the recipe of microwave hazelnut cake here.
Chocolate Hazelnut Recipes: Baked to perfection in just 15 minutes, this cake will leave everyone asking for more.
Isn't the fragrance of freshly baked cookies simply heavenly? Now, you don't need to visit the nearby bakery to satiate your cookie cravings! Prepare rich and crunchy cookies easily at home with delightful and creamy hazelnut. Prepare a batch and store in an airtight jar to relish for long. Find the recipe of hazelnut cookies here.
Hazelnut Recipes: Delicious crunchy cookies with the creaminess of hazelnut paste.
A delicious brunch option to try at home, this lettuce wrap has minced chicken sautéed with garlic and topped with a puree of hoisin sauce, orange juice, soy sauce, vinegar and hazelnuts. It is served on romaine leaves along with coleslaw, green onions and cilantro. Find the recipe of hazelnut Asian lettuce wrap here.


(Also Read: 11 Best Asian Recipes | Easy Asian Recipes | Quick Asian Recipes)
Raw Hazelnut Recipes: Chicken cooked in zesty sauce with hazelnuts, coleslaw and wrapped up in romaine leaves.
A refreshing salad with the goodness of pear, cinnamon and white wine with a tantalising dressing of lemon, honey, grapes along with hazelnut, romaine leaves and blue cheese. Poached pear salad is simply perfect for a filling breakfast to kick-start your day. Find the recipe of poached pear salad here.
Hazelnut Recipes: A refreshing, delicate and exquisite salad that is far different from the usual, and makes a superb summer meal.
Gujiya is a traditional Indian sweet, commonly relished during the festival of Holi. Here's a rich and yummy twist to the classic gujiya with the addition of chocolate and hazelnut paste stuffed inside and deep fried to crisp golden. Find the recipe of chocolate hazelnut gujiyas here.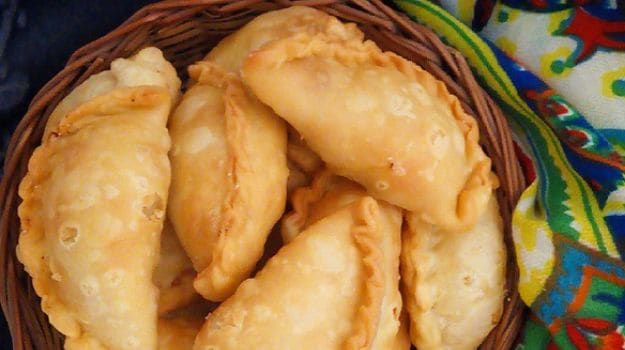 Indian Hazelnut Recipes: A classic festive dessert with a twist of chocolate and hazelnut.
Try these interesting and delicious hazelnut recipes at home and let us know your favourite one in the comments section below.
About Aanchal MathurAanchal doesn't share food. A cake in her vicinity is sure to disappear in a record time of 10 seconds. Besides loading up on sugar, she loves bingeing on FRIENDS with a plate of momos. Most likely to find her soulmate on a food app.